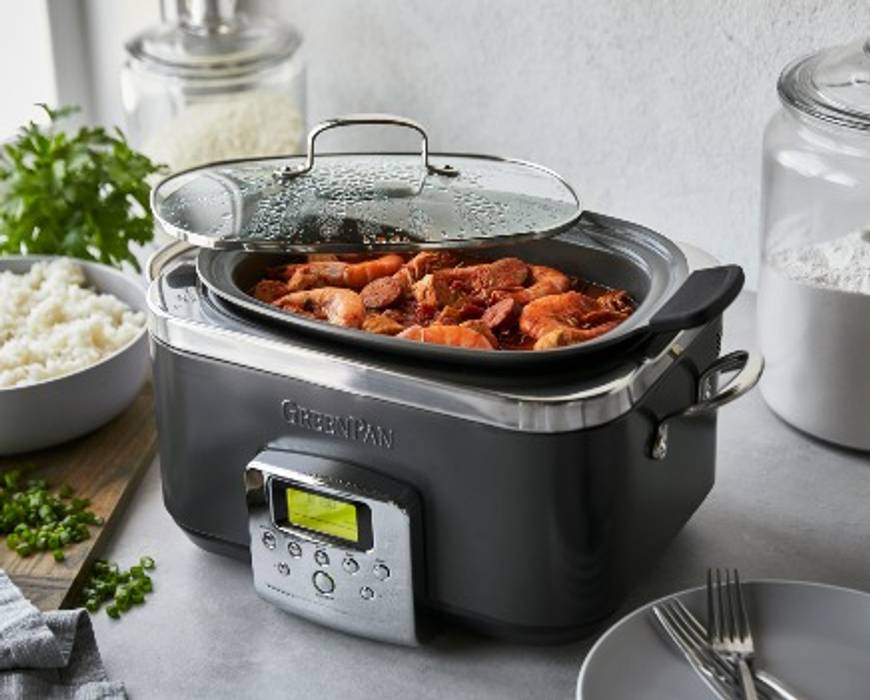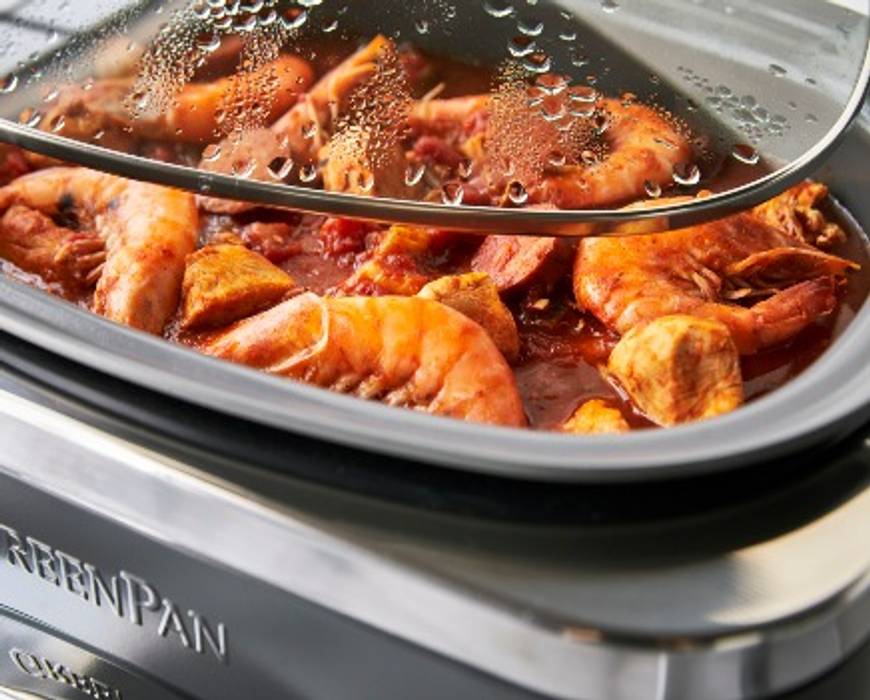 Yields: 8 servings
Time: 15 minutes prep, 3 hours 30 minutes cooking
INGREDIENTS:
1 tablespoon avocado oil 
1 large yellow onion, cut in 1/4" dice 
1 large green bell pepper, seeds removed, cut in 1/4" dice 
2 stalks celery, cut in 1/4" dice 
1 teaspoon kosher salt 
1/2 teaspoon freshly ground black pepper 
2 tablespoons tomato paste 
1 1/2 pounds boneless skinless chicken breasts, cut into 1-inch cubes
3/4 pound andouille sausage, cut in 1/4" slices 
1 (28-ounce) can diced tomatoes
2 cup low sodium chicken stock
1 tablespoon dried oregano
1 teaspoon fresh thyme, destemmed and finely chopped 
1 tablespoon Cajun or Creole seasoning
2 teaspoons hot sauce, such as Crystal 
2 bay leaves
1 pound large shrimp, peeled and deveined, thawed if frozen
2 cups cooked white rice
3 scallions, green parts only, thinly sliced
PREPARATION INSTRUCTIONS:
Select the Brown/sauté mode on the Slow Cooker, set the temperature to 300°F and the timer to 15 minutes.  Pour the oil into the slow cooker and allow it to come to temperature.  Add the onion, bell pepper, celery, salt and pepper and cook, stirring regularly, 8 to 10 minutes or until the vegetables are softened.  Take care not to brown the vegetables, reducing the heat if needed.  Stir in the tomato paste and continue stirring until it has become quite aromatic and darkened in color, another 3 to 4 minutes.  


Select the High Temperature Slow Cook Mode on the Slow Cooker and set the timer for 4 hours.  Add the chicken, sausage, diced tomatoes, chicken stock, oregano, thyme, seasoning, hot sauce and bay leaves to the slow cooker and stir until well combined.  Cover and cook for 3 hours or until the chicken is cooked through and very tender.  Uncover and stir in the shrimp.  Cover and cook another 30 minutes or until the shrimp are just cooked through.  Uncover and discard the bay leaves.  Taste and adjust as desired with hot sauce, seasoning, salt and pepper.


Serve warm over a large scoop of rice and garnish with a few pinches of scallions.  
TIPS:
If you can't find creole or cajon seasoning make your own by combining 2 tablespoons paprika, 1 tablespoon garlic powder, 1 tablespoon onion powder, 1 tablespoon ground black pepper, 1 teaspoon cayenne, 1 teaspoon dried oregano and 1 teaspoon dried thyme with a pinch of kosher salt.  Measure out what you need for the recipe and save the rest in a small jar or air-tight container! 
If you'd prefer, shell on shrimp is great for this recipe too!  Simply use scissors to cut down the back (for deveining and to make them easy to peel) and add an extra 10 to 15 minutes to the cook time.   
Featured Product
Elite 6-Quart Slow Cooker | Graphite
With our advanced slow cooker, you can sear meat and veggies in the pot, then go low and slow to finish the job. Take your time while cooking, then clean up quickly with Thermolon™ Volt, a healthy, PFAS-free ceramic nonstick...