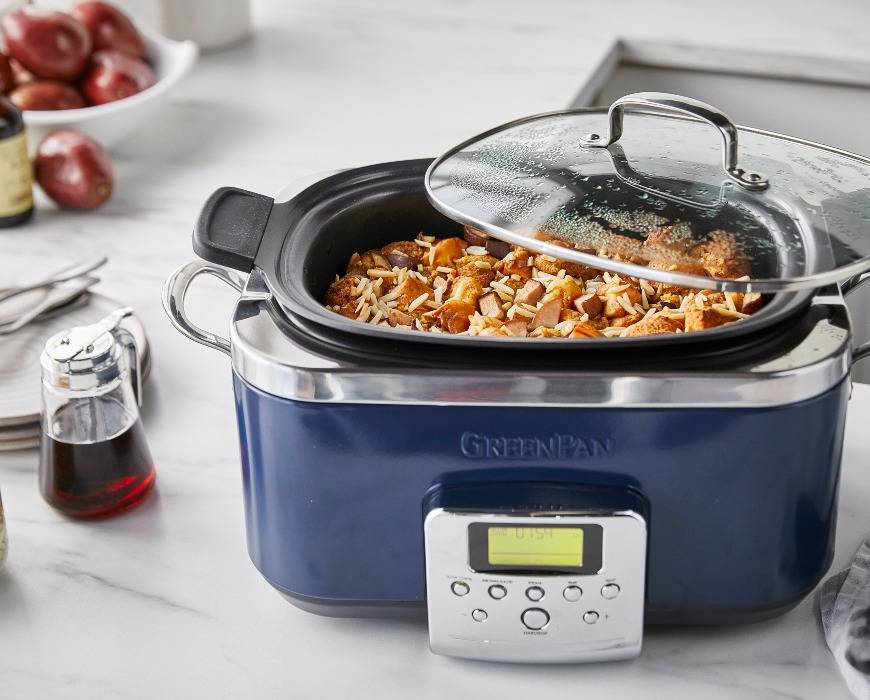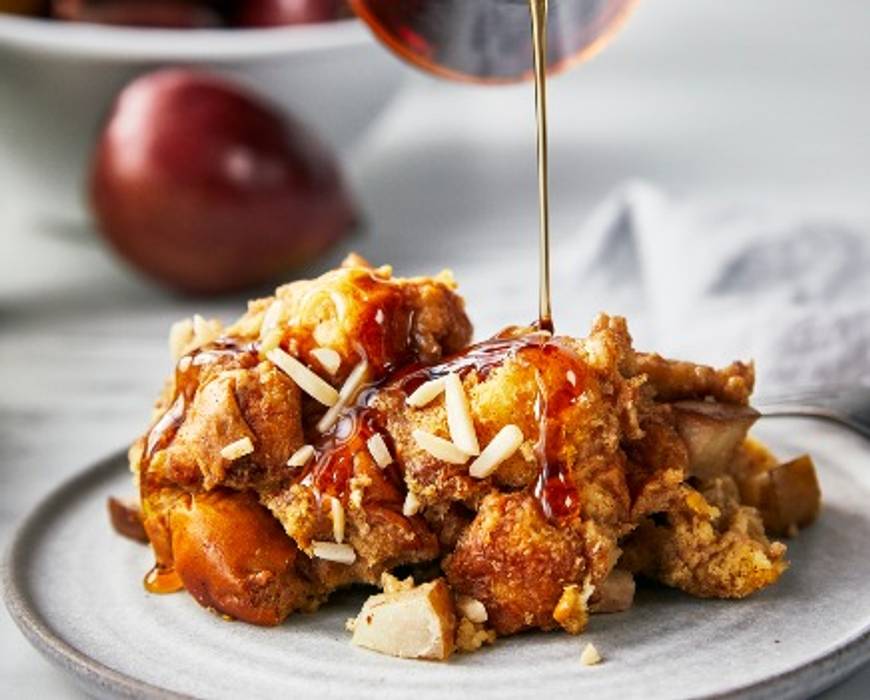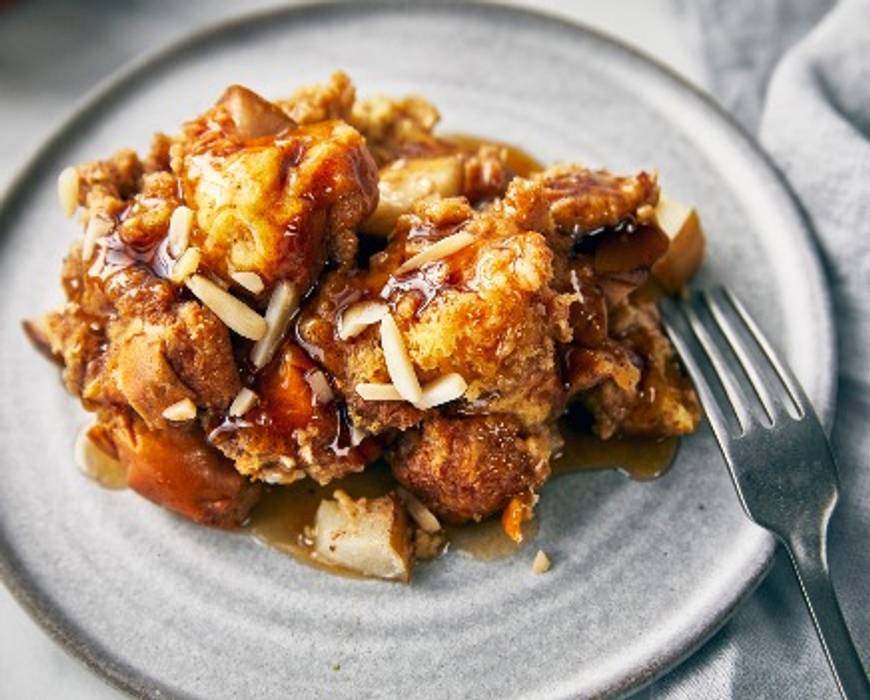 Pear French Toast Casserole
Yields: 8 servings
Time: 15 minutes prep, 4 hours cooking
INGREDIENTS:
6 tablespoons unsalted butter, cold, divided
2 medium pears, firm, cored and cut in 1/2" dice
1 loaf (1 pound) Brioche, day-old, and cut in 1" dice 
1 1/2 cups milk
1/2 cup heavy cream 
6 large eggs
1/4 cup light brown sugar
2 tablespoons maple syrup
2 teaspoons vanilla extract
1 teaspoon ground cinnamon
1/4 teaspoon freshly grated nutmeg
1/2 teaspoon kosher salt
1/4 cup slivered almonds, toasted 
Confectioners' sugar, for serving
Maple syrup, for serving
PREPARATION INSTRUCTIONS:
Select the Brown/Sauté mode on the Slow Cooker, set the temperature to 300°F and the timer to 10 minutes. Melt 3 tablespoons of butter in the slow cooker and add in the pears. Cook 8 to 10 minutes, stirring occasionally, or until the pears are light golden brown. Turn off the slow cooker and add in the cubed bread.  


In a large mixing bowl, whisk together the milk, heavy cream, eggs, brown sugar, maple syrup, vanilla, cinnamon, nutmeg, and salt until smooth, with no streaks of egg whites or yolks remaining. Pour the milk mixture into the slow cooker and stir to combine until the bread is well coated and the pears are equally distributed. Take care to mix gently to ensure the bread doesn't get broken up too much. Sprinkle the almonds evenly over the top and lightly press them down into the bread. Break the remaining 3 tablespoons of butter into small pieces by hand and dot them over the surface of the break.  


Select the Low Temperature Slow Cook Mode on the Premiere Slow Cooker and set the timer for 4 hours. (The casserole can also be cooked on high for 2 hours.) Cover and cook the casserole for 4 hours, or until it's firmly set in the middle with no liquid visible. Serve warm immediately with a light dusting of confectioners' sugar and drizzle of maple syrup.  
TIPS:
Swap out the pears for apples, strawberry rhubarb or maybe even fresh figs to make this breakfast over and over every season! 
If your bread is dry enough, you can make this the night before and store it in the refrigerator uncooked overnight, then simply take it out and cook it the next morning for a delicious breakfast at the press of a few buttons! 
Featured Product
Elite 6-Quart Slow Cooker | Oxford Blue
With our advanced slow cooker, you can sear meat and veggies in the pot, then go low and slow to finish the job. Take your time while cooking, then clean up quickly with Thermolon™ Volt, a healthy, PFAS-free ceramic nonstick...