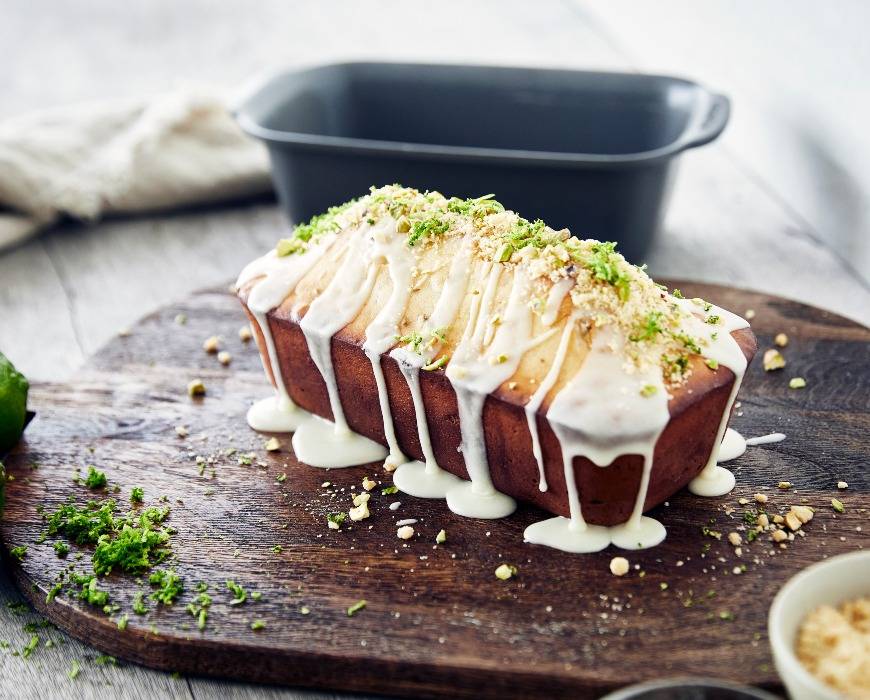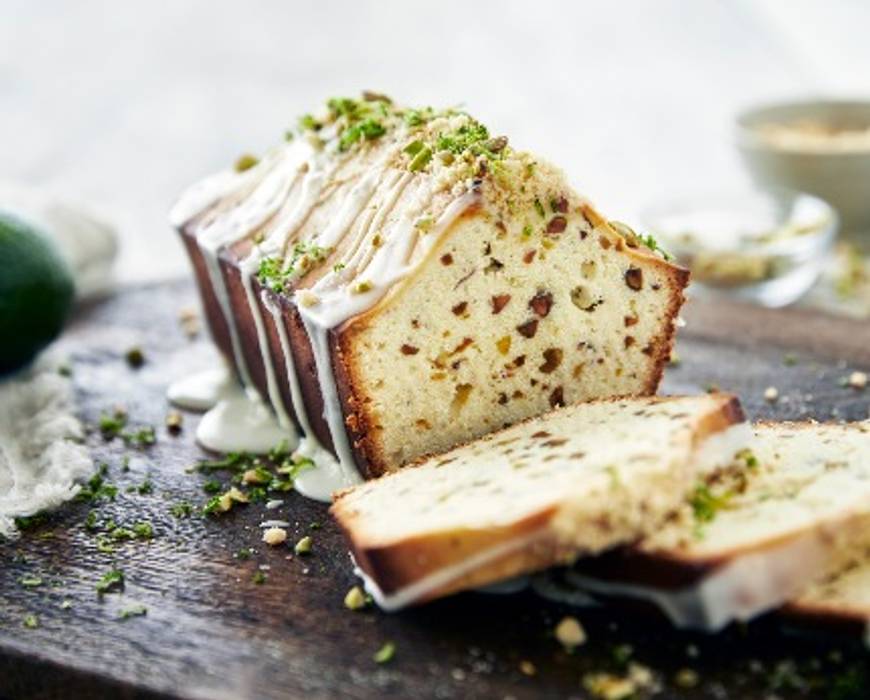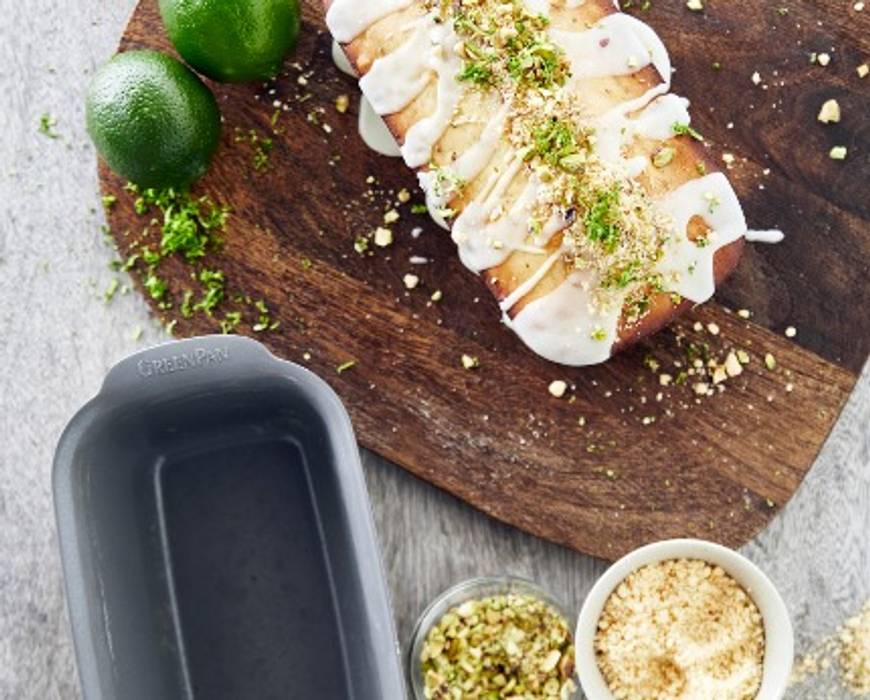 Lime and Pistachio Loaf Cake with Citrus Glaze
Yields: ~ 8 servings
Time: 15 minutes prep, 45 minutes cooking, 1 hour total
INGREDIENTS:
For the cake:
1 stick (1/2 cup) butter, softened
1 cup granulated sugar
2 eggs
Zest and juice of 1 lime
1 teaspoon vanilla extract
1 1/2 cups all-purpose flour
1 teaspoon baking powder
1/8 teaspoon salt
1/2 cup milk
1/2 cup chopped pistachios
 
For the lime drizzle:
Juice of 1/2 lime (about 1 tablespoon)
1/4 cup granulated sugar
For the cream cheese glaze:
4 ounces cream cheese, softened
1/2 cup powdered sugar, sifted
1 teaspoon vanilla extract
3 to 4 tablespoons milk or cream
For garnish:
Chopped pistachios
Lime zest
PREPARATION INSTRUCTIONS:
Prepare to bake—Get out a non-stick loaf pan and preheat the oven to 350°F.
Cream the butter—Add butter and sugar to a large bowl and use an electric mixer to beat together until light and fluffy.
Start the batter—Add eggs, one at a time, beating till fully incorporated. Then add in lime juice, zest, and vanilla extract and beat till combined.
Mix the dry ingredients—In a medium bowl, whisk together flour, baking powder, and salt.
Finish the batter—With mixer on low speed, alternately add in flour mixture and milk. Mix until just combined with no more flour-y bits. Gently fold in pistachios till evenly distributed.
Bake the loaf—Pour batter into loaf pan and bake in preheated oven till a toothpick inserted near the center comes out clean (no batter or crumbs)—about 40 to 45 minutes. Remove from oven and place pan on a cooling rack for about 10 minutes, then remove loaf from pan and allow it to cool completely.
Meanwhile, make the drizzle—In a small bowl, stir together lime juice and sugar. While cake is still warm, poke holes in the top all over with a toothpick or skewer. Slowly spoon drizzle over cake, allowing it to sink in—this creates an incredibly moist loaf.
Make the cream cheese glaze—Use an electric mixer to beat cream cheese till smooth and creamy. Add powdered sugar and continue beating till combined. Add vanilla extract and 3 tablespoons milk and continue beating till mixture reaches drizzling consistency. You may need to add a little extra milk if mixture isn't flowing off a spoon.
Assemble and serve—Drizzle cream cheese glaze over the top of cooled loaf. Sprinkle top with chopped pistachios and lime zest for a pretty green finish. Slice and serve at room temperature. Yum!

TIPS:
Protect Your Countertop—Before drizzling, place cooling rack with cake atop a pan lined with parchment or aluminum foil to catch the glaze and make for easy cleanup.
Skip a Step—When you're in a rush, a simple glaze will do. Just mix together 3/4 cup sifted powdered sugar with 4 to 5 tablespoons lime juice and drizzle over slightly warm loaf.
Featured Product
Premiere Ovenware Ceramic Nonstick 1 lb. Loaf Pan
This heavy-duty pan is great for bread, but it's also endlessly adaptable—think meatloaf, smaller ziti, chicken pot pies, and so much more. It's extra tough, endlessly versatile, and easy to use.