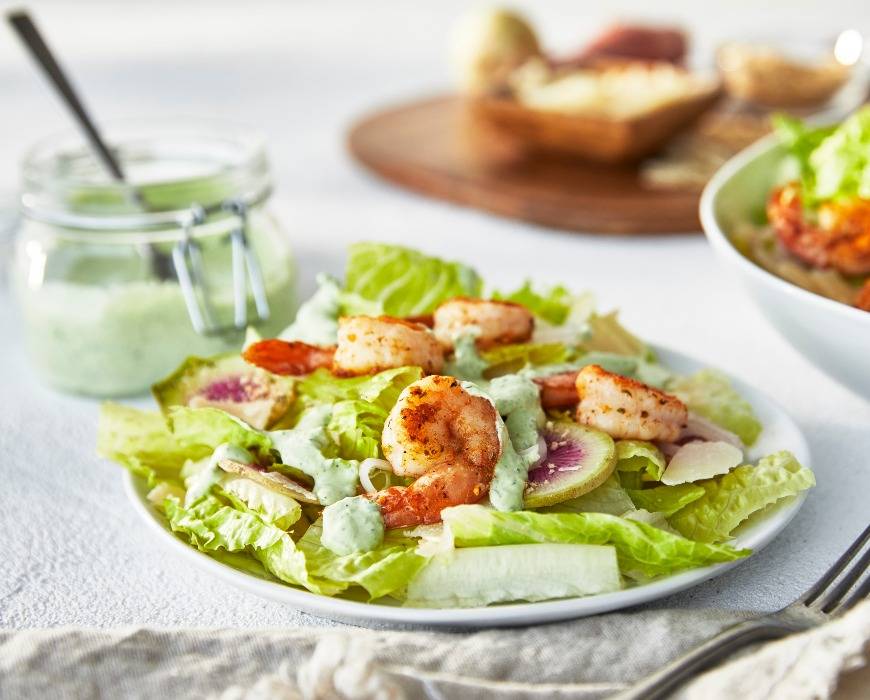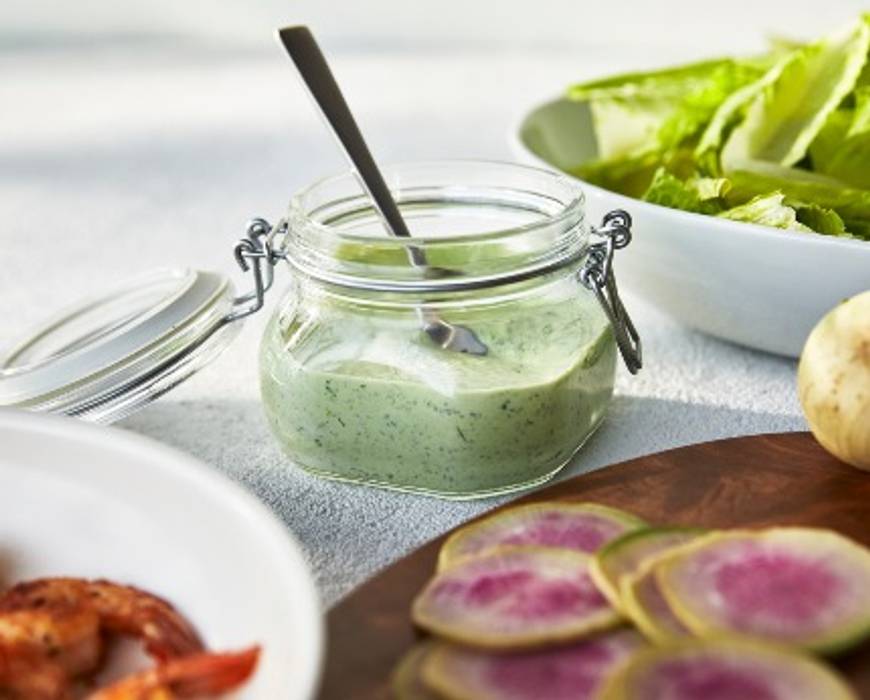 Romaine Salad with Shrimp and Green Goddess Dressing
Yields: 4 servings
Time: 25 minutes prep, 10 minutes cooking, 35 minutes total
PREPARATION INSTRUCTIONS:
For the shrimp:
1 pound large shrimp, peeled and deveined
1 teaspoon olive oil
1/2 teaspoon freshly ground black pepper
1/4 teaspoon salt
2 tablespoons fresh lemon juice
For the green goddess dressing:
1 garlic clove, roughly chopped
3 green onions, thinly sliced
2/3 cup Greek yogurt
1/3 cup mayonnaise or olive oil
3/4 cup fresh parsley leaves (include tender stems), loosely packed
1/4 cup basil leaves (include tender stems), loosely packed
1 tablespoon fresh lemon juice
2 anchovy fillets or 1/2 tablespoon anchovy paste
1/4 teaspoon salt
Freshly ground black pepper to taste
For the salad:
2 Romaine lettuce hearts (about 8 cups chopped)
2 watermelon radishes, thinly sliced
1 shallot, thinly sliced
For serving:
Freshly shaved Parmesan cheese
PREPARATION INSTRUCTIONS:
Cook the shrimp—Place a medium non-stick frying pan or grill pan over medium-high heat. In a large bowl, toss shrimp with olive oil, then sprinkle with salt and pepper and toss again till shrimp is evenly coated. Carefully place shrimp in hot pan and cook until flesh is white and exterior is pink/red—about 2 to 3 minutes per side. Transfer to a plate, sprinkle with lemon juice, and set aside.
Make the dressing—Place all dressing ingredients in a blender or food processor and pulse to combine. Transfer to an airtight container and stash in the fridge till needed.
Assemble the salad—Place Romaine leaves in a large salad bowl or divide between individual salad plates. Top leaves with sliced radish and shallot, then sprinkle with Parmesan cheese. Drizzle with 1/2 cup green goddess dressing or serve on the side.

Tips:
Love Your Leftovers—Our green goddess dressing recipe makes more than you need for this salad because you'll want to enjoy it on…everything! Drizzle on roasted veggies and pan-seared meats or use as a dip for carrots and celery or sweet potato fries.
Interactive Element—Dazzle guests by shaving Parmesan to order at the table, letting them say "when" to deliver the perfect amount.
Featured Product
Premiere Titanium Cutlery 12-Piece Knife Block Set with Walnut Handles
Crafted from recycled steel and eco-friendly walnut handles to minimize its environmental impact, each blade of this set is cryogenically treated to remove residual stresses, hand sharpened and coated with titanium for long-lasting performance.