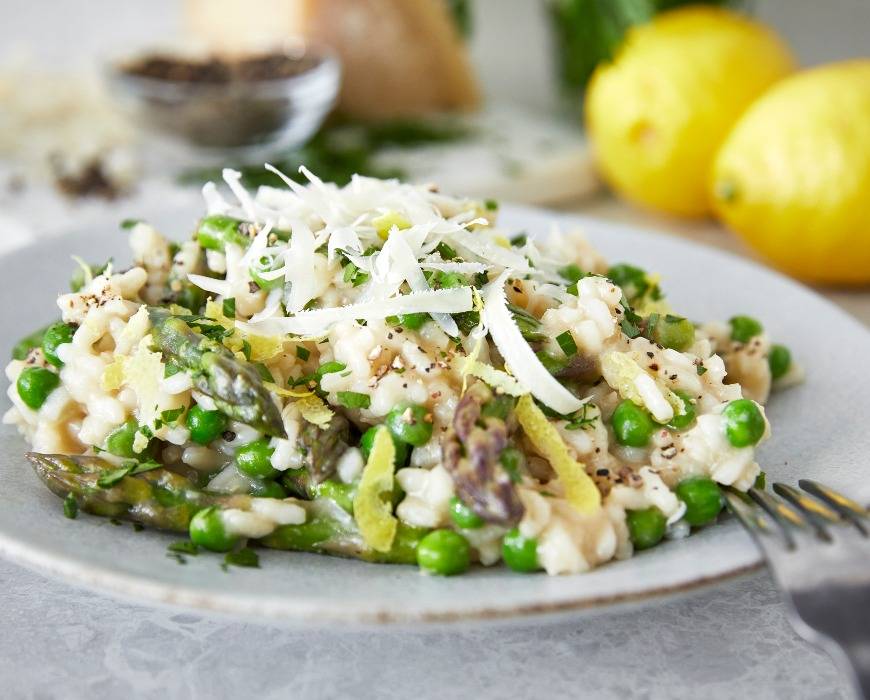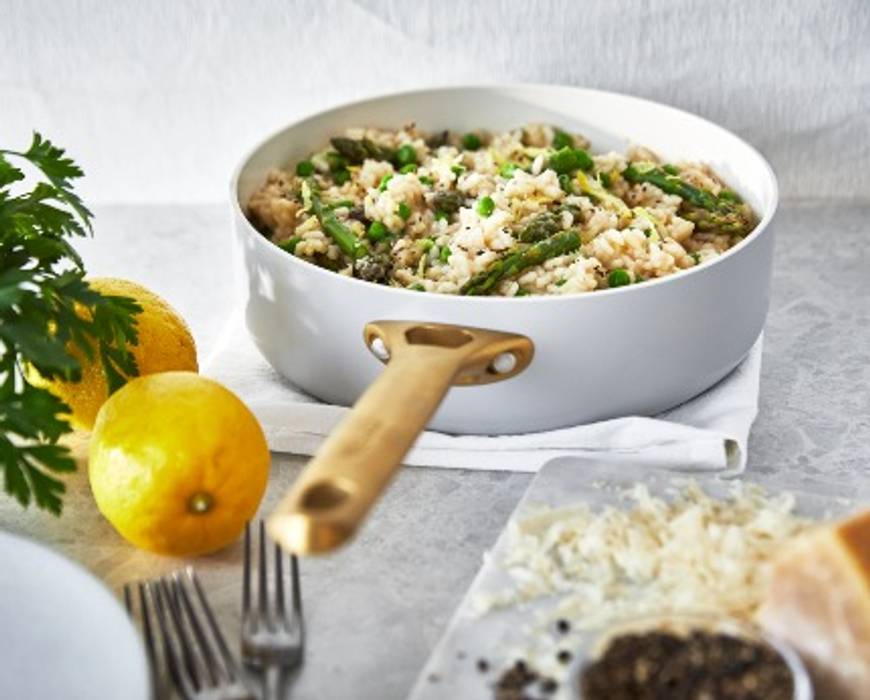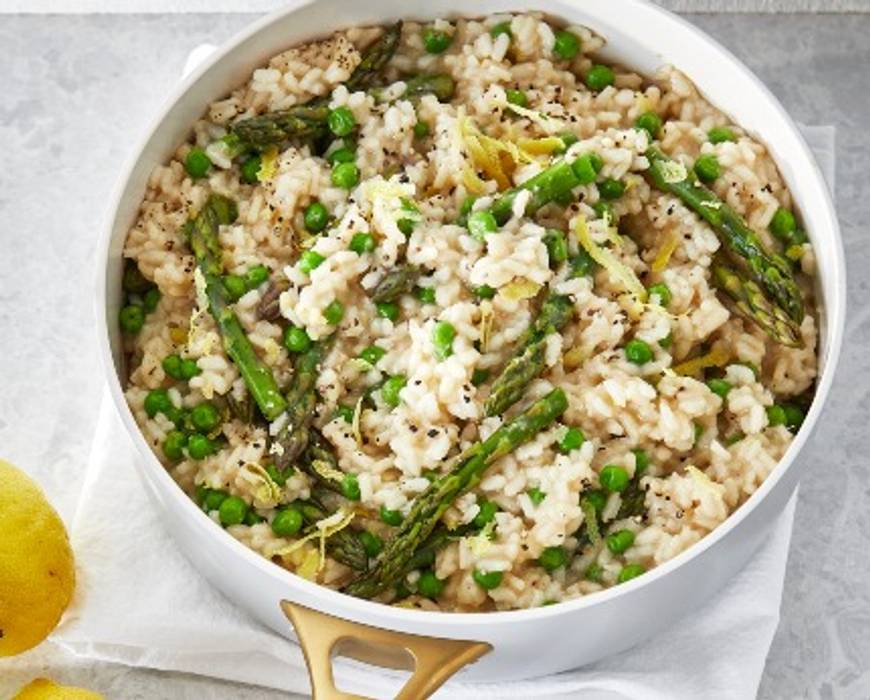 Lemony Asparagus and Spring Pea Risotto
Yields: 2 main dishes or 4 sides
Time: 15 minutes prep, 30 minutes cooking, 45 minutes total
INGREDIENTS:
4 cups low-sodium vegetable or chicken stock
2 tablespoons olive oil
1 shallot, diced
1 cup arborio rice
1/2 cup white wine
1 bunch asparagus, trimmed and cut into 2-inch pieces
1 cup fresh spring peas (or thawed if using frozen)
2 tablespoons fresh lemon juice (about 1/2 lemon)
1 teaspoon grated lemon zest, plus extra for garnish
3/4 cup chopped fresh flat-leaf parsley leaves
1/2 cup freshly grated Parmesan, plus extra for serving
2 tablespoons room temperature butter
Salt and freshly ground black pepper to taste
PREPARATION INSTRUCTIONS:
Warm the stock—Add stock to a medium saucepan and heat over medium till simmering. Reduce heat to low so stock stays warm but doesn't boil.
Sauté the shallot—Drizzle 2 tablespoons olive oil into a large sauté pan and heat over medium. Add shallot and sauté, stirring frequently, till softened—about 5 minutes.
Start the rice—Add arborio rice and stir for about 2 or 3 minutes, till rice is coated evenly with olive oil and gives off a nutty aroma. Be careful not to let the rice brown. Quickly deglaze with wine and cook for another minute till wine is mostly absorbed.
Cook the risotto—Add a ladle of warm stock (about 1/2 cup) to rice and stir till it's almost absorbed. When the rice starts to look dry, add another ladle and continue stirring till it's just about absorbed. Repeat until rice is creamy and nearly al dente. Add asparagus to rice with one last ladle of stock and stir. As liquid starts to evaporate, add peas and stir for another minute or so.
Finish the risotto—Remove pan from heat. Add in lemon juice and zest, along with parsley, Parmesan, and butter. Stir till butter is melted, seasoning with salt and pepper as you like. Divide between individual dishes and sprinkle with a little lemon zest and grated Parmesan to taste.
TIPS:
Asparagus Tip—Gently bend an asparagus spear and it will naturally break where the woody stalk turns tender. Continue bending the rest of the bunch (it's fun!) or simply cut the other stalks using the snapped one as a guide.
Don't Overdo It—Stirring constantly and cooking too long will quickly transform a creamy, silky rice dish into a stodgy, gluey mess.
Featured Product
Reserve Ceramic Nonstick 10-Piece Cookware Set | Dove Gray with Gold-Tone Handles
World-class performance meets eye-catching contrast in GreenPan Reserve. But it's more than good looks: the duoforged hard anodized construction makes this set extra tough. This set makes it simple to find your style at home.