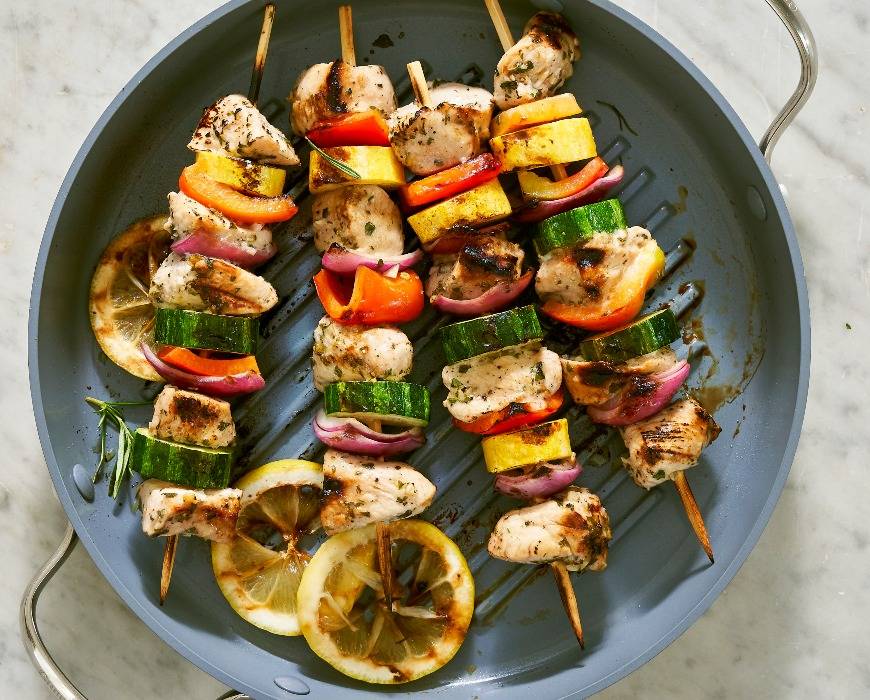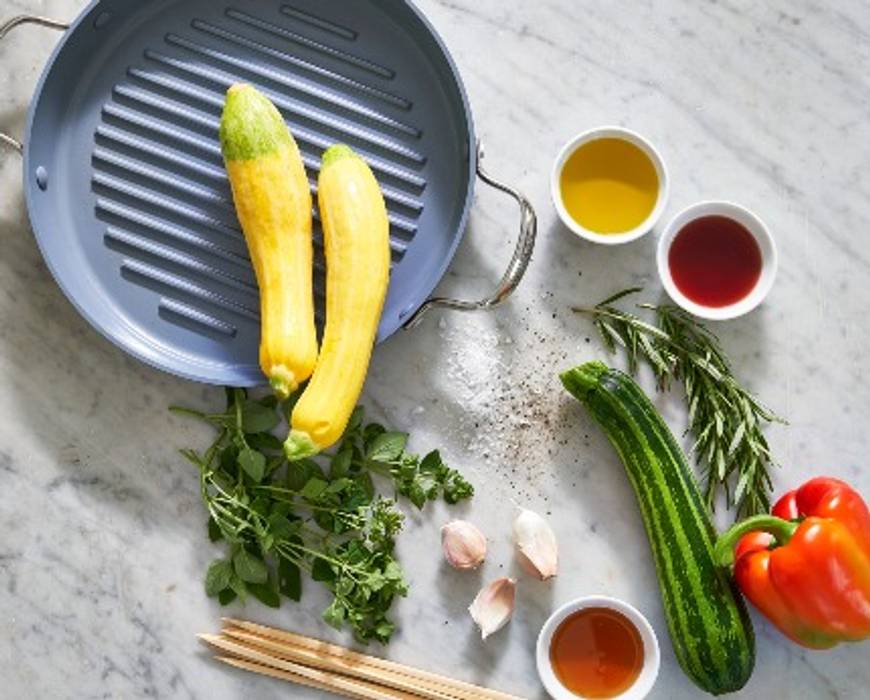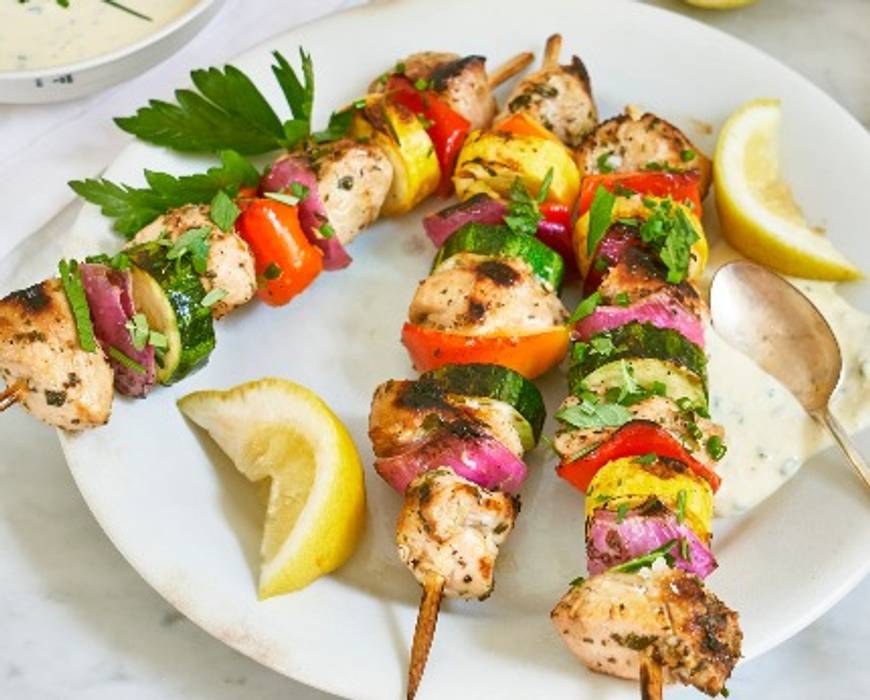 Mediterranean Chicken Kabobs with Vegetables and Feta Dip
Makes 4 servings
Time: 20 minutes prep, 20 minutes marinating, 20 minutes cooking, 1 hour total
INGREDIENTS:
For the chicken marinade
2 boneless skinless chicken breasts, cut into 1-inch pieces
3 tablespoons olive oil
3 tablespoons red wine vinegar
2 teaspoons honey
3 to 4 garlic cloves, minced
1 tablespoon dried oregano
2 teaspoons dried rosemary
1 teaspoon kosher salt
1/2 teaspoon freshly ground black pepper
For the kabobs:
1 zucchini, sliced into 1/2-inch rounds
1 summer squash, sliced into 1/2 inch rounds
1 small red onion, quartered into 1-inch pieces
1 red bell pepper, seeded and cut into 1-inch pieces
Canola or other neutral oil for grilling
For the dip:
8 ounces block feta cheese
1/2 cup sour cream
1/2 cup mayonnaise
1 clove garlic, minced
Zest from 1 lemon (about 1 teaspoon)
1/4 teaspoon freshly ground black pepper
Generous pinch of salt
2 teaspoons fresh herbs (dill, parsley, thyme, or a mix)
For serving
1 large lemon, cut into wedges
Chopped fresh herbs
PREPARATION INSTRUCTIONS:
Make the marinade—In a small bowl, whisk together olive oil, red wine vinegar, honey, garlic, oregano, rosemary, salt, and pepper. Taste and adjust salt and pepper as desired.
Marinate the chicken—Place chicken pieces in a zip-top bag or shallow baking dish and add marinade. Shake or stir to ensure chicken is evenly coated. Place in fridge to marinate for at least half an hour.
Make the dip—Place all dip ingredients except herbs in a blender or food processor and mix until mostly smooth—if you still have some small bits of feta, that's ok. Taste and adjust seasonings, if needed. Transfer to a serving bowl and stir in chopped herbs. Cover and place in refrigerator till ready to serve.
Assemble the kabobs—Thread chicken and vegetable pieces onto skewers.
Prep the pan—Place grill pan over medium-high heat and brush grates with canola oil.
Grill the kabobs—When oil is shimmering, add kabobs to pan. Grill, turning occasionally to ensure even cooking, until all sides have grill marks and chicken is cooked through, about 15 minutes.
Garnish and serve—Transfer kabobs to serving platter and squeeze lemon wedges over the top. Sprinkle with fresh herbs and serve with feta dip. Yum!
TIPS:
Mix it Up—Our versatile kabobs work great with all kinds of veggies, from mushrooms and cherry tomatoes to eggplant and cauliflower. You could even sweeten the deal with fresh pineapple.
Chop, Chop! Make sure to cut all your veggies uniformly so they'll cook evenly. Raw and overcooked veggies on the same skewer will make everyone sad.
Featured Product
Valencia Pro Ceramic Nonstick 11" Round Grill Pan
Bring the grill indoors with this 11" pan. Perfect for searing fish, grilling veggies, or whipping up restaurant-worthy burgers without worrying about the weather, it's built for healthy meal making any time of day.