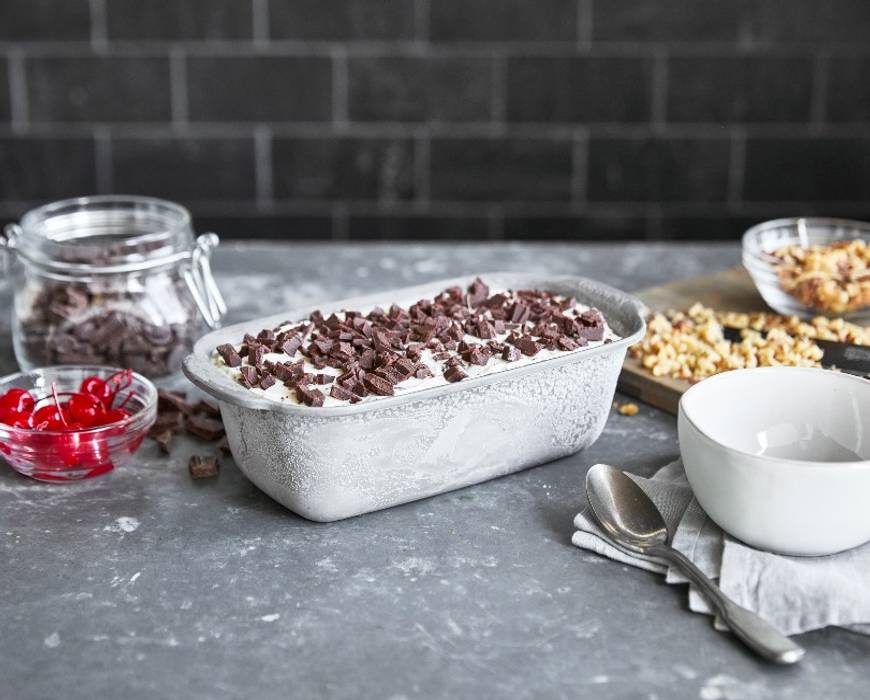 Mint Chocolate Chip Ice Cream
Yields: ~5 cups
Time: 15 minutes prep, 25 minutes churning, 40 minutes total  
INGREDIENTS:
For the Ice Cream
1 cup whole milk 
3/4 cup granulated sugar 
2 cups heavy whipping cream 
1 teaspoon peppermint extract or peppermint flavor, more or less to taste
4 ounces dark chocolate
PREPARATION INSTRUCTIONS:
Make the ice cream base—In a medium bowl, whisk together milk and sugar until sugar has dissolved, about 3 to 5 minutes. Add in heavy cream and peppermint extract and whisk gently or stir until combined. Taste mixture and add a bit more peppermint extract if desired. Try just a little at a time, as mint can quickly start tasting a little toothpaste-y.
Churn the ice cream—Turn on your GreenLife Scoop express ice cream maker. Pour the milk/cream mixture into the frozen freezer bowl. Mix until it thickens and starts to resemble soft-serve ice cream. Depending on how cold your milk/cream is, this can take anywhere from 15 to 25 minutes.
Meanwhile, chop the chocolate—Cut chocolate into small pieces and set aside. 
Add the chocolate—When ice cream is reaching soft-serve consistency, add chocolate and continue mixing till it's evenly distributed, about 2 minutes.
Chill, if desired—If you'd like a firmer ice cream, transfer to an airtight container and place in the freezer for at least 2 hours or overnight. Keep any leftovers (ha!) in the freezer for up to 2 weeks.  

TIPS:
Feeling Chipper? We like chopped chocolate because it melts in your mouth better than frozen chocolate chips (which contain stabilizers that help maintain their shape when baking). But if you're opting for chips, go for the mini ones.
Chill Out! The milk/cream mixture should be as cold as possible when it goes into the ice cream maker. If prep gets interrupted (because life) and the mixture is no longer chilly, stash it in the fridge for an hour or two before churning.
Featured Product
Premiere Ovenware Ceramic Nonstick 1 lb. Loaf Pan
This heavy-duty pan is great for bread, but it's also endlessly adaptable—think meatloaf, smaller ziti, chicken pot pies, and so much more. It's extra tough, endlessly versatile, and easy to use.