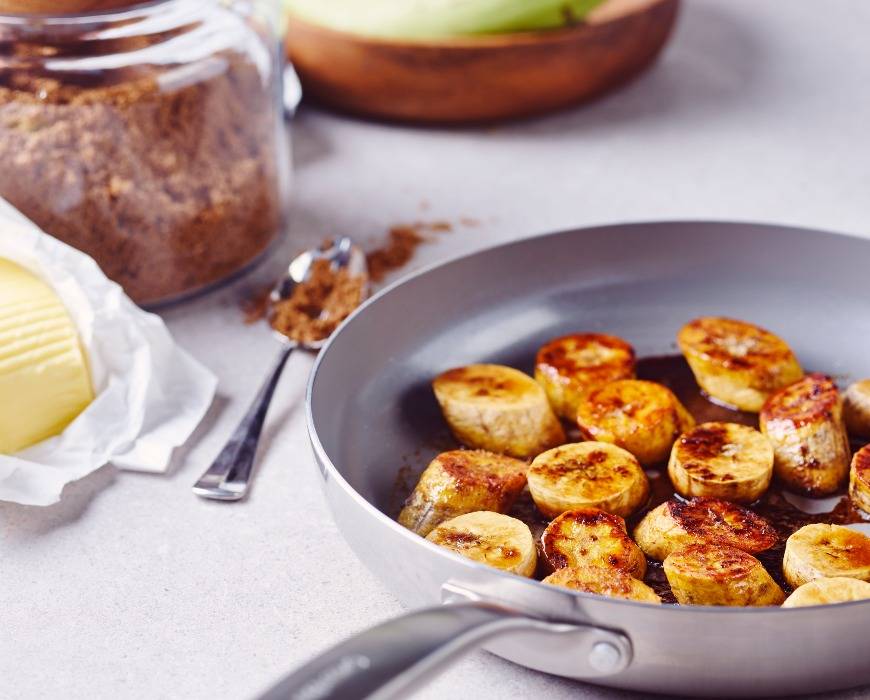 Yields: 6 servings
Time: 10 minutes prep, 5 minutes cooking, 15 minutes total
INGREDIENTS:
3 very ripe plantains
2 tablespoons butter
3 tablespoons brown sugar
PREPARATION INSTRUCTIONS:
Prep the plantains—Peel the plantains and cut into 1-inch slices. Set aside.
Prepare to cook—In a large skillet over medium-high heat, add butter. When it melts, stir in brown sugar.
Fry the plantains—When mixture begins bubbling, place plantains in skillet and cook for about 2 minutes or until the undersides begin to brown. Flip plantain slices and continue cooking until they've caramelized and slightly softened—another 2 minutes or so. Transfer to a plate and serve warm.

TIPS:
Plan Ahead—Finding ripe plantains at the grocery store can be tricky, so buy them about a week (or two!) ahead of time. When they look like bananas you'd use for smoothies, they're done.
Appealing Idea—Plantains look like bananas, but don't try to peel them that way. Simply cut off both ends, cut a slit lengthwise, and peel side to side. Use a knife to loosen peel, if needed.
Featured Product
Chatham Stainless 11" Frypan with Lid
Designed for daily life, we call our 11" pans the "goldilocks size" because it's just right for everything. It's not so big that it will crowd your stove, but it still has plenty of room for big cuts of meat,...