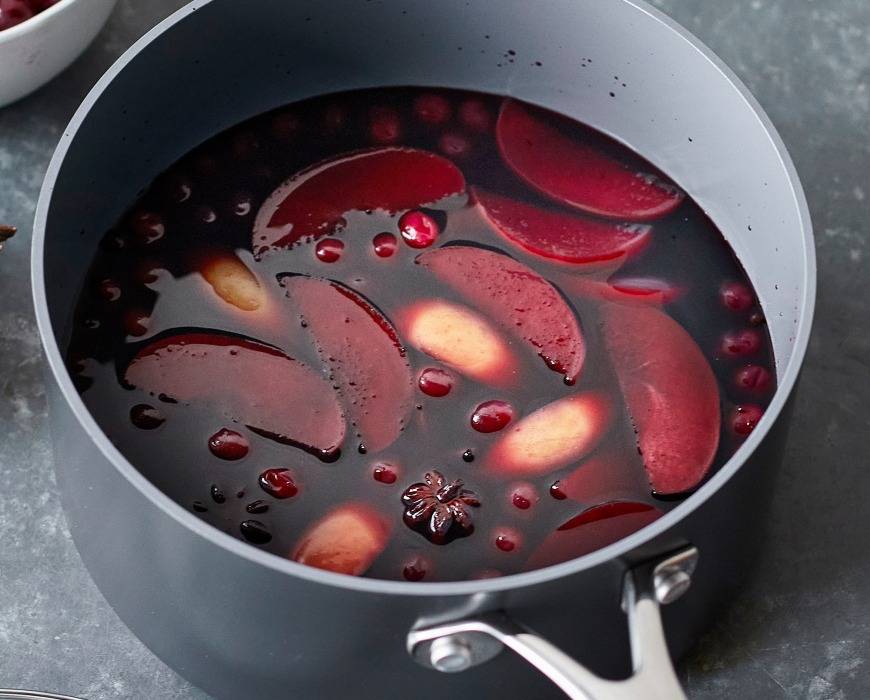 Mulled Wine with Apple Cider and Pomegranate 
Yields: 15 
Time: 10 minutes prep, 15 minutes cooking, 25 minutes total  
INGREDIENTS: 
1 1/2 cups apple cider

 

1 1/4 cups pomegranate juice

 

4 cinnamon sticks

 

8 cloves

 

3 allspice berries

 

2 star anise

 

Pinch of ground nutmeg

 

1/4 cup brown sugar

 

1 bottle red wine (750 ml)

 

1 honeycrisp apple, sliced, plus extra for garnish

 

1/2 cup pomegranate seeds, plus extra for garnish

 

1/2 cup fresh cranberries, plus extra for garnish

 
PREPARATION INSTRUCTIONS: 
Simmer the juice and spices—In a soup pot or Dutch oven over medium heat, stir together apple cider, pomegranate juice, cinnamon sticks, cloves, star anise, allspice berries, nutmeg and brown sugar. Bring to a boil, then reduce heat to low and simmer for 15 minutes. 
Add the wine—Pour red wine into juice mixture and stir in apples, pomegranate seeds, and cranberries. Continue simmering until mulled wine is heated through. Reduce heat to lowest setting to keep warm.
Garnish and serve—Add a few fresh cranberries, pomegranate seeds, and apple slices to each glass. Ladle warm wine over the top and serve immediately.
TIPS: 
Which Wine? No need to break out the good stuff—mulling spices make any red wine taste amazing. You could even break with tradition and sub in a dry white wine. 
Featured Product
Valencia Pro Ceramic Nonstick 2-Quart Saucepan with Lid
Crafted from hard anodized aluminum for strength and scratch resistance, this 2qt saucepan is ready to simmer soups and sauces at a moment's notice. And cleanup will be simple thanks to our signature healthy ceramic nonstick.