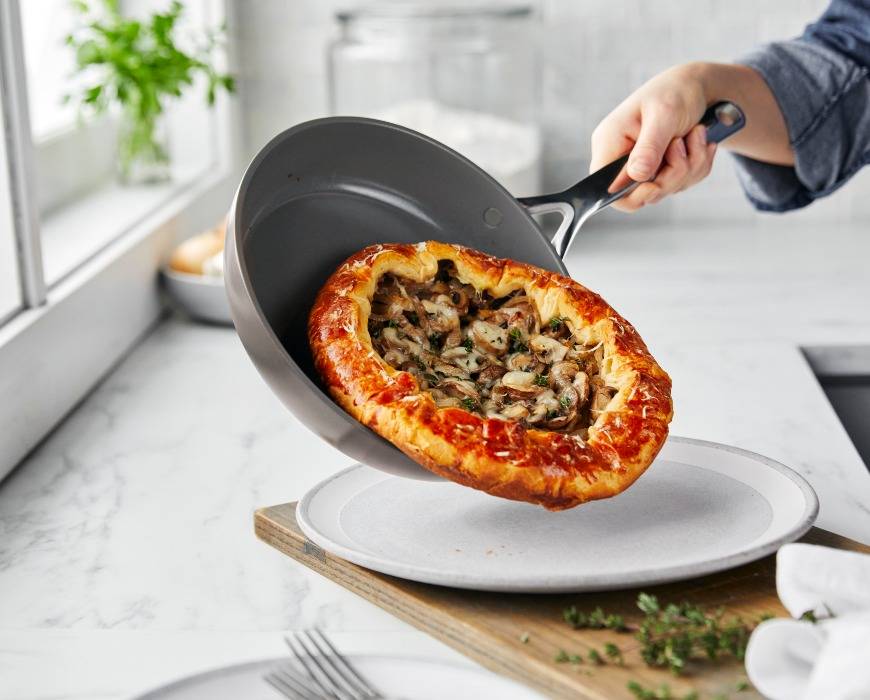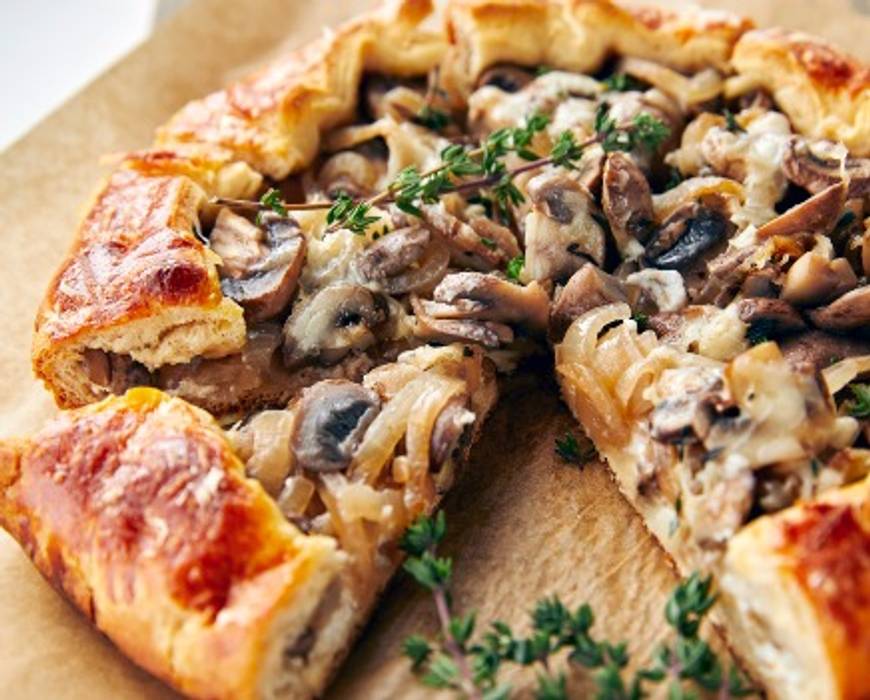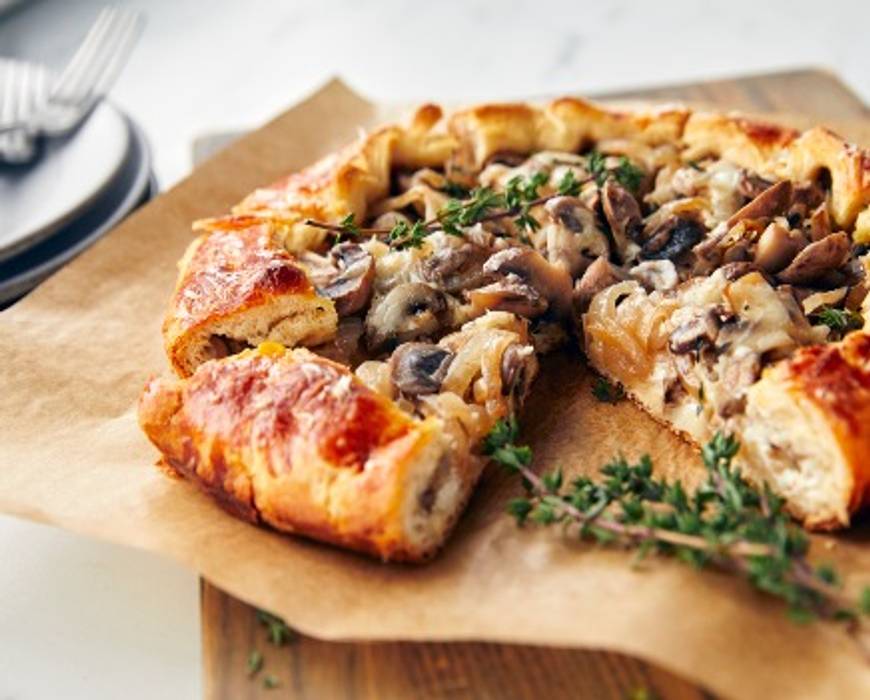 Yields: 4 servings
Time: 15 minutes prep, 25 minutes cooking, 40 minutes total
INGREDIENTS:
1 tablespoon olive oil
1/2 small onion, sliced thin
6 ounces crimini mushrooms (6 to 8 medium mushrooms)
1 pie crust, homemade or the pre-rolled, refrigerated kind
1 egg, separated
1/3 cup whole milk ricotta
Parmesan cheese, for grating over galette
Pinch of salt, freshly ground pepper, and nutmeg
1 1/2 ounces shredded gruyere cheese
1 teaspoon fresh thyme leaves
Thyme sprigs for garnish
PREPARATION INSTRUCTIONS:
Prepare to bake—Preheat oven to 400°F.


 Sauté the onions—Add olive oil to a medium skillet over medium heat. When oil is shimmering, add sliced onions and stir to coat evenly with oil. Sauté, stirring frequently, until onions soften and become translucent—about 10 minutes.


Cook the mushrooms—Add mushrooms to skillet with onions and continue sautéing till mushrooms become tender—about 3 to 5 minutes. Remove skillet from heat and set aside.


 Shape the galette dough—On a lightly floured surface, roll dough into a circle about 12 inches in diameter and 1/8 inch thick. No need for exact measurements, you just want the crust to overhang your skillet a bit. Transfer crust to an oven-safe, nonstick 11-inch skillet.


 Prep the crust—Brush egg white all over the crust, except for 1 1/2 inches around the outside. Wait a minute or two for the white to dry, then spread ricotta over the area covered with the egg white. Sprinkle a little freshly grated Parmesan over the ricotta, add more or less to taste. Then sprinkle the top of ricotta with salt, freshly ground pepper, and ground nutmeg to taste.


Assemble the galette—Distribute the mushroom mixture evenly over the top of ricotta, then sprinkle evenly with shredded gruyere and thyme leaves.  


 Fold the crust—Fold edges of dough inward over the filling about an inch. Don't worry about being precise or aiming for pretty—galettes are meant to be rustic. Brush crust with egg yolk and add a little extra shredded Parmesan to the top, if that's how you roll.


 Bake the galette—Transfer galette to preheated oven and bake till the crust is beautifully golden brown. This will take anywhere from 20 minutes for store-bought pastry to 40 minutes for homemade. Remove from oven and let rest for 10 minutes in skillet.


 Garnish and serve—Transfer galette to serving plate, top with a few sprigs of fresh thyme, and serve warm.
TIPS:
Amp Up the Flavor—Add caramelized onions if you have them. And if you don't, take the time to make a big batch! They'll keep for a week in the fridge or for months in the freezer.
Why Grate Your Own Cheese? 1. Tastes better. Need more reasons? 2. Fresher, with no fillers. 3. Keeps longer. 4. Costs less. 5. See number 1 again!
Featured Product
GP5 Colors Ceramic Nonstick 11-Piece Cookware Set
Our Most Advanced Collection This do-it-all set brings a sleek style to any kitchen with no compromise in performance. Each piece is constructed from heavy-gauge aluminum and coated in our Infinite8 ceramic nonstick. Plus, the induction ready design delivers quick and even...