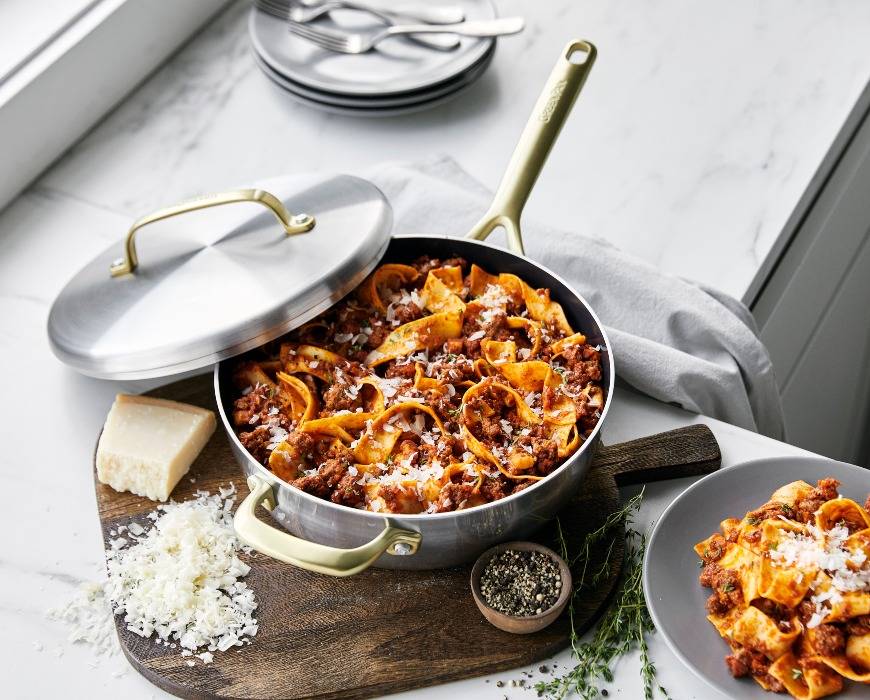 Pappardelle with Bolognese
Yields: 6 servings
Time: 15 minutes prep, 45 minutes cooking, 1 hour total
INGREDIENTS:
2 to 3 tablespoons olive oil
1 medium white or yellow onion, diced
1 medium carrot, diced
1 rib celery, diced
2 garlic cloves, minced
1 pound ground beef chuck
Salt and freshly ground black pepper
1 (28-ounce) can crushed or diced tomatoes
1/4 cup parsley, chopped
6 to 8 fresh basil leaves, chopped
1 pound pappardelle noodles
1/4 cup freshly grated Parmesan, plus more for serving
PREPARATION INSTRUCTIONS:
Sauté the aromatics—Heat oil in a large sauté pan over medium-high heat. When oil is shimmering, add onion and sauté, stirring occasionally, until softened—about 8 minutes. Add carrot and celery and continue sautéing for another 5 minutes. Add garlic and stir constantly for another minute.
Brown the beef—Add ground beef and season generously with salt and freshly ground black pepper. Break meat into small pieces with spatula and cook, stirring frequently, until evenly browned, about 10 minutes. Drain excess fat, if needed.
Make the sauce—Reduce heat to medium low and add tomatoes, parsley, and basil. Cook for about 30 minutes or until sauce thickens.
Meanwhile, boil the pasta—When sauce has been cooking about 20 minutes bring a large pot of well-salted water to boil over high heat. Boil pasta until almost al dente, 1 to 2 minutes less than package directions.
Finish and serve—Drain pappardelle, reserving about 1/2 cup of pasta water. Add drained pasta to sauce, along with Parmesan and pasta water. Toss to coat pasta evenly, then bring to a simmer and cook until water has reduced and pasta is al dente—a couple minutes more. Divide pasta into individual bowls and sprinkle with extra Parmesan.
TIPS:
Get Salty—For the most flavorful pasta, add at least 1 tablespoon salt per quart of water. Don't worry about ingesting too much sodium—most of it goes down the drain.
Mix it up—Swap ground beef for Italian sausage or ground pork, if that's how you roll. Or use 1/2 and 1/2 beef and sausage for the best of both worlds.
Featured Product
GP5 Stainless Steel 4-Quart Sauté Pan with Lid | Champagne Handles
Spacious, versatile, and great for everything—this is the one pan your kitchen needs for next-level cooking. The 5-ply stainless steel body is finished with our groundbreaking Infinite8 coating for years of effortless performance.