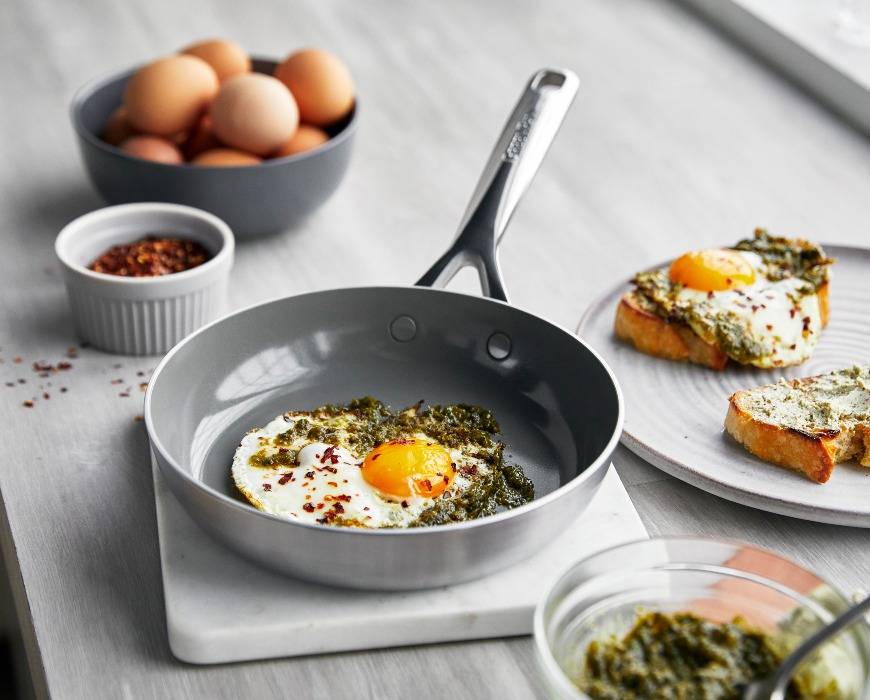 Yields: 2 servings
Time: 5 minutes prep, 5 minutes cooking, 10 minutes total
INGREDIENTS:
2 tablespoons pesto, homemade or from a jar
2 large eggs
Salt, fresh ground black pepper, and red pepper flakes to taste
2 slices sourdough bread
2 ounces herbed goat cheese or other herbed soft cheese
PREPARATION INSTRUCTIONS:
Warm the pesto—Place a medium nonstick skillet over medium heat until hot. Add pesto and spread into a thin layer across skillet.


 Fry the eggs—Once pesto has warmed for a minute or two, add eggs to pan. Sprinkle tops of eggs with salt, freshly ground pepper, and red pepper flakes—generously or lightly, depending on your taste. Fry eggs until whites are set, about 4 to 5 minutes.


 Meanwhile toast the bread—Place bread in toaster or toaster oven till lightly browned on both sides. Spread the herbed cheese evenly across both slices of bread.


 Finish the toasts—Transfer fried eggs from skillet to tops of toasts. Enjoy immediately! 
TIPS:
Get Cracking—Trying to remove bits of egg shell from a hot skillet is a recipe for disaster. Avoid the problem by cracking each egg into a small cup or bowl, then pour it into skillet. 
Spice it Up—Add plenty of red pepper flakes to go from mild to super-spicy. A few dashes of hot sauce wouldn't go amiss here either, just saying.
Featured Product
GP5 Stainless Steel 8" Frypan | Mirror Handle
Whether you're tackling a quick fried egg, sautéed asparagus, or just heating up leftovers, this pan's remarkable 5-ply stainless steel body and Infinite8 ceramic nonstick will deliver outstanding performance for each and every meal.