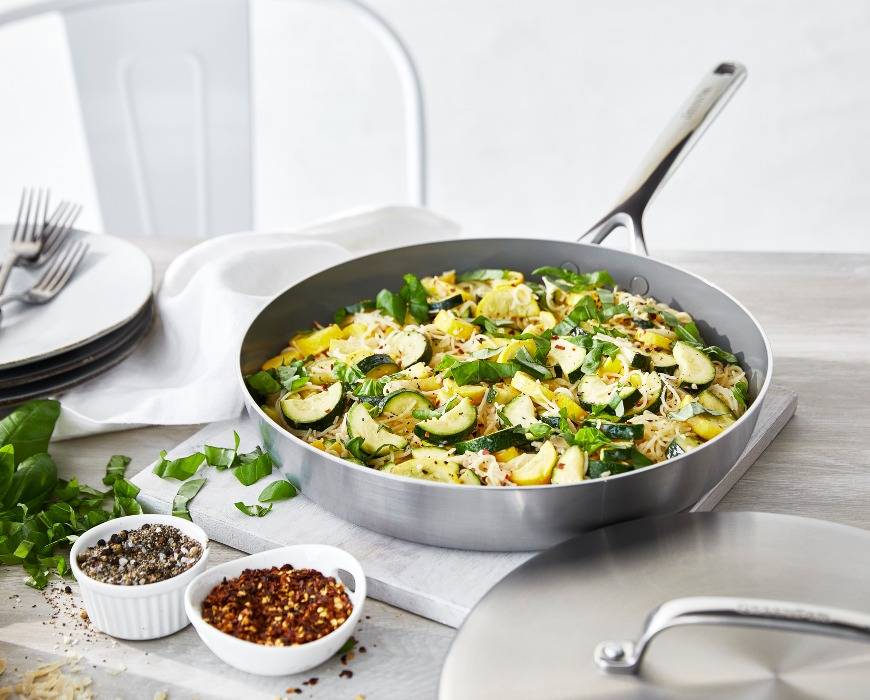 Summer Squash and Basil Pasta
Yields: 4 servings
Time: 10 minutes prep, 20 minutes cooking, 30 minutes total
INGREDIENTS:
3 to 4 tablespoons olive oil
8 garlic cloves, thinly sliced
1 pound summer squash, halved lengthwise and sliced
1 pound zucchini, halved lengthwise and sliced
Salt to taste
16 ounces spaghetti or angel hair pasta
2 ounces freshly grated Parmesan, plus more for serving
1 tablespoon fresh lemon juice
1/2 cup fresh basil leaves
Red pepper flakes, optional
PREPARATION INSTRUCTIONS:
Prepare to cook—Bring a large pot of well-salted water to a boil over high heat.


 Sauté the garlic—Heat oil in a large nonstick skillet over medium heat. When oil is shimmering, add the garlic and sauté, stirring frequently, until it begins to brown—about 4 minutes.


 Sauté the squash—Add squash and zucchini to skillet, season with salt, and increase heat to medium high. Sauté, stirring occasionally, until squash has softened and slightly browned, about 8 to 10 minutes.


 Meanwhile, boil the pasta—Add pasta to boiling water and cook until almost al dente—a minute or two less than the package directions.


 Make the sauce—Use a pasta fork to transfer cooked pasta into skillet. Add 1/2 cup pasta water, along with some of the Parmesan and stir to coat pasta. Continue stirring in Parmesan and additional pasta water as needed until sauce thickens and pasta is al dente. Sprinkle with lemon juice and stir to combine.


 Garnish and serve—Divide pasta between individual bowls and top with fresh basil, additional Parmesan, and red pepper flakes, if desired.

TIPS:
How to Pick Squash—Look for vibrantly colored squash (bright yellow or green) that's firm to the touch. A few scratches and nicks are fine, but wrinkly skin or bendy squash is a deal breaker.
Prefer Penne or Fettuccine? Go for it! Our versatile recipe works great with pasta of all sizes and shapes (except maybe orzo).
Featured Product
GP5 Stainless Steel 12" Frypan with Lid | Mirror Handles
Featuring our groundbreaking Infinite8 ceramic nonstick and an ultra-tough 5-ply stainless steel body, this spacious frypan will be a constant kitchen companion.