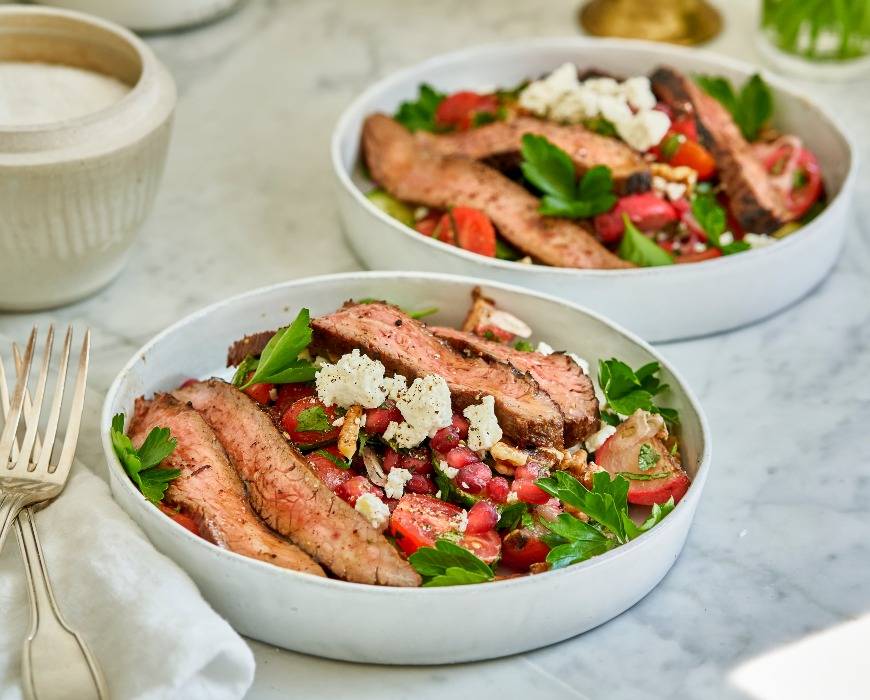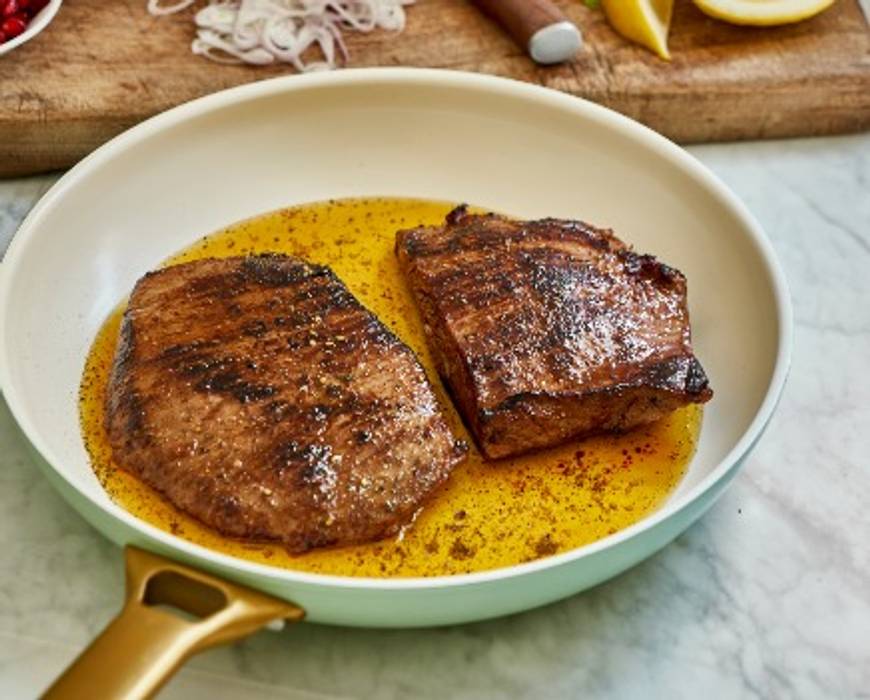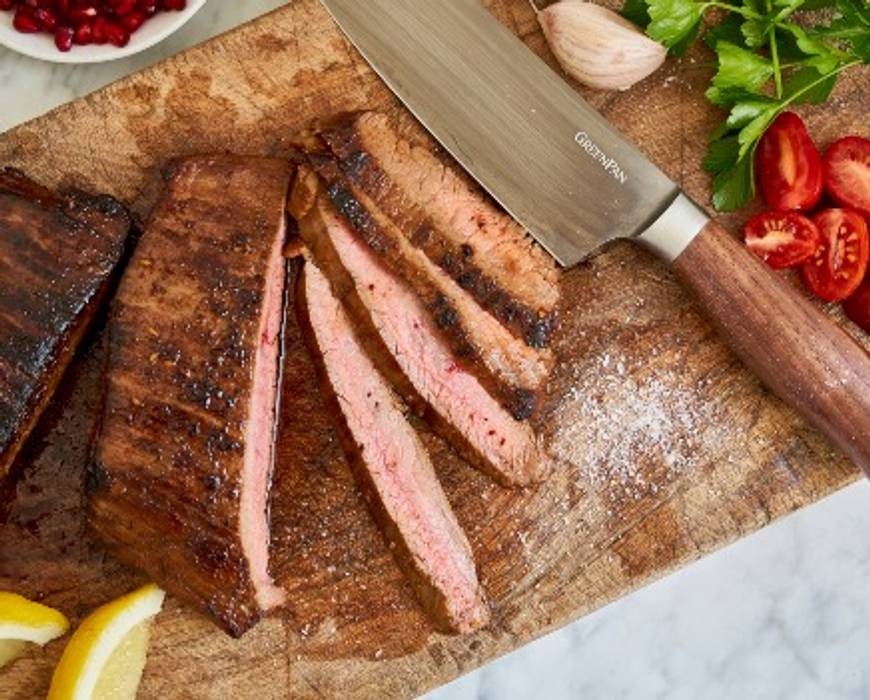 Himalayan Pink Salt Ghee Marinated Flank Steak
Yields: 4 to 6 servings
Time: 30 minutes prep, 20 minutes cooking
INGREDIENTS:
For the Steak:
3 tablespoons 4th & Heart Himalayan Pink Salt Grass-Fed Ghee
1 tablespoon fresh lemon zest
1 tablespoon fresh lemon juice
2 teaspoons honey
2 garlic cloves, grated
1 flank steak, about 1½ pounds, cut in two equal pieces
For the Salad:
2 tablespoons 4th & Heart Himalayan Pink Salt Grass-Fed Ghee
1 large bunch of radishes, stems removed, quartered
2 teaspoons za'atar
2 teaspoons fresh lemon juice, more to taste
1 pint cherry tomatoes, halved
1 small seedless English cucumber, thinly sliced
1 large shallot, peeled, thinly sliced
1/2 cup pomegranate seeds
1/4 cup walnuts, toasted, roughly chopped
1/4 cup fresh mint, destemmed, roughly chopped
1/4 cup fresh parsley, destemmed, roughly chopped
2 tablespoons fresh cilantro, stems included, roughly chopped
1 teaspoon dried ground sumac
Kosher salt, to taste
Freshly ground black pepper, to taste
1/3 cup feta cheese, crumbled
PREPARATION INSTRUCTIONS:
For the steak, in a small mixing bowl stir together the 4th & Heart Himalayan Pink Salt Grass-Fed Ghee, lemon zest and juice, honey and garlic. Remove the steak from the refrigerator and pat dry with paper towels. Evenly rub the ghee mixture over the entire surface of the steak and set it aside at room temperature for 20 to 30 minutes. 


For the salad, heat a large GreenPan frypan over medium high heat and add the remaining 2 tablespoons of ghee. Once the ghee has melted add the radishes to the pan and cook for 5 to 6 minutes, stirring or tossing occasionally, or until they are softened and well browned. Sprinkle the za'atar in the frypan and toss to combine, cooking another minute until quite fragrant.  Stir in the lemon juice then transfer the radishes to a large mixing bowl to cool.  


Return the frypan to the stovetop and heat again over medium high heat. Add the steak to the pan and cook undisturbed for 4 to 6 minutes per side, or until the steak is 130F in the center for medium rare (or 140F for medium). Transfer the steak to a cutting board and cover with foil to let it rest for 5 to 10 minutes.


While the steak is resting add the remaining ingredients, except the salt, pepper and feta, to the mixing bowl with the cooked radishes and toss or stir to combine. Taste and adjust with more lemon juice, salt and pepper.


Transfer the salad to a large serving platter or divide it evenly between individual plates. Uncover the steak and cut it, against the grain, into thin slices.  Serve the steak on top of the salad (drizzle any accumulated liquid from the cutting board on top if you'd like) and top with the crumbled feta cheese.  Garnish with more fresh herbs if desired and serve warm immediately.
TIPS:
Skirt steak would be an equally great choice for this recipe in place of flank steak. Take care not to overcook it, as it is usually a bit thinner, so decrease the cooking time by at least a minute per side and be sure to use an instant read thermometer to check the temperature! 
For those picture-perfect grill marks on your steak, try cooking this recipe on one of our 11" indoor grill pans instead!