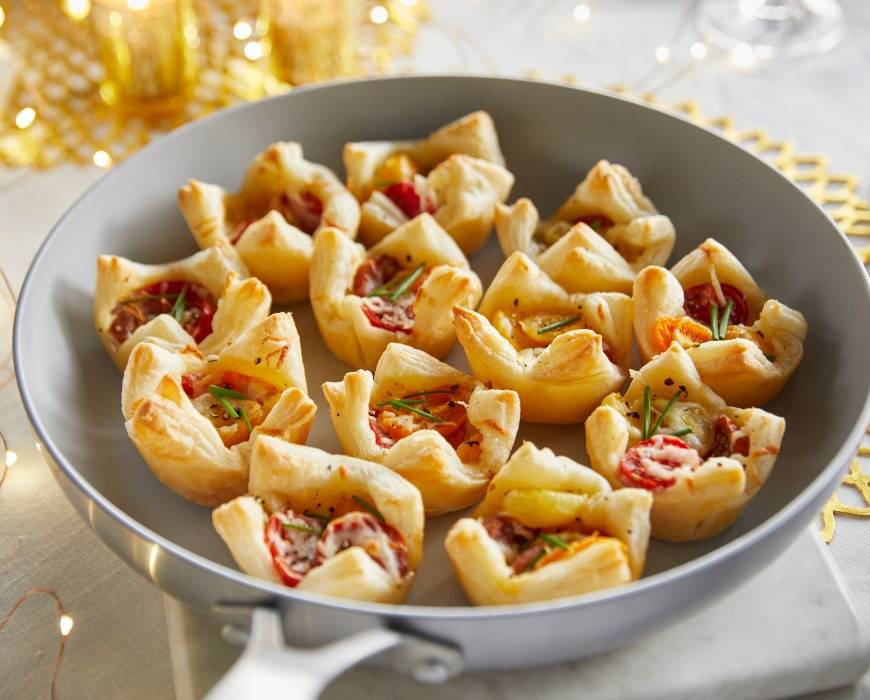 Puff Pastry Tomato Tartlets
Yields: 18 tartlets
Time: 15 minutes prep, 15 minutes cooking, 30 minutes total
INGREDIENTS:
1 package frozen puff pastry (2 sheets), thawed
1/2 cup mayonnaise
2 teaspoons salt
1 teaspoon pepper
1 cup shredded mozzarella cheese
1 cup shredded cheddar cheese
3 cups cherry tomatoes, halved (multicolored if you can get them)
Chopped chives for garnish
PREPARATION INSTRUCTIONS:
Prepare to cook—Preheat oven to 350°F.


Prep the puff pastry—Unfold the pastry sheets and spread mayonnaise evenly over both sheets. Sprinkle both sheets with salt and pepper. Cut each sheet into 9 squares (about 3 inches each).


Assemble the tartlets—Press squares into nonstick muffin pans. You'll have 3 empty spaces in each pan and that's ok. Divide tomatoes between tarts, then sprinkle evenly with both cheeses.


Bake the tartlets—Transfer pans to preheated oven and bake until cheese is bubbly and puff pastry is beautifully golden (and puffed, hence the name)—about 15 minutes.


Garnish and serve—Transfer to serving platter and sprinkle each tartlet with chopped chives. Enjoy!
TIPS:
Pick Your Favorite Herb
Parsley, thyme, basil, rosemary—use whichever herb you like best (or whatever you have on hand) to garnish these tarts.
Halve Cherry Tomatoes in Half the Time (or Less!)
Sandwich a bunch of cherry tomatoes between two plates, then gently slice through the middle of tomatoes with a serrated knife. Repeat as necessary.
Featured Product
Venice Pro Ceramic Nonstick 10" Frypan
Crafted from ultra-tough, multilayer stainless steel, this 10" pan will be your everyday go-to—from sautés to bakes, fluffy scrambled eggs to fall-apart tender salmon, it will make everything simple.