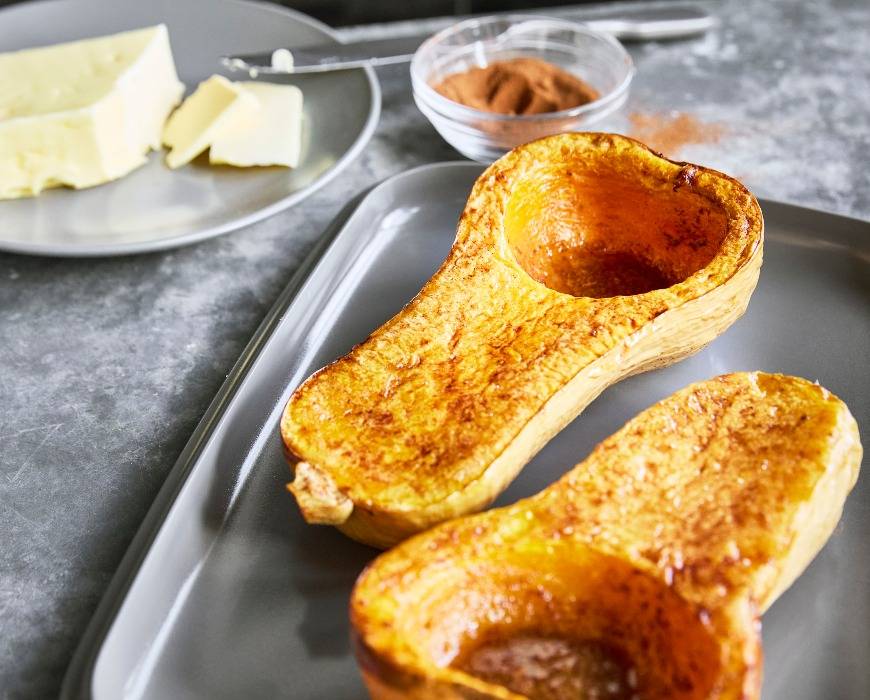 Yields: 2 servings
Time: 5 minutes prep, 45 minutes cooking, 50 minutes total
INGREDIENTS:
1 butternut squash
1 tablespoon olive oil or melted butter
1 to 2 tablespoons brown sugar, optional
2 teaspoons cinnamon
PREPARATION INSTRUCTIONS:
Prepare to roast—Preheat oven to 375°F.
Prep the squash—Cut butternut squash in half lengthwise using your largest, sturdiest knife. Scoop out the membranes and seeds and discard. (Or save seeds for roasting.) Place both halves of the squash cut side up on a baking sheet.
Season the squash—Brush tops of squash evenly with olive oil or melted butter, being sure to cover the whole surface. Sprinkle evenly with brown sugar (if using) and cinnamon.
Roast the squash—Transfer to preheated oven and roast until squash is tender when pierced with a fork, about 45 minutes. Remove from oven and serve hot.
TIPS:
How Do We Love Butternut Squash? Let us count the ways—1. Soups 2. Curries 3. Chowders 4. Risotto 5. Ravioli 6. Mac & Cheese 7. Dips 8. Tarts 9. Pizza 10. So much more!
Roast the Seeds—Rinse clean, pat dry, and place in a small bowl. Add a drizzle of olive oil and generous sprinkle of salt. Toss to coat, spread on a nonstick bake sheet, and roast for about 15 minutes.