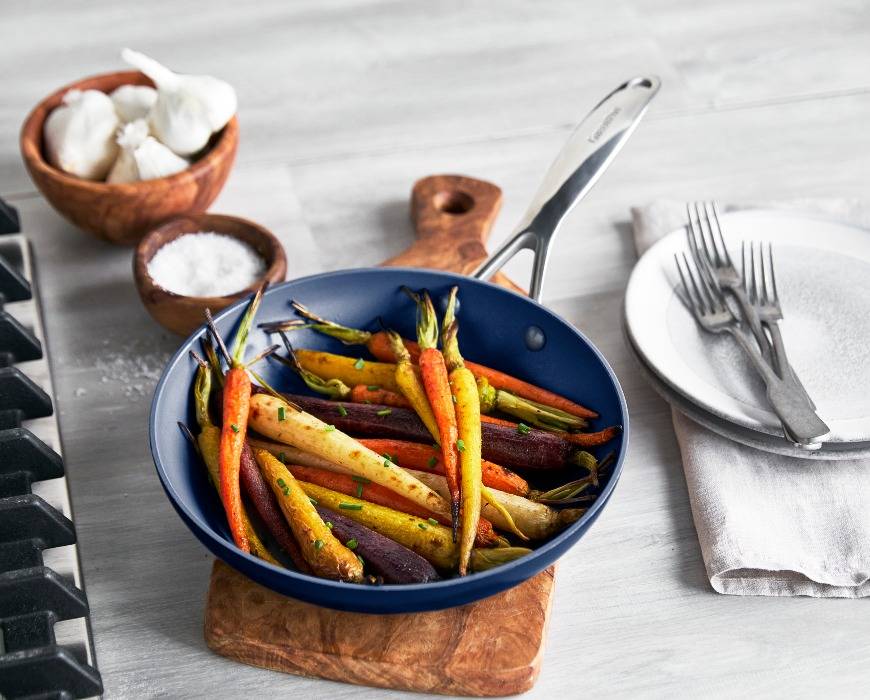 Yields: 4 servings
Time: 5 minutes prep, 15 minutes cooking, 20 minutes total
INGREDIENTS:
3 bunches baby rainbow carrots, washed and patted dry with leaves removed
1 tablespoon olive oil
1/2 teaspoon coarse salt
1 tablespoon chopped chives for garnish
PREPARATION INSTRUCTIONS:
Prepare to cook—Preheat oven to 450°F.
Prep the carrots—Place carrots in a large, high-sided nonstick skillet. Add olive oil and salt and toss to coat evenly.
Roast the carrots—Roast in preheated oven for 7 minutes. Flip carrots over and continue roasting until lightly browned and tender when pierced with a fork—about 8 to 10 minutes. Sprinkle with chopped chives and additional salt, if needed.
TIPS:
Spice it Up—Add depth of flavor with a teaspoon of pumpkin pie spice or bring the heat with a dash of cayenne or red pepper flakes.
Skip a Step—Swap out the bunches in our recipe for two bags of baby carrots. The rainbow variety adds more plate appeal, but ordinary orange carrots taste equally delicious.
Featured Product
Performance Pro Ceramic Nonstick 10" Frypan
Made for just about everything, this versatile 10" frypan features our healthy ceramic nonstick coating so you can start searing steaks, sautéing veggies, and delivering family classics with (healthy) ease.