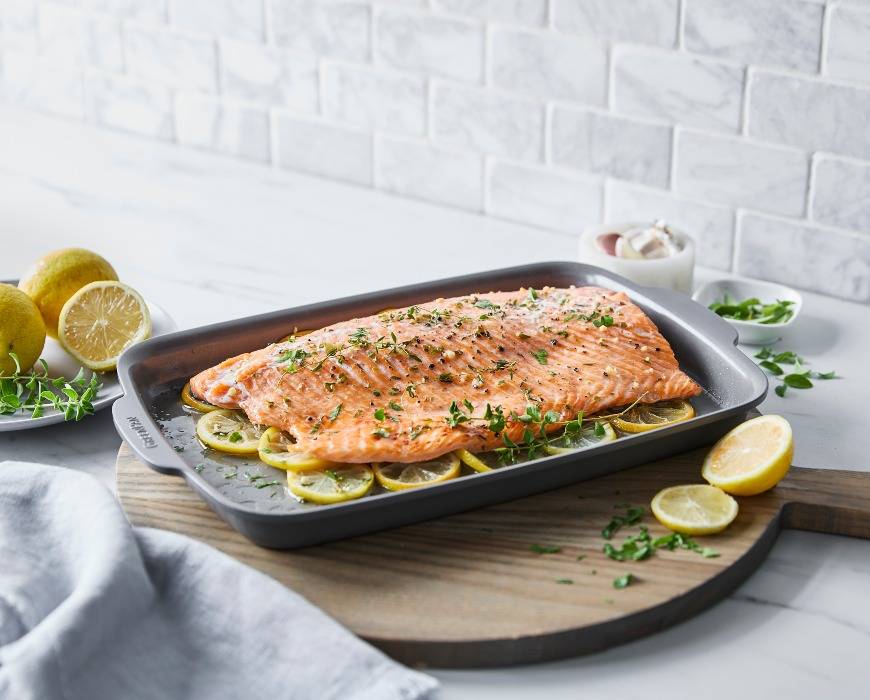 Sheet Pan Salmon with Fresh Lemon Slices
Yields: 2 to 4 servings
Time: 5 minutes prep, 15 minutes cooking, 20 minutes total
INGREDIENTS:
2 lemons, thinly sliced
1 whole salmon filet (1 to 1 1/2 pounds)
1 tablespoon olive oil
1 tablespoon fresh lemon juice
2 cloves garlic, minced
Sea salt and freshly cracked black pepper to taste
Fresh thyme leaves or chopped parsley for garnish
PREPARATION INSTRUCTIONS:
Prepare to cook—Preheat oven to 375°F. Place lemon slices in a single layer in the bottom of a nonstick 9 x13-inch baking pan.


Prep the salmon—Pat salmon dry with a paper towel and transfer to baking sheet on top of lemons. In a small bowl, whisk together olive oil, lemon juice, and garlic. Brush salmon with mixture and generously sprinkle with salt and pepper.


Bake the salmon—Place salmon in preheated oven and bake until it flakes off easily with a fork—about 13 to 15 minutes. Sprinkle top of salmon with fresh herbs and serve hot.
TIPS:
Select the Best Salmon
Look for a vibrantly colored filet that's moist with no brown spots. Give it a sniff—if it smells fishy, toss it back and find one reminiscent of a salty beach (minus the suntan lotion).
What to Serve with Salmon?
Versatile salmon pairs easily with everything from roasted potatoes or rice pilaf to sautéed green beans or a side salad.
Featured Product
Premiere Ovenware Ceramic Nonstick 18" x 13" Half Sheet Pan
A true workhorse, this pan is one of the most versatile pieces of cookware you can own. The solid, one-piece design eliminates food traps and the spacious surface makes it perfect for family meals.