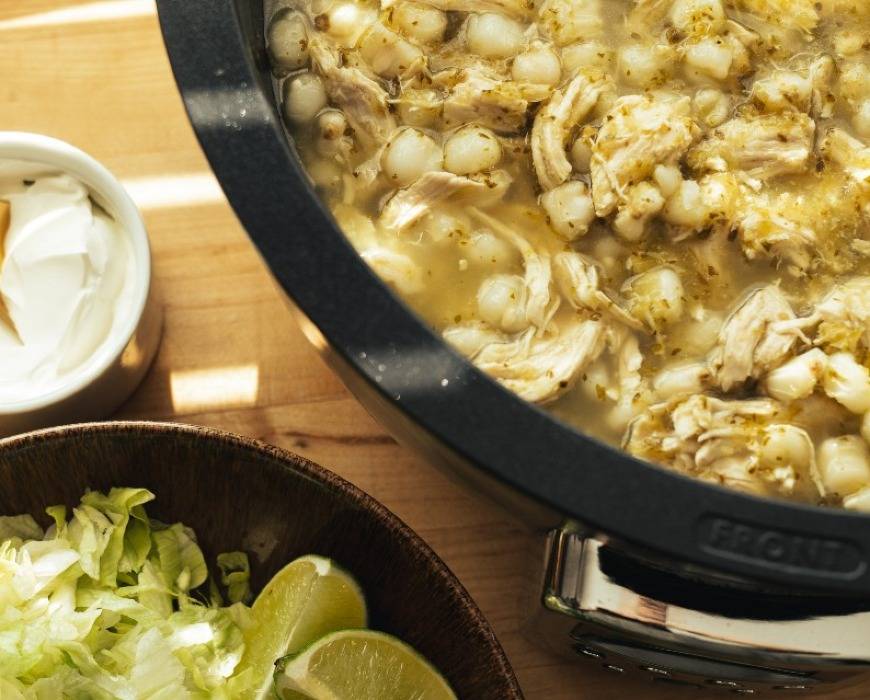 Shredded Chicken Pozole Verde
Yields: 6 servings
Time: 15 minutes prep, 2hr cooking, 2hr 15 minutes total
INGREDIENTS:
1 pound tomatillos, husks removed and cut in half
1 small onion, roughly chopped
2 poblano chiles—cored, seeded, and roughly chopped
2 jalapeños, seeded and roughly chopped
3 large garlic cloves
1/2 cup chopped cilantro
1 tablespoon dried oregano leaves
Salt and freshly ground black pepper
1 cup water
1 tablespoon vegetable oil
7 cups chicken low-sodium chicken stock
4 boneless skinless chicken breasts
3 (15-ounce) cans of hominy, drained
juice of 1 lime
Optional toppings for serving:
lime wedges
finely shredded iceberg lettuce
thinly sliced radishes
thinly sliced onion
diced avocado
sour cream

PREPARATION INSTRUCTIONS:
In a food processor or blender, puree the tomatillos, onions, chiles, garlic, and herbs—stopping to scrap down the sides with a spatula as needed. Once the mixture is roughly blended, add the water and puree again until smooth. Season to taste with salt and pepper.
Select the Simmer mode on the Essential Smart Skillet, set the temperature at 200°F and the timer for 2 hours. Heat the vegetable oil and add in the puree. Cover and cook for 1 hour, stirring every 15 minutes or so to ensure the puree cooks evenly, until it intensifies in flavor and becomes a dark green color.
Add the chicken stock and the chicken breast, cover again, and cook for 45 minutes.
Carefully remove the chicken breast from the pan and put it in a large bowl. Using two forks, (or your hands if you let the chicken cool enough), shred the chicken into pieces that will fit on a spoon, then add back into the pan along. Add the drained hominy and lime juice. Check the soup for seasoning, adding salt and pepper as needed.
Allow the hominy enough time to warm through, then ladle the soup into serving bowls, ensuring each bowl gets an equal amount of hominy and chicken. Serve alongside a platter of the garnishes for people to add to their soup as they choose.
TIPS:
Let's Talk Tomatillos – While they resemble green tomatoes, the unique texture and tart flavor make these fruits perfect for sauces and soups.
Sticky Situation – Tomatillos will feel a bit sticky after removing husks, but a quick rinse in a colander will easily remove the sap.
Featured Product
Elite 6-Quart Essential Smart Skillet | Premiere Stainless Steel
Whether you're searing a steak, perfecting a complex stew, or simply making rice, this family-sized 6-quart skillet gives you room for any meal. The high sides eliminate splatter and make it easy to toss your ingredients without worry.