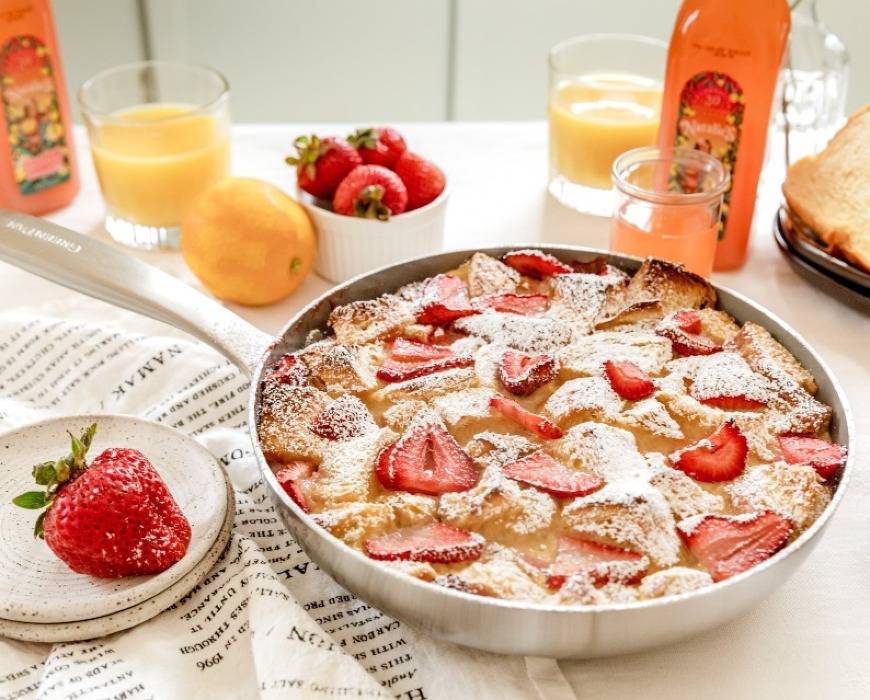 Strawberry Lemonade Skillet French Toast
Yields: 8 servings
Time: 10 minutes prep, 30 minutes resting, 40 minutes cooking, 1 hour 20 minutes total
INGREDIENTS:
1 cup Natalie's Strawberry Lemonade
2 cups sliced fresh strawberries, divided
Zest of 2 lemons
2 cups whole milk
6 large eggs
1 teaspoon vanilla extract
1/4 teaspoon salt
1 loaf brioche bread, diced into 1-inch cubes
Powdered sugar, for serving
PREPARATION INSTRUCTIONS:
Make the strawberry lemonade sauce—Add strawberry lemonade, 1 cup strawberries, and lemon zest to a small saucepan over medium heat. Cook until mixture starts to bubble. Reduce heat to medium and continue cooking for about 10 minutes. Stir occasionally and break up strawberries with the back of a spoon. Remove from heat and set aside to cool.
Make the custard—In a large mixing bowl, whisk together the milk, eggs, vanilla, and salt until evenly combined.
Prepare to bake—Preheat oven to 350°F.
Assemble the French toast—Pour half the strawberry lemonade sauce into a large nonstick, oven-safe skillet. Add half the brioche cubes, then pour on half the custard mixture. Repeat with the remaining strawberry lemonade sauce, bread cubes, and custard. Gently press bread into the skillet to make sure it's saturated. Top with the remaining strawberries and let sit at room temperature for 20 minutes so bread can soak in all the flavors.
Bake the French toast—Transfer skillet to preheated oven and bake until toast is golden brown and set in the middle, about 30 to 45 minutes. Let toast cool in skillet for about 10 minutes, then sprinkle with powdered sugar and serve warm.
TIPS:
How to Hull Strawberries—If you're cutting straight across the top, you're wasting lots of berry goodness. Simply pierce near the stem with a paring knife, then twist knife in a circle around the stem to remove stem and core.
Why We Love Natalie's Juices—Made in small batches by a woman-owned company, Natalie's juices feature the finest fruits and vegetables handcrafted into liquid deliciousness.
Featured Product
Chatham Stainless 11" Frypan with Lid
Designed for daily life, we call our 11" pans the "goldilocks size" because it's just right for everything. It's not so big that it will crowd your stove, but it still has plenty of room for big cuts of meat,...