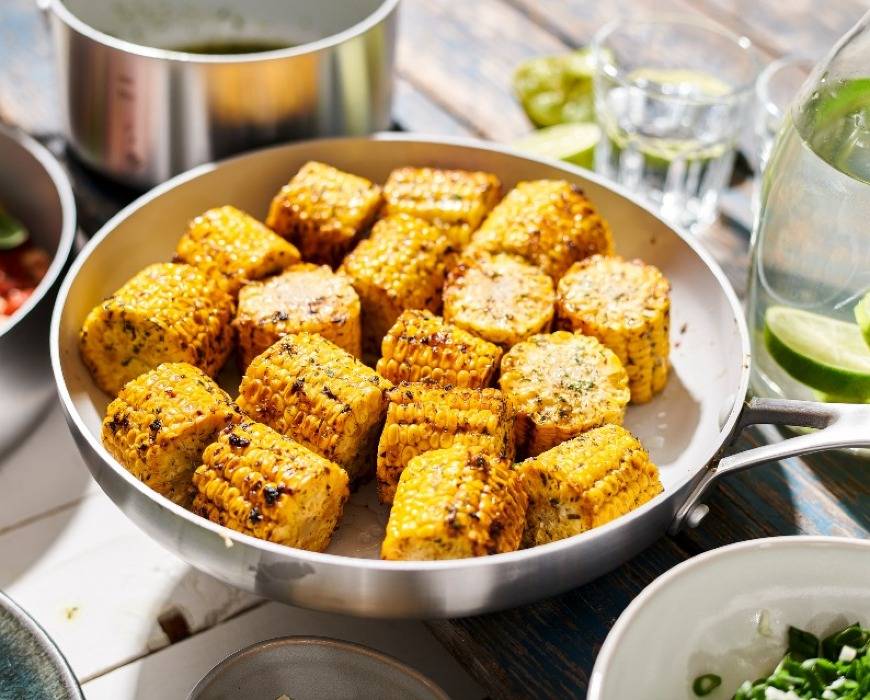 Yields: 6 servings
Time: 10 minutes prep, 10 minutes cooking, 20 minutes total
INGREDIENTS:
3/4 cup butter, softened
1/4 cup shredded pepper jack cheese
1/4 cup prepared horseradish
1 tablespoon dried parsley flakes
3 teaspoons salt
2 teaspoons balsamic vinegar
1/2 teaspoon pepper
1/4 teaspoon dried thyme
sweet corn ears, husks removed - as many as desired
PREPARATION INSTRUCTIONS:
Husk the corn.
Mix together butter, cheese, horseradish, parsley, salt, vinegar, pepper, thyme until fully blended together.
Heat your frypan up to medium heat and when hot, place the corn in frypan. Use tongs to rotate the corn every few minutes until the corn starts to brown all over. Baste the sides of the corn as needed. Lower the heat if the corn begins to char too fast. Cook for about 7-10 minutes or until the corn feels tender.
Enjoy as is or let cool to room temperature and slice kernels.
Featured Product
Venice Pro Ceramic Nonstick 10" Frypan
Crafted from ultra-tough, multilayer stainless steel, this 10" pan will be your everyday go-to—from sautés to bakes, fluffy scrambled eggs to fall-apart tender salmon, it will make everything simple.