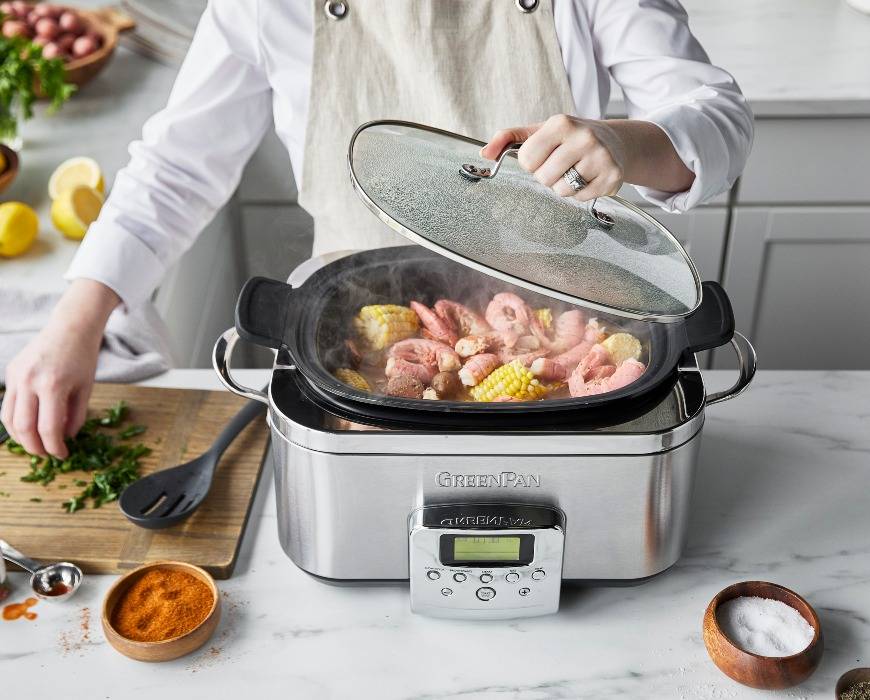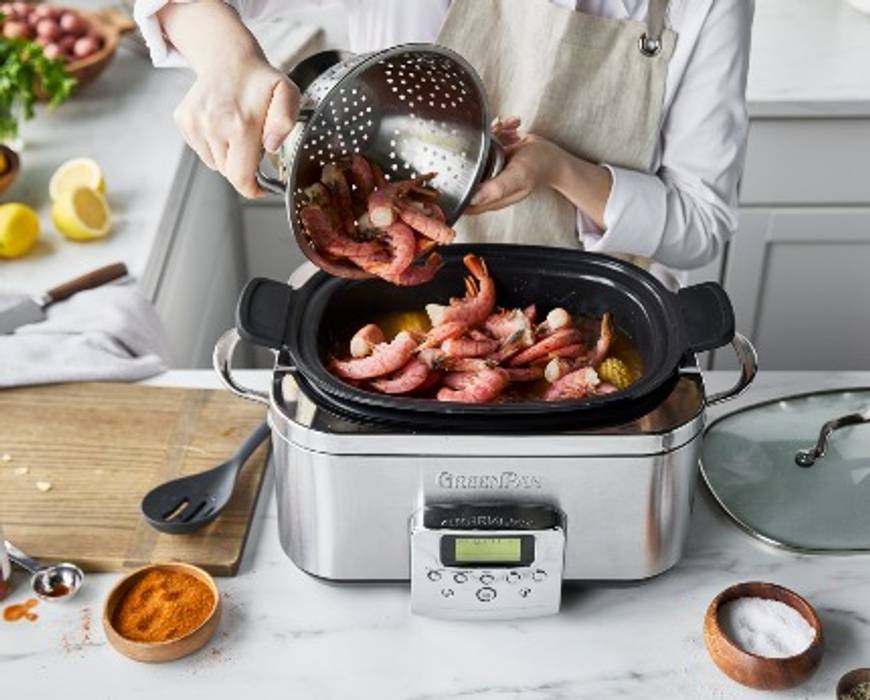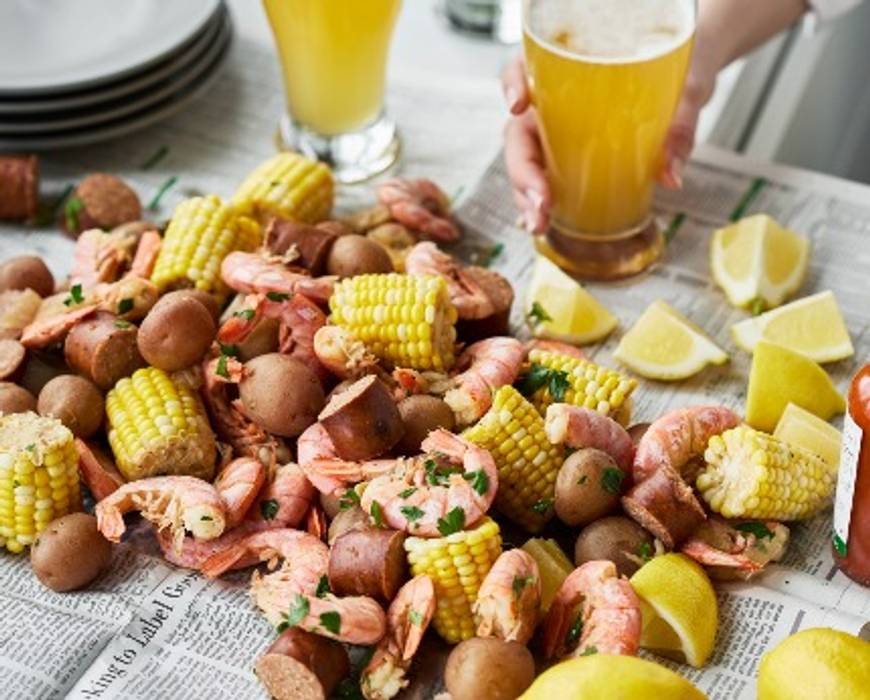 Yields: ~6 servings
Time: 20 minutes prep, 5 hours cooking, 4 hours 20 minutes total

INGREDIENTS:
4 cups low-sodium vegetable or chicken stock
2 cups water
1/4 cup Old Bay seasoning, more or less to taste
2 tablespoons freshly squeezed lemon juice
1 tablespoon hot sauce, more or less to taste
1 1/2 pounds small red potatoes, scrubbed clean but unpeeled
1 medium onion, cut into wedges                      
1 head garlic, outer papery layer removed and cut in half crosswise
2 bay leaves
1 package (12 to 16 ounces) smoked andouille sausage, sliced into 1-inch pieces
3 ears corn, cut crosswise into thirds
2 pounds shrimp, thawed if frozen
2 tablespoons chopped fresh parsley
Lemon wedges, for serving
Extra hot sauce, for serving
PREPARATION INSTRUCTIONS:
Mix the boiling liquid—Add stock and water to a large bowl or pitcher and stir in Old Bay seasoning, lemon juice, and hot sauce. Set aside.
Prep the slow cooker—Select the High Temperature Slow Cook Mode on the Premiere Slow Cooker and set the timer for 4 hours.
Cook the vegetables—Add potatoes, onion, and garlic to slow cooker and pour in the boiling liquid. Stir to combine, then cover and cook until potatoes are just about fork tender, 3 to 4 hours.
Heat sausage and corn—Add sliced sausage and corn to slow cooker and stir to combine. Cover and cook until heated through, about 30 minutes. Remove corn and set aside in a warm place.
Cook the shrimp—Gently stir in shrimp. Cover and cook until shrimp are pink and cooked through—around 3 to 10 minutes depending on the size of shrimp.
Drain and serve—Use a slotted spoon to transfer shrimp, sausage, potatoes, etc. to a countertop lined with newspaper (traditional), butcher paper, or paper towels. Or get fancy and serve in a shallow platter. Sprinkle with chopped fresh parsley and serve with lemon wedges and extra hot sauce.
TIPS:
Love Your Leftovers—Don't pour shrimp boiling liquid down the drain. If you've got room in the fridge, save it for adding flavor to pasta water, risotto, or rice pilaf.
Appealing Idea—Traditional shrimp boils use unpeeled shrimp (bonus points if you can find some that's already de-veined. But if you want to go the easier route with peeled shrimp, it'll still taste amazing. 
Featured Product
Elite 6-Quart Slow Cooker | Premiere Stainless Steel
With our advanced slow cooker, you can sear meat and veggies in the pot, then go low and slow to finish the job. Take your time while cooking, then clean up quickly with Thermolon™ Volt, a healthy, PFAS-free ceramic nonstick...