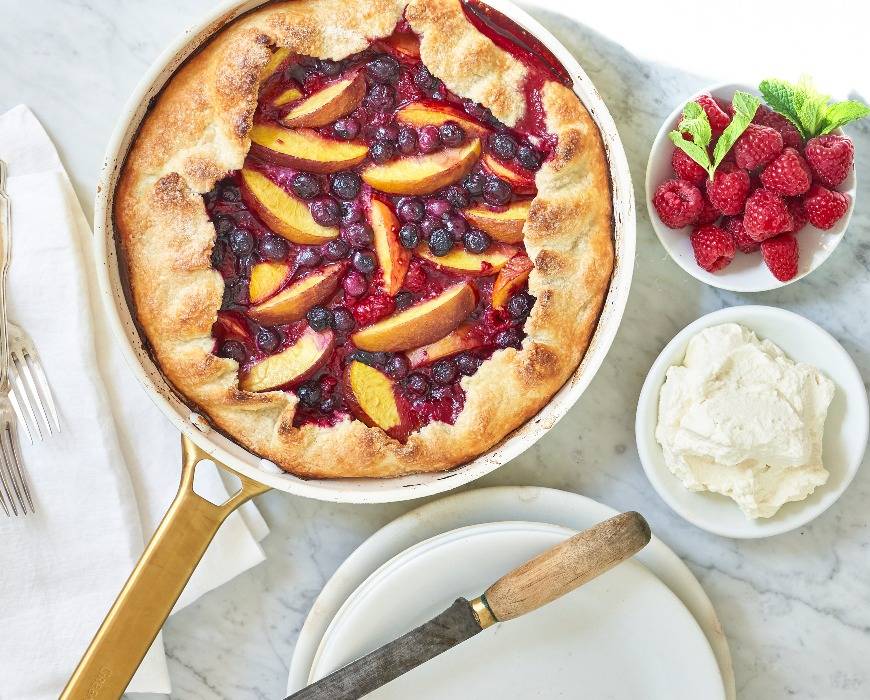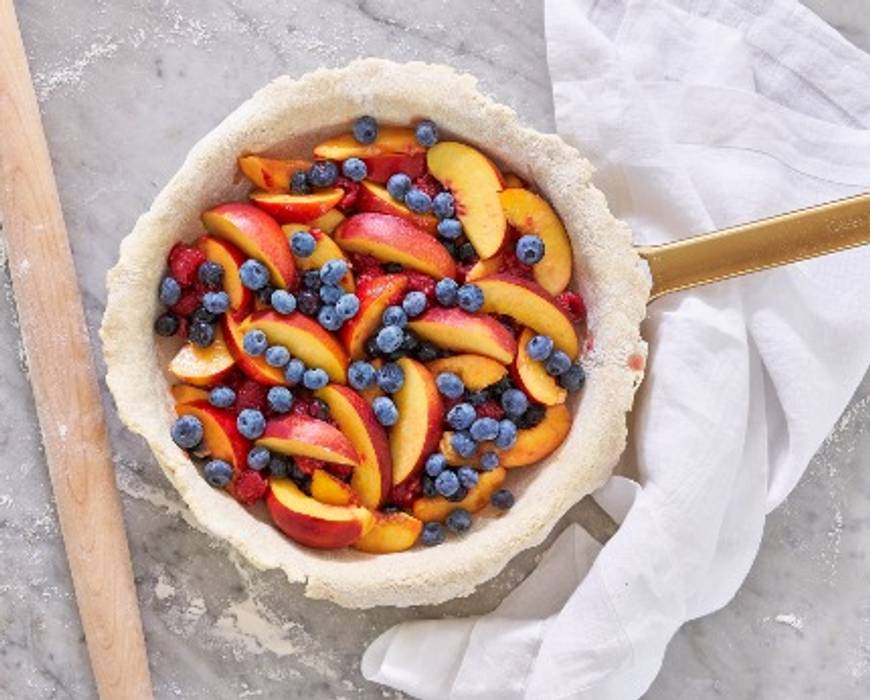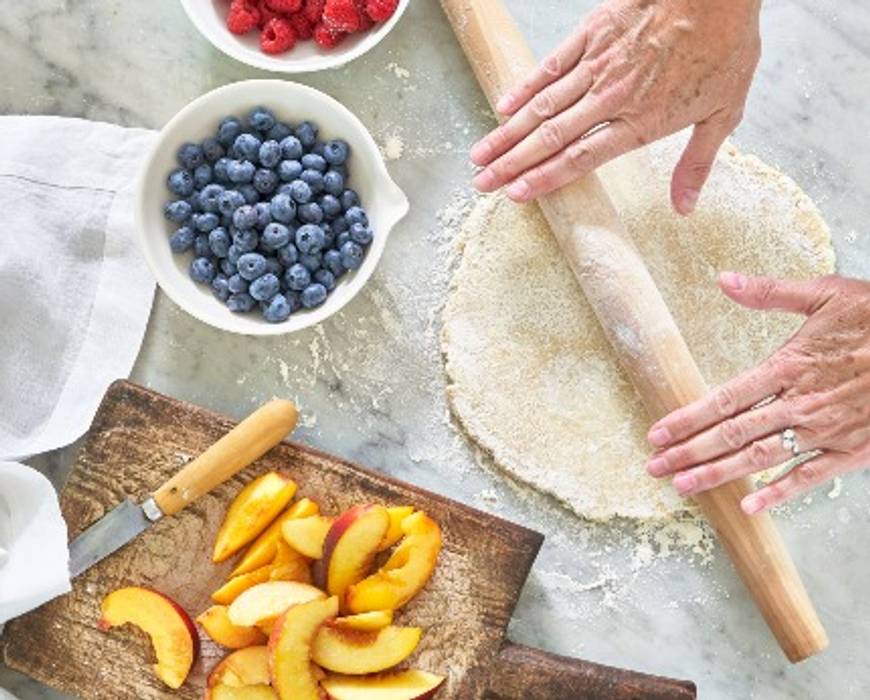 Yields: 8 servings
Time: 30 minutes prep, 30 minutes chilling, 45 minutes baking, 1 hour 45 minutes total
INGREDIENTS:
For the crust
1 1/2 cups all-purpose flour
2 tablespoons granulated sugar
1/2 teaspoon salt
6 tablespoons cold butter, cut into 1/2-inch pieces
1/4 cup ice water
2 tablespoons cream or milk
2 tablespoons coarse sugar
For the filling
1 pound fresh stone fruit (peaches, apricots, plums, or a mix), seeded and cut into wedges
1 pound fresh berries (raspberries, blueberries, blackberries, or a mix)
1 tablespoon flour or cornstarch
2 tablespoons granulated sugar, more or less depending on the ripeness of fruit
2 tablespoons freshly squeezed lemon juice
1/4 teaspoon grated lemon zest
PREPARATION INSTRUCTIONS:
Make the dough—Add flour, sugar, and salt to the bowl of a food processor and pulse until blended. Add in the butter pieces and pulse until the butter is in pea-size pieces. Add water and continue pulsing until dough is moistened all over and just starting to come together. Turn dough out onto a floured work surface and shape it into a disk. Cover with plastic wrap and stash in fridge for 30 minutes or until chilled.
Prepare to bake—Preheat oven to 400°
Prep the fruit—Add stone fruit and berries to a large mixing bowl. Sprinkle with flour, sugar, lemon juice, and zest and stir to combine. Set aside.
Shape the dough—Place dough on a lightly floured work surface and roll into a circle about 14 inches in diameter. Transfer to an oven-safe, nonstick 12-inch skillet, letting the edges overhang.
Assemble the crostata—Pour fruit into skillet and spread evenly. Fold edges of dough over the filling. Don't aim for perfection here—crostatas are meant to look rustic. Brush crust with cream and sprinkle with coarse sugar.
Bake the crostata—Transfer skillet to preheated oven and bake until fruit is bubbly and crust is beautifully golden, about 45 to 50 minutes. Let crostata cool for 15 minutes or so before serving (if you can wait that long).
TIPS:
Spice it Up—Try adding a teaspoon of ground cinnamon or, better yet, a baker's spice blend (pumpkin pie spice—not just for pumpkins anymore!) to add extra depth of flavor to summer fruit.
Skip a Step— Summer fruit is really the star of this crostata, so if you wanted to use a store-bought refrigerated pie crust, we wouldn't judge.
Featured Product
Reserve Ceramic Nonstick 10-Piece Cookware Set | Sunrise with Gold-Tone Handles
World-class performance meets eye-catching contrast in GreenPan Reserve. But it's more than good looks: the duoforged hard anodized construction makes this set extra tough. This set makes it simple to find your style at home.