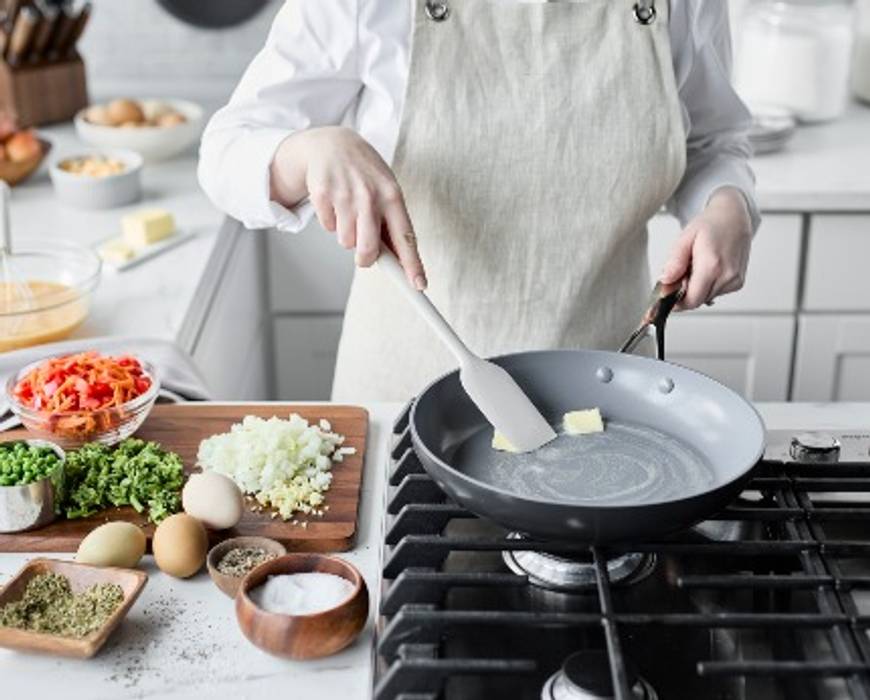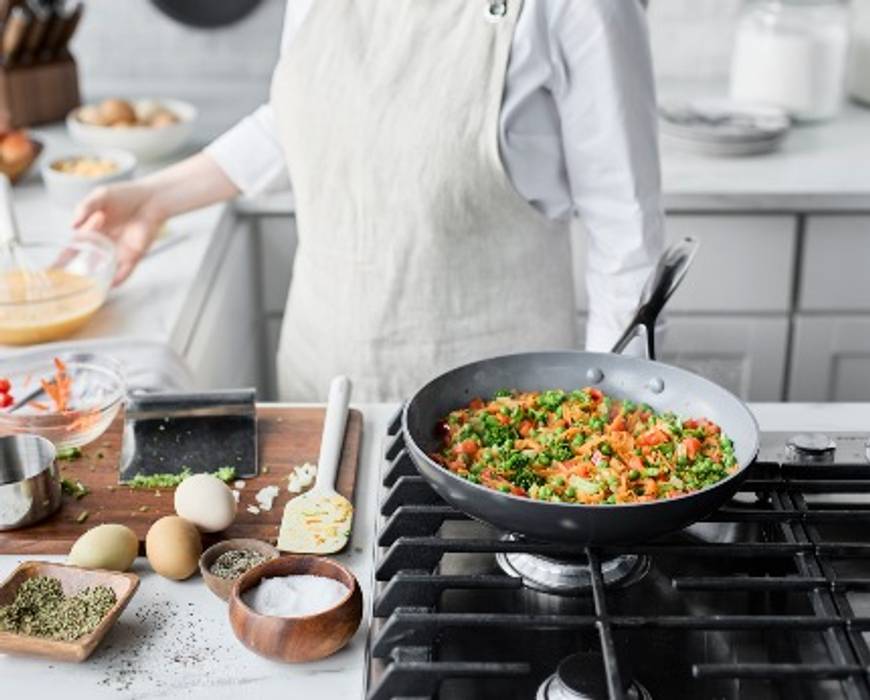 Yields: 6 servings
Time: 10 minutes prep, 20 minutes cooking, 30 minutes total

INGREDIENTS:
6 large eggs
2 tablespoons cream or whole milk
1/2 cup shredded cheddar cheese
1/2 teaspoon salt and freshly ground black pepper, more or less to taste
2 tablespoons butter
1 medium white onion, diced
2 cloves garlic, minced
1 red bell pepper, seeded and diced
1 large carrot, grated
1/2 pound (about 8 stems) broccolini, chopped
1 cup spring peas
Chopped chives, for garnish
PREPARATION INSTRUCTIONS:
Prepare to bake—Preheat oven to 425° F.
Prep the eggs—In a medium bowl, beat eggs and milk together vigorously with a whisk or egg beater. Stir in the cheese along with salt and pepper until well mixed.
Sauté the aromatics—Heat butter in a large skillet over medium heat. Add onions and sauté, stirring occasionally, until they begin to soften—about 5 minutes. Add garlic and sauté, stirring continuously, for another minute or so.
Sauté the vegetables—Add the bell pepper and carrot and sauté for another minute or two. Add broccolini and continue sautéing for about 1 more minute, then stir in the peas and mix until everything's evenly distributed.
Add the eggs—Give the eggs another stir, then pour egg mixture over vegetables. Stir a bit, if needed, to distribute eggs evenly. Let the frittata cook for a couple of minutes on the stovetop, just until the edges start to set.
Cook the frittata—Transfer skillet to preheated oven and bake until eggs are just set (you'll want a hint of jiggle in the center), about 8 or 10 minutes. Allow to rest in pan for a few minutes then transfer to a serving plate. Cut into individual slices and top with a sprinkle of fresh chives.
TIPS:
Mix and Match—Whatever's in your produce drawer will probably make a great frittata—from mushrooms to spinach, asparagus to zucchini. And feel free to sub in your favorite cheese.
Bump Up the Protein—Try tossing in a handful of diced cold cuts, cooked sausage, crispy bacon, or even leftover steak.
Featured Product
Valencia Pro Ceramic Nonstick 8", 9.5", and 11" Frypan Set
Crafted from hard anodized aluminum for strength and scratch resistance, these pans go the distance. In a handy 8", 9.5", and 11" set, they're ready to sear steaks, braise veggies, or whip up omelettes at a moment's notice.