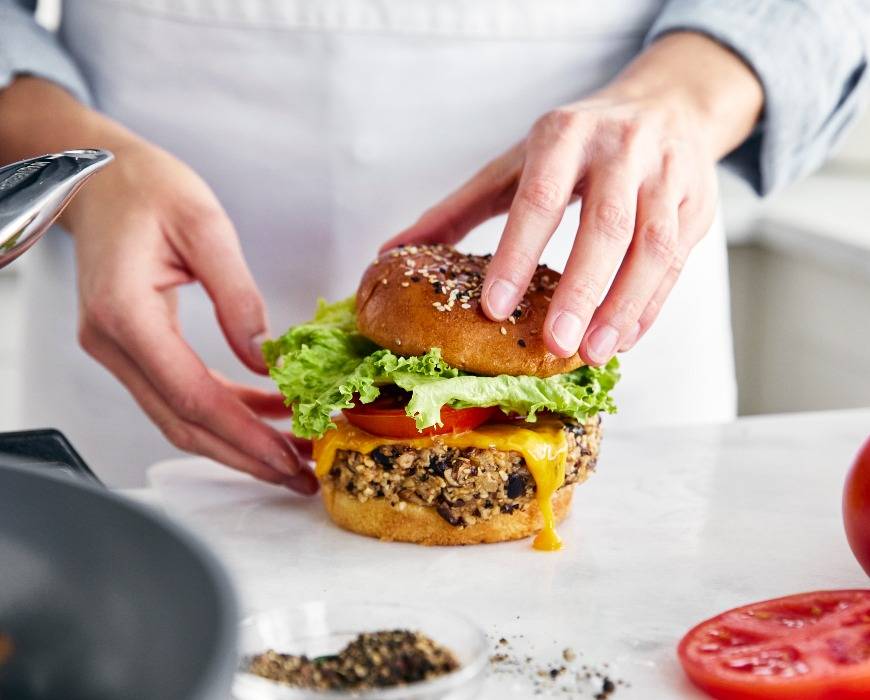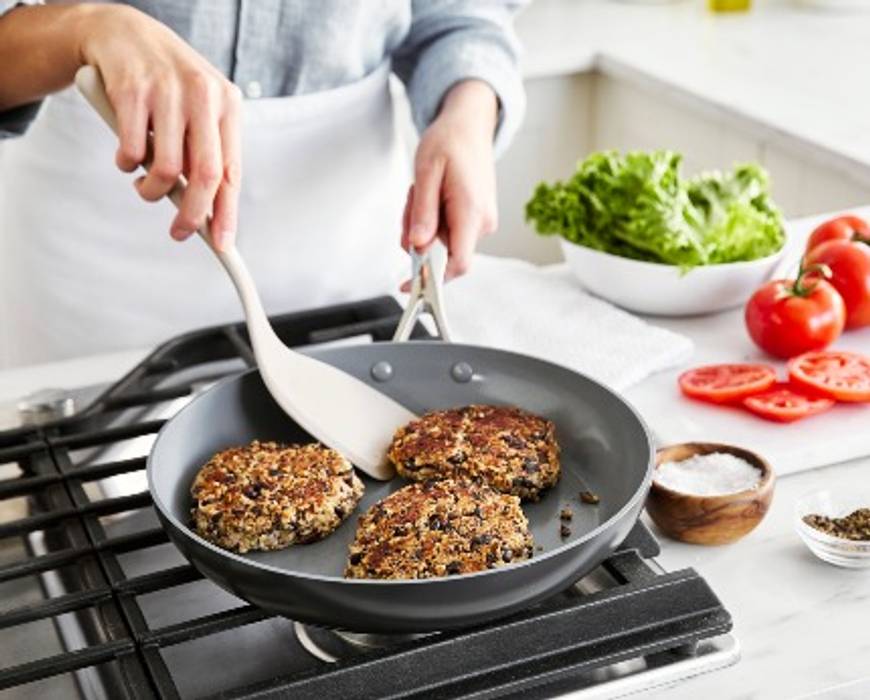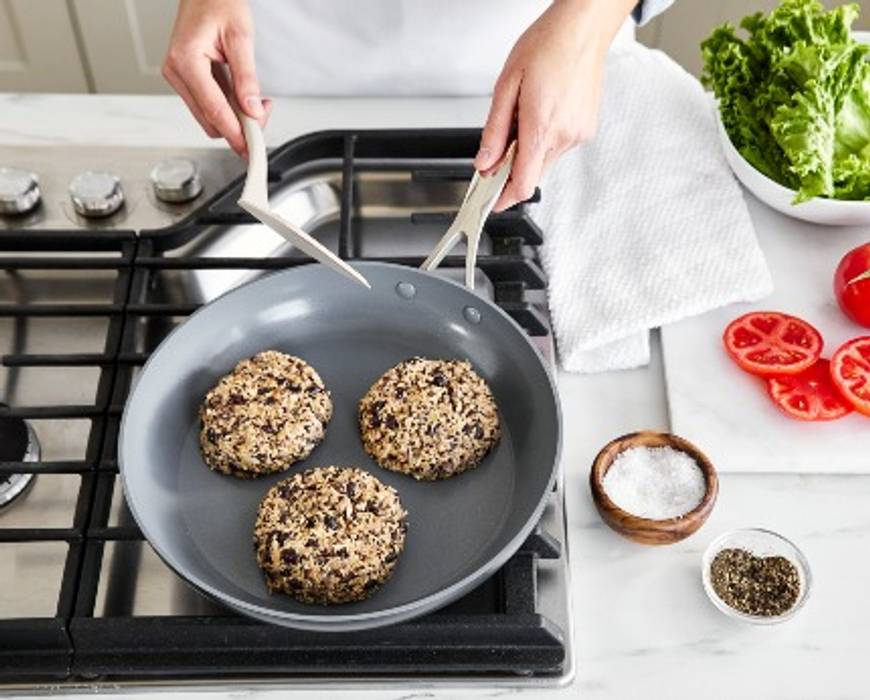 The Ultimate Veggie Burger
Yields: Makes 6 burgers
Time: 40 minutes prep, 50 minutes cooking, 1 hour 30 minutes total

INGREDIENTS:
For the burgers
1 (14-ounce) can black beans, drained
1 pound shiitake mushrooms, stems removed then chopped
Salt and pepper to taste
1 1/2 tablespoons olive oil
1 sweet onion, diced
4 garlic cloves, minced
1/2 cup quinoa, cooked and cooled
1/2 cup pearl barley, cooked and cooled
1/2 cup chopped unsalted cashews
1 tablespoon old fashioned oats
1/4 cup mayonnaise
1 large egg yolk
1 teaspoon chili powder
1/2 teaspoon paprika
1/2 teaspoon honey
1/2 cup freshly grated sharp cheddar cheese
1/4 teaspoon salt
1/4 teaspoon pepper
Canola oil
For serving
6 slices cheese (We like sharp cheddar or Swiss)
6 brioche buns
Assorted toppings: Pickles, tomatoes, lettuce, onions, etc.
For the garlic herb mayo
1/2 cup mayonnaise
2 tablespoons chopped oregano
2 tablespoons chopped basil
1 tablespoon chopped rosemary
2 garlic cloves, minced
Fresh-ground black pepper to taste
PREPARATION INSTRUCTIONS:
1. Prepare to cook —Preheat oven to 350°F. Line 2 large baking sheets with aluminum foil and add a coating of nonstick spray.
2. Make the garlic herb mayo —In a small bowl, stir together the mayo, oregano, basil, rosemary, and garlic. Add freshly ground black pepper to taste. Cover and stash in fridge until ready to serve.
3. Roast the beans and mushrooms—Spread black beans in a single layer on one of the prepared pans. Spread the mushrooms on the other pan and sprinkle generously with salt and pepper. Roast in preheated oven until mushrooms have cooked down and beans split—about 12 to 15 minutes. Remove from oven and set aside.
4. Meanwhile, sauté the aromatics—Heat olive oil in a skillet over medium high heat. When oil is shimmering, add onion and sauté until softened—about 5 minutes. Add garlic and sauté, stirring constantly, for another minute. Remove from heat and set aside.
5. Chop the cashews—While onions cook, add cashews and oats to a food processor and pulse until finely chopped. Set aside.
6. Mix the patties—Add mayo, egg yolk, chili powder, paprika, and honey to a large bowl and stir well to combine. Add in the onions, barley, quinoa, beans, mushrooms, and cashew mix. Mix with a potato masher or fork till mixture starts to come together. Transfer about 1/3 of the mix to the food processor and pulse till it's finely chopped. Return mix to bowl along with cheddar cheese, salt, and pepper. Use your hands to mix until everything's evenly incorporated. Mixture will be very sticky.
7. Shape the patties—Use hands to shape mixture into 6 evenly sized patties.
8. Cook the patties—Heat a bit of canola oil in a large skillet over medium heat. When oil is shimmering, add 2 or 3 patties to skillet. Cook for about 5 or 6 minutes. Very gently flip burgers (so they don't break apart) and cook for another 5 minutes. Place a slice of cheese on each patty and continue cooking till melted. Repeat with the rest of patties. (Note: if needed, keep patties warm on a baking sheet in a 200°F while the rest cook.)
9. Garnish and serve—Slather buns with garlic herb mayo, add veggie patties along with toppings of your choice and dig in.

TIPS:
Not a Garlic Fan? Spread buns with your condiment of choice—from ketchup or spicy mustard to homemade remoulade, pesto, or BBQ sauce.
Cutting Carbs? Skip the brioche buns and serve patties wrapped in lettuce. The extra crunch adds another satisfying layer of texture, while cutting down on calories. Win-win!
Featured Product
Valencia Pro Ceramic Nonstick 12" Frypan
Named the best ceramic nonstick frypan by America's Test Kitchen, our 12" Valencia Pro frypan is a proven go-to for any kitchen. Built to last, this pan is crafted from hard anodized aluminum for maximum strength and scratch resistance.