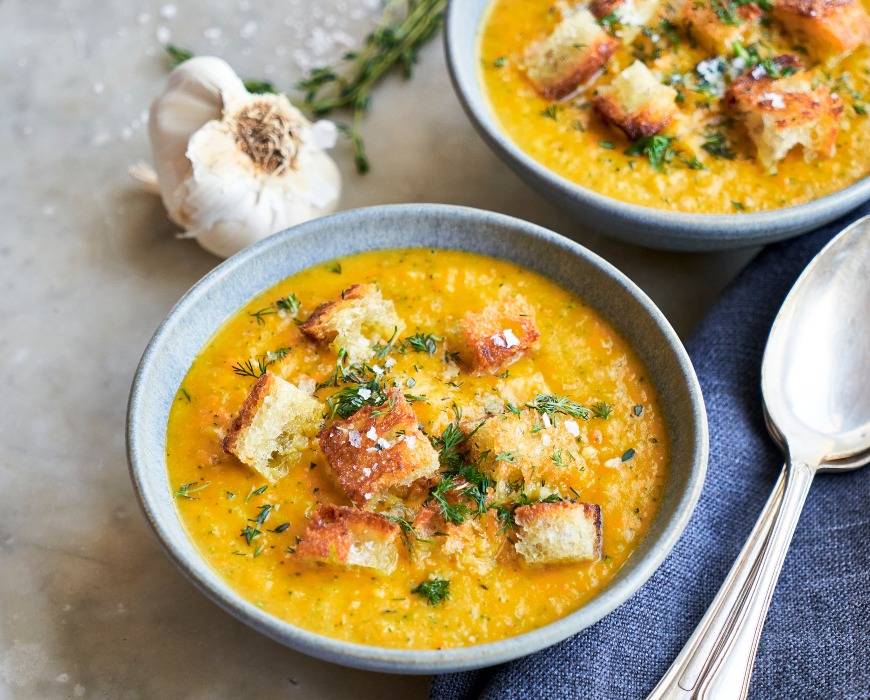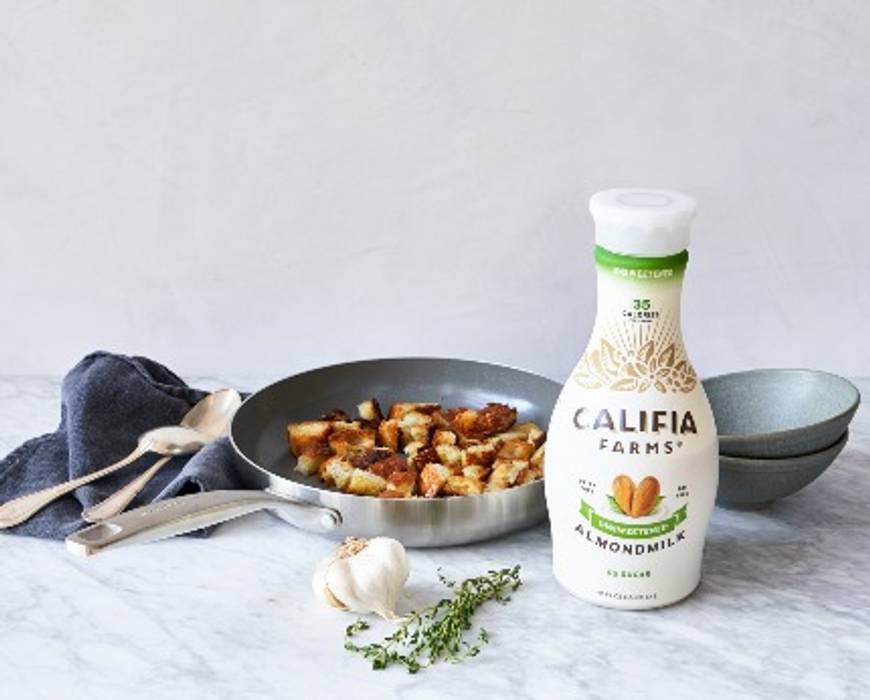 Vegan Broccoli "Cheddar" Soup
Yields: 4 to 6 servings
Time: 15 minutes prep, 25 minutes cooking, 40 minutes total
INGREDIENTS:
For the soup
1/4 cup olive oil
3 cloves garlic, minced
1/2 white or yellow onion, chopped
2 celery stalks, chopped
4 large carrots, diced
3 medium Yukon Gold potatoes, diced
3 cups broccoli florets
3 cups vegetable broth
2 cups Califia Farms Unsweetened Almondmilk
1/4 cup nutritional yeast
Salt and freshly ground black pepper to taste
2 tablespoons chopped fresh herbs for garnish
For the croutons
2 cups of 1/2-inch rustic bread cubes
Olive oil, for frying
Salt and freshly ground black pepper to taste
PREPARATION INSTRUCTIONS:
Sauté the vegetables—Heat olive oil in a stock pot or Dutch oven over medium heat until shimmering. Add garlic, onion, celery, carrots, and potatoes and sauté until onions are translucent and potatoes are softened, about 10 minutes.
Make the broth—Add in broccoli, vegetable broth, and almond milk and continue cooking, stirring occasionally, until broccoli turns bright green, about 5 minutes.
Blend the soup—Remove most of the broccoli with tongs and set aside. Use an immersion blender to blend to a smooth, creamy consistency. Return broccoli to pot and pulse a few times to blend with soup. Stir in nutritional yeast, then add salt and freshly ground black pepper to taste. Simmer soup on low heat while you make the croutons.
Fry the croutons—Heat about 1/3 inch of olive oil in a medium skillet over medium-high heat. When oil begins to shimmer, add 1 bread cube. When oil bubbles around the edges of cube, add the rest of the bread in a single layer. Fry without disturbing until cubes are golden brown on the underside, about 1 minute. Turn cubes with tongs and continue frying until golden on both sides, another minute or so. Transfer croutons to a paper towel-lined plate to drain and season with salt and freshly ground pepper.
Serve and enjoy—Ladle soup into individual bowls, top with warm croutons and a sprinkle of fresh herbs.
TIPS:
No Immersion Blender? Carefully transfer soup to a traditional blender (working in batches, if needed) and return to pot to reheat.
Love Your Leftovers—Soup will thicken when refrigerated, so add a splash (or three) of almond milk when reheating to thin it out.
Go Nuts! Artisanally crafted in the sunshine state, Califia Farms Unsweetened Almondmilk is perfect for everything from pouring on cereal and blending in smoothies to making savory soups.
Featured Product
Chatham Stainless 12-Piece Cookware Set
This metal utensil safe set features a diamond-enhanced ceramic nonstick coating that delivers ultra-fast performance and effortless nonstick release. And it has everything you need to make everything from elegant experiments to tried-and-true classics.