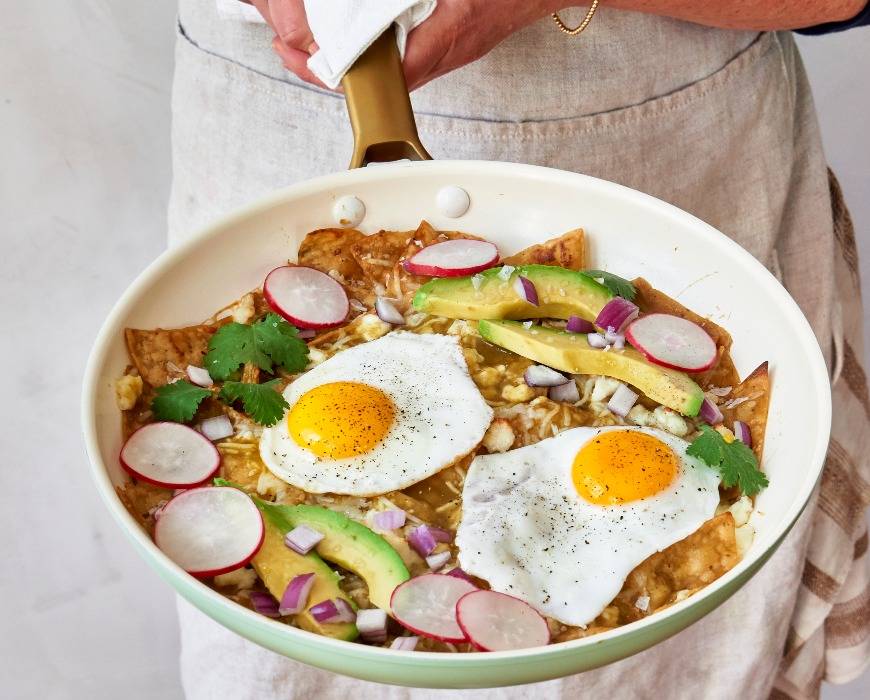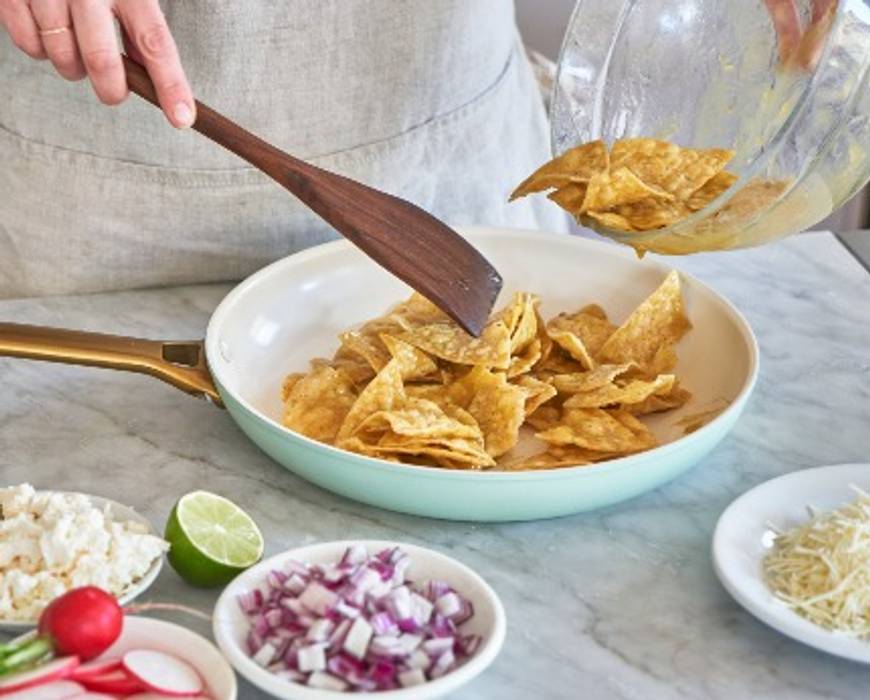 Chilaquiles with Eggs and Homemade Enchilada Sauce
Yields: 4 servings
Time: 20 minutes prep, 10 minutes cooking, 25 minutes total
INGREDIENTS:
For the enchilada sauce
2 cups boiling water
4 dried Ancho chiles, stemmed and seeded
3/4 sweet onion, roughly chopped
1 (15-ounce) can fire-roasted tomatoes
3 to 4 cloves garlic, peeled
1 tablespoon honey
2 1/2 teaspoons kosher salt
For the chilaquiles
2 tablespoons canola or other neutral oil
1 1/2 cups homemade enchilada sauce (or use your favorite store-bought variety)
2 cups tortilla chips (about 30 large chips)
1/2 cup crumbled queso fresco
1/2 cup shredded Monterey Jack
1/4 cup diced red onion
1 avocado, sliced
2 tablespoons chopped fresh cilantro
2 to 3 radishes, thinly sliced
For serving
Lime wedges
Sour cream
Crumbled queso fresco
PREPARATION INSTRUCTIONS:
Prepare to cook —Preheat broiler.
Make the enchilada sauce —Add hot water and chiles to a blender and let sit until softened, about 10 minutes. Add in onion, tomatoes, garlic, honey, and salt, then blend on high until smooth. Set aside or store in fridge if making ahead.
Assemble the chilaquiles—In a large bowl, toss chips with 1 cup sauce to coat evenly. Place half the chips in a large ovenproof skillet. Sprinkle half the queso fresco and Monterey Jack over chips. Top with remaining chips and another layer of cheeses. Pour 1/2 cup sauce over the top.
Cook the chilaquiles—Place skillet under the broiler until cheese is melted and bubbly, about 4 to 5 minutes.
Meanwhile, fry the eggs —Heat canola oil in a large skillet over medium low heat until shimmering. Crack eggs into skillet and fry until whites are set but yolks are still runny, about 4 minutes. Remove pan from heat and set aside.
Finish and serve—Place fried eggs on top of chilaquiles and garnish with red onion, avocado, cilantro, and radishes. Serve chilaquiles straight from the skillet (no need for fancy platters) along with a side of lime wedges and sour cream.
TIPS:
A Good Egg—Not into sunny side up? No worries! Make them over easy, poached, or scrambled. Or simply skip the eggs altogether if that's how you roll.
DIY Tortilla Chips—Cut about 8 6-inch corn tortillas into quarters and fry, bake, or microwave (yes, it's possible!) till crisp. 
Featured Product
Reserve Ceramic Nonstick 10-Piece Cookware Set | Julep with Gold-Tone Handles
World-class performance meets eye-catching contrast in GreenPan Reserve. But it's more than good looks: the duoforged hard anodized construction makes this set extra tough. This set makes it simple to find your style at home.