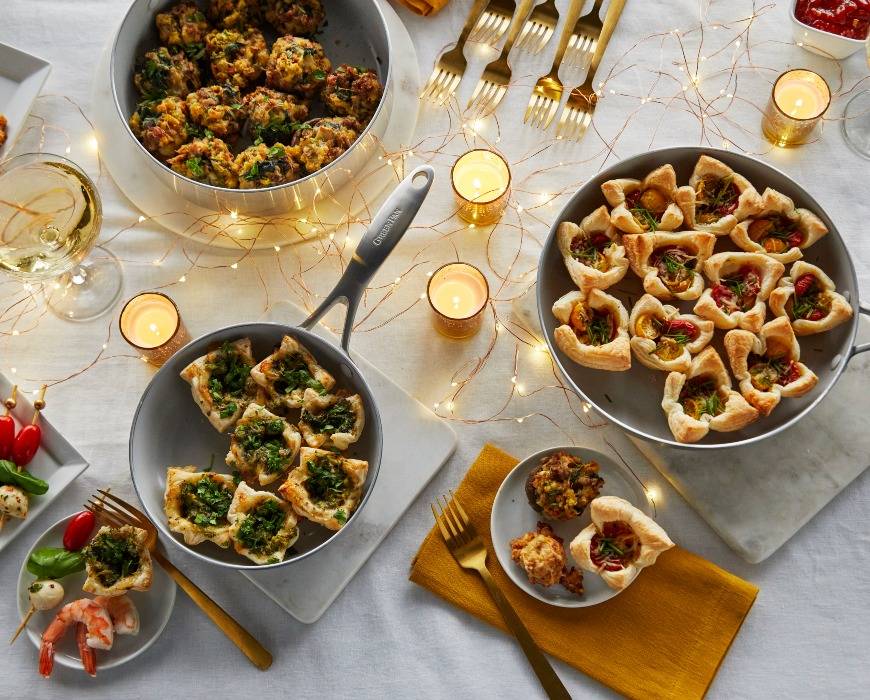 5 Kitchen Tips for Holiday Entertaining
Hosting a holiday party can feel like a beast of burden.  We're here to help you sleigh it.  Having people over, especially this time of year, should be minimum stress and maximum fun.  There's no better way to do that than by planning ahead and prepping ahead – all so you can keep your head - on the big night.  Here's our five best tips to allow you (and your guests) to enjoy a stress-free evening full of holiday fun.  

1. Planning the Menu (and how to serve)
Make a list and check it twice – nobody has time to make extra shopping trips this time of year.  While you're making that list, remember to not overextend yourself!  Having a handful of PERFECT dishes or appetizers are far better than having a ton of them that are… decidedly less so. We promise, your guests are going to remember that one amazing bite, not the fact that they had a million bites to choose from. 
Once you have your menu selected and shopping done, do as much in advance as possible. Reheating finished dishes (and having ones that are easy to finish at the last minute) will be your best friend! 
Lastly, part of the menu plan is having a place to put your recipes once they're done and having a way to serve them. Whether you're simply serving appetizers, snacks and sweets, or an entire dinner, have a list of what you need for each dish in advance.  Such as platters, utensils, plates, napkins, and a dedicated food areas set up with plenty of room. 

2. Holiday Aroma
Fireplaces.  Peppermint.  Pine.  Cinnamon.  Orange.  Gingerbread.  We all have those magical scents that can transport us instantly to the warmest of holiday memories – and filling your home with a few of these is sure to bring instant cheer to your gathering.  Having warm cookies baking when your guests arrive and a slowly simmering pot of mulled wine on the stove are two of our favorite ways fill any room with amazing aromas all evening long! 

3. Cocktails
A few well-selected wines (don't be afraid to ask for suggestions at the store!) and chilled tub of beer, cider and bubbly is always a hit.  But having at least one cocktail for your guests to imbibe in is an absolute must.  Our recommendation is to choose a single great one that can be premixed and served in pitchers, allowing for anyone to pour themselves a cocktail when the mood strikes.  A cranberry gin fizz is a particularly fun and festive choice that can be topped with soda water at the last moment, to give it that handmade feel!

4. Plenty of Snacks and Appetizers
Maybe you're serving a whole meal at the party, maybe you aren't.  Either way, ol' Kris Kringle says folks gotta mingle!  And for that… they need snacks and appetizers.  (It's a rule, don't question Santa.)  We love to have one main area of appetizers for people to go to, as it's a great way to encourage conversation, but also to have some small bowls and plates of easy to grab snacks throughout the entertainment area.  Bowls of chili and maple mixed nuts and plates of holiday cookies spread throughout the party are a fun way to make sure a delicious bite is never too far away for your guests! 

5. After the Party  
Everyone leaves… you're alone.  With a mess and lots of leftovers.  Or maybe not!  Because you planned ahead! 
We already made sure you selected recipes that were easy to clean up after making and could be done ahead.  And that you thought out your dishes and serving platters to minimize how many you needed. 
Two of our other favorite tips both make sure as much of the cleanup happens for you as possible!  First, load up on to go containers (or encouraged your guests to bring their own reusable ones) so that you can both send your guests home happy AND minimize the number of things you had to cram in your fridge once they're gone.  Second, a few well placed (and discrete) places for people to dispose of things during the party will make clean up a breeze after!  
Featured Product
Venice Pro Ceramic Nonstick 10-Piece Cookware Set
Built for high performance, this bestselling collection features tri-ply stainless steel bodies with our Evershine™ finish to keep them looking new long after they're not. This high-powered collection is a bestseller for a reason.