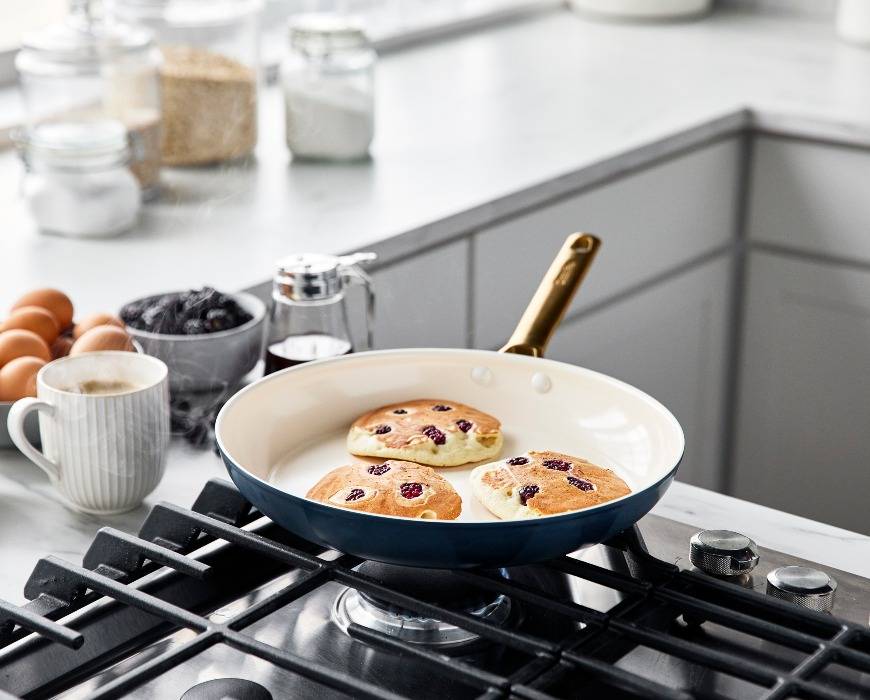 Perfect Buttermilk Pancakes
Who can resist a short (or tall!) stack of fluffy buttermilk pancakes fresh from the frying pan? Not us, that's for sure! If you're nervous about making them at home, don't be. We've done all the practice in the GreenPan kitchen so you can turn out perfect pancakes every time. Explore our best tips and techniques and discover how easy it can be to transform a few kitchen staples into the ultimate discs of deliciousness.
Pick the Right Pan
No surprise, we like a nonstick pan for flipping flapjacks without a ton of excess butter or oil. A 12" skillet lets you make 3 smallish pancakes at once. But if you're cooking for a crowd on the regular, our flat-top griddles give you more real estate so you can make 4 to 10 pancakes at a time.
Check Your Temperature
Fridge-cold milk plus hot melted butter makes a clumpy mess you can't unsee. (We've tried!) So let all the ingredients come to room temperature before mixing. Short on time…because hangry? Melt butter and let it cool slightly. Place eggs in a bowl of hot tap water for a few minutes. And pop milk in the microwave for about 30 to 45 seconds.
Don't Fall Flat
Baking powder creates the light, fluffy pancakes that everybody craves—but not if it's expired! Try this quick test to see if your baking powder is working: add 1/4 teaspoon to a small cup of hot water. If it fizzes, it's good to go. Same test for baking soda, but add 1/4 teaspoon vinegar to water.
Whisk it Good!
Whisking the dry ingredients thoroughly helps break apart any lumps so the batter comes together more smoothly. Biting into a pancake and discovering a pebble of flour or baking powder is a quick way to ruin breakfast (possibly forever!).
Don't Overdo It
You'll be tempted to keep mixing until you have a smooth batter. Resist the urge! Stop stirring before you think you should. Seriously, walk away from the whisk. Accept imperfection now or chew on rubbery pancakes later.
Give it a Rest
Set pancake batter aside as you carry on with breakfast prep—or sip a mimosa while scrolling Instagram. Half an hour (or at least 15 minutes) of alone time in the bowl gives gluten a chance to relax while the liquid absorbs some of the lumps.
Be Prepared
Pancakes are best when served piping hot straight from the pan. So get all your toppings ready to go: toast the nuts, warm the syrup, whip the cream, and be sure the butter is soft enough to spread. Nobody wants to watch pancakes get cold while you're searching the pantry for chocolate chips.
Get the Scoop!
The clever folks at King Arthur Flour shared a tip that completely revolutionized pancake making for us: use a scoop! Whether it's a cookie scoop for silver dollar pancakes or a muffin scoop for larger ones, a scoop delivers the same amount of batter each time—for uniform pancakes that cook evenly. Goodbye, amoeba shapes!
Patience Makes Perfect
Pancakes require the same kind of attention as a rowdy toddler. Stay at the stove or griddle and keep an eye on them. Wait till pancakes look set around the edges with bubbles all over before you flip or the batter will run, ruining your chance of perfection. And if the undersides are browning too fast, turn down the heat.
Freeze Frame
One of the joys of life is finding homemade pancakes in the freezer. So double the batch and save some for a couldn't-be-bothered-to-cook day. Separate pancakes with wax paper (to prevent them from solidifying into a giant frozen blob) and place in an air-tight container in the freezer. You'll thank yourself later.
The Perfect Pancakes
Yields: ~12 pancakes
Time: 10 minutes prep, 30 minutes resting, 20 minutes cooking, 1 hour total
INGREDIENTS:
2 cups all-purpose flour
1/4 cup granulated sugar
2 teaspoons baking powder
1/2 teaspoon baking soda
1/2 teaspoon salt
2 large eggs, room temperature
2 cups buttermilk, room temperature
1/4 cup butter, melted and cooled slightly
PREPARATION INSTRUCTIONS:
Mix the dry ingredients—In a large bowl, whisk together flour, sugar, baking powder, baking soda, and salt. Set aside.
Mix the wet ingredients—In a medium bowl, beat together eggs and buttermilk, then whisk in melted butter.
Mix the batter—Pour wet ingredients over dry ingredients and whisk until batter just comes together. Batter will be lumpy—resist the urge to over-mix. Cover bowl with towel and let rest for 15 to 30 minutes (or longer, if you can wait).
Prep the pan—Place a large skillet over medium-high heat. Add a bit of butter or neutral oil and swirl pan to distribute. When a drop of water dances in the pan, you're good to go.
Make the pancakes—Scoop about 1/4 batter onto skillet or griddle per pancake, fitting as many as you can without letting them touch. When edges appear set and bubbles cover the surface of pancakes, flip and cook for an additional minute or so. Repeat with the rest of batter, adding additional butter or oil to pan as desired. Serve piping hot.
Over the Top
Pancakes are a perfect blank canvas for any toppings you like. Branch out from butter and maple syrup with some of our go-to favorites:
Fresh fruit, from berries to bananas, peaches to kiwi
Fruit compote
Flavored syrups
Toasted nuts
Chocolate chips
Whipped cream
Peanut butter
Nutella
Caramel sauce
Hot fudge
Honey
Powdered sugar
Featured Product
Reserve Ceramic Nonstick 8", 10" and 12" Frypan Set | Twilight with Gold-Tone Handles
Featuring a deep, captivating finish, this frypan trio is more than good looks: the duoforged hard anodized construction makes it extra tough and scratch-resistant. The meal possibilities are endless—flavorful frittatas, seared salmon, and so much more.