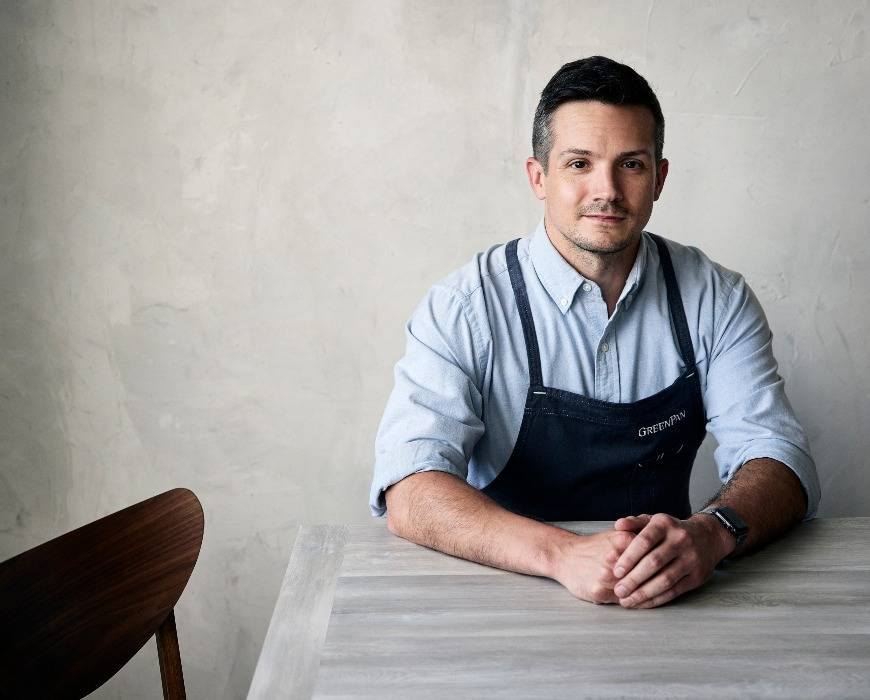 What is your favorite ingredient to work with?  
Hands down, its fresh herbs.  They are the one thing (besides salt…) that I always want to add to both savory and sweet recipes – with thyme and mint being my two favorites because their flavor is incredibly versatile in so many different dishes.
What dish are you most proud of creating?
It's tough to think of one particular dish, so I'm going to cheat and simply say my pies. There's nothing I enjoy making more than all butter pie crust, and nothing I feel more pride in when I serve it to someone. 
What do you do if you add too much salt to your dish?
Take a moment to remind yourself for next time that you can always add more salt when cooking, but that you can't take it away?  (Kidding!). We've all been there, and while there is no perfect fix, adding a small amount of acidity like lemon juice or vinegars can help balance out the saltiness.  Another option is adding some fat or richness in the form of olive oil or dairy. 
What trends are you seeing in the culinary world right now?
Simplicity and reconnecting with nature, culture and traditions. While there will always be room in the food world for innovation and collaboration, it seems a lot of people are going back to the roots of things. Highlighting individual ingredients, championing authentic food traditions, and even planting gardens. And it couldn't make me happier.
What's the best part about being a chef?
Constantly learning new things and always making new connections with people. There is an endless amount of knowledge to be learned in the life of being a chef – ingredients, techniques, farming, cultures and cuisines, history. You never stop being excited by the things to discover, and every step of the way you're building connections with other human beings.  (Plus, the feeling of feeding and taking care of people is pretty great.)
What are your most favorite seasonal ingredients? 
Narrowing this list down is difficult!  I'm forcing myself to pick one per season.  Spring – Asparagus.  Summer – Rhubarb.  Fall - Apples.  Winter – Sweet Potatoes (and winter squashes… I'm cheating.)
What are your favorite cooking methods?
Roasting is one of my favorite ways to cook any meats, fruits or vegetables. I always want that concentration of flavor and that beautiful caramelization/light charring. But I have to give a second shout out to the underrated, and under championed braise. The perfect way to create layers of flavor and beautiful texture.
Where do you get your inspiration for new dishes?   
Often by thinking more about the flavor profiles of specific ingredients – where those flavors are found traditionally in other dishes using other ingredients, or new places they might work. Then playing around mixing and matching ingredients, to create new dishes I love, even if they aren't traditional. I feel like thinking about cooking this way allows me to stretch boundaries on dishes and be more creative.  I love it when someone says "Oh, I never would have thought to put that in that recipe."  
What's the difference between kosher salt and table salt?
There are a few differences (such as table salt being iodized and kosher not), but the biggest one is simply the size. Most cooks prefer kosher salt as their main cooking salt because the larger grains allow for more precise control when sprinkling and seasoning. Because of this size difference you have to keep in mind that a tablespoon of table salt is going to be saltier than that of kosher salt and adjust accordingly if substituting one for the other.
What do you think is the most important skill a chef should have?
Self-confidence (an appropriately healthy level) and a sense for adventure. Without these you'll never be able to learn as much about cooking as you are capable – because you'll be scared off from trying new things or trying things again when you fail.  And we ALL fail when cooking… A LOT.  More than an art, cooking is a craft, and you must be unafraid to make mistakes in the journey of learning and becoming more skilled.  It's no different than playing a guitar or learning to build furniture – it takes time to get good.  So be confident, be adventurous and keep going!
How adventurous are you when it comes to trying new foods? 
Pretty adventurous. There's been very few things I haven't tried when the opportunity presented itself.  And I'm a big believer in trying things multiple times in life when you can, tastes change over time. (I didn't like yogurt until I was in my twenties, now I eat it almost every night as a snack!)
Are there certain flavors you like to use together?  
Sweet, acidity and spice/heat.  I think lots of recipes often benefit from at least two, if not all three of those things.  So you'll see me grabbing honey, maple syrup, citrus juice, vinegar, spices and chilis quite a bit!
Do you have any tips for creating unique flavor combinations in dishes? 
Taste all your ingredients individually, especially new ones you haven't worked with before, and try and define what it tastes like.  Even try to think of other things you already know the taste of that it reminds you of.  This will make it so much easier for you to start pairing unique flavors together!  Aleppo pepper in oatmeal raisin cookies?  Yes please!  Fish sauce in polenta?  Yup!