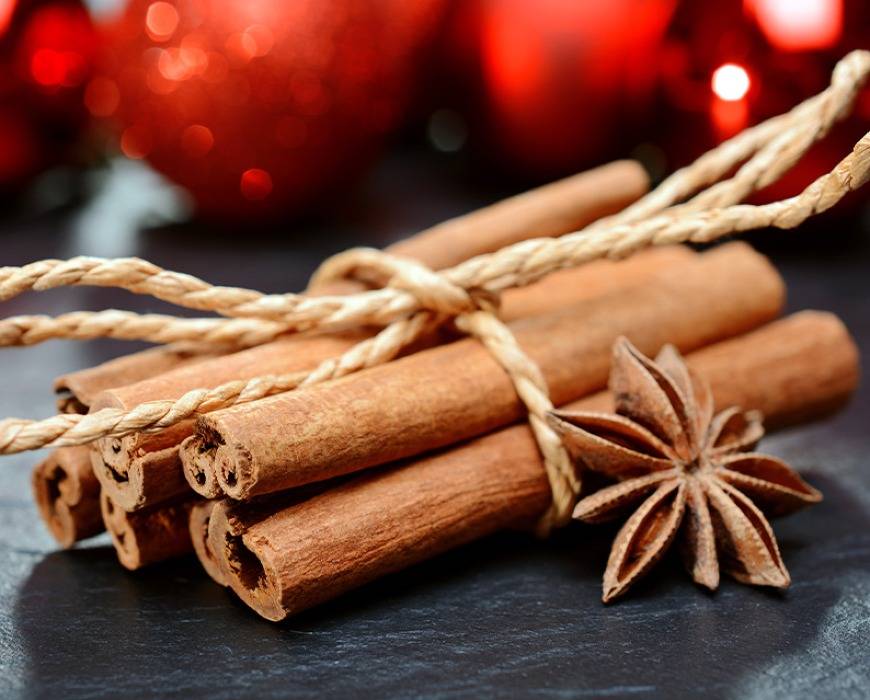 Cinnamon: Spice Up Your Holidays
Sweet, Spice, and Everything Nice
That's what makes cinnamon one of America's favorite holiday flavors. Warm and comforting, it's an essential element in festive baking and fills your home with the scent of the season.
Mug of Good Cheer
Add a touch of spice by stirring hot cocoa with a cinnamon stick. Great for coffee and hot tea, too!
Smart Cookie
Put an extra flavorful spin on holiday cookies by adding a teaspoon or so of ground cinnamon to your favorite sugar or spritz cookie recipes.
A Toast to the Holidays
Whatever your level of baking, there's a cinnamon toast for you. Simply smear a slice with butter, sprinkle on a 1:1 mix of cinnamon and sugar and toast to bubbly perfection. Stir a teaspoon of cinnamon into your French toast batter. Or bread bakers, try adding a cinnamon swirl to your favorite loaf.
Mull it Over
Create your own mix for mulled wine or hot apple cider. Mix crushed cinnamon sticks with your choice of spices such as whole cloves, star anise, allspice berries, cardamom pods, dried citrus zest, or ginger.
Glaze of Glory
Dress up roasted carrots, sweet potatoes, or butternut squash with a warming maple and cinnamon glaze. They'll eat their veggies and ask for seconds!
On a Roll
For an easy holiday breakfast, prep homemade cinnamon rolls the day before. Let rise in the refrigerator over night, then bake, frost, and enjoy. Sweet!