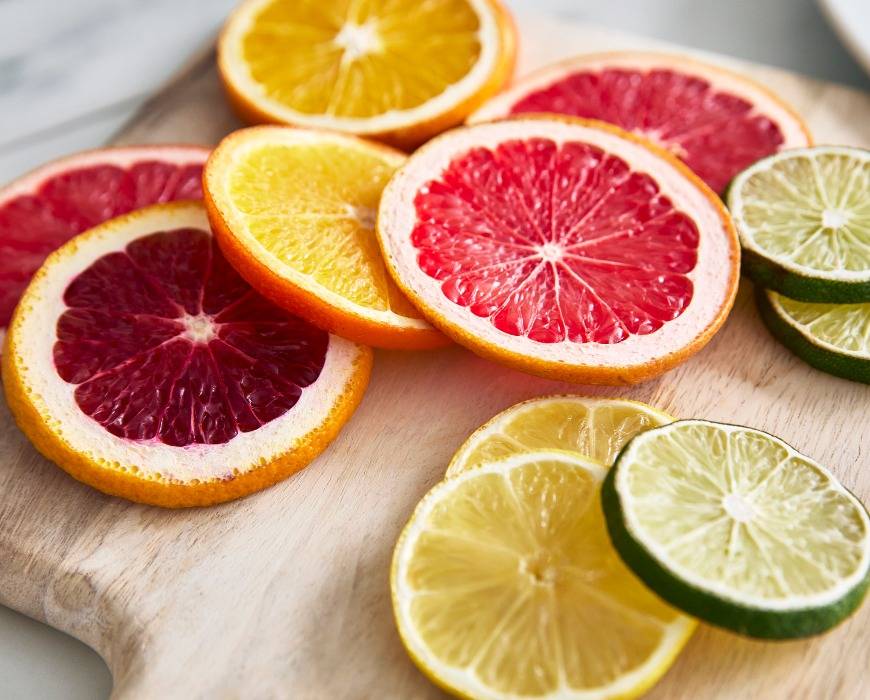 For a refreshing pick-me-up, just peel and eat—or incorporate citrus into everything from salad to baked goods. Add a splash of lime or a little lemon zest at the end of cooking to enhance the flavor of almost any dish. Or treat yourself with a wedge of lemon or lime in water—it's not just for restaurants anymore!
Fresh citrus can be a feast for the senses—from the bright colors and zesty scents to tangy-sweet flavors. We recommend placing a bowl of these delicious orbs on your countertop or kitchen table to add a touch of cheer to any dreary day.
Know How to Pick 'Em!
Choose fruit with a strong citrus scent and bright, unblemished skin. Pick it up and see if it feels hefty for its size—heavier fruit equals more juice.
Juicy Secret
Try one these tricks for getting every last drop of juice:
Roll fruit on the countertop while applying gentle pressure
Heat in the microwave for about 20 seconds
Let it sit in a bowl of hot water for about 1 minute
Use a reamer or juicer
Insert a fork into cut side of fruit and move it around while squeezing

Freeze Frame
Keep citrus on hand and ready to go when you need it for everything from cooking to cocktails. Freeze juice in ice cube trays and stash zest in an air-tight freezer container.
When Life Gives You Lemons, Limes, or Oranges…
Make lemon curd, key lime pie, marmalade, and so much more! From baked goods (citrus upside down cake or lemon meringue pie) to creamy treats (grapefruit sorbet to lime cheesecake), you'll find countless ways to transform citrus into tasty treats. 
Appealing Idea
The world of citrus is vast, so explore a new-to-you flavor. From blood oranges, meyer lemons, and finger limes to kumquats, yuzu, budda's hand, or even the aptly-named ugli fruit—it's all good!

Try a few of the recipes we've created to showcase fresh citrus:

Blood Orange Upside Down Cake

Cinnamon Orange Rolls

Roasted Turkey with Citrus Brine

Blood Orange Brussels Sprouts Quinoa Salad

Grapefruit Marmalade