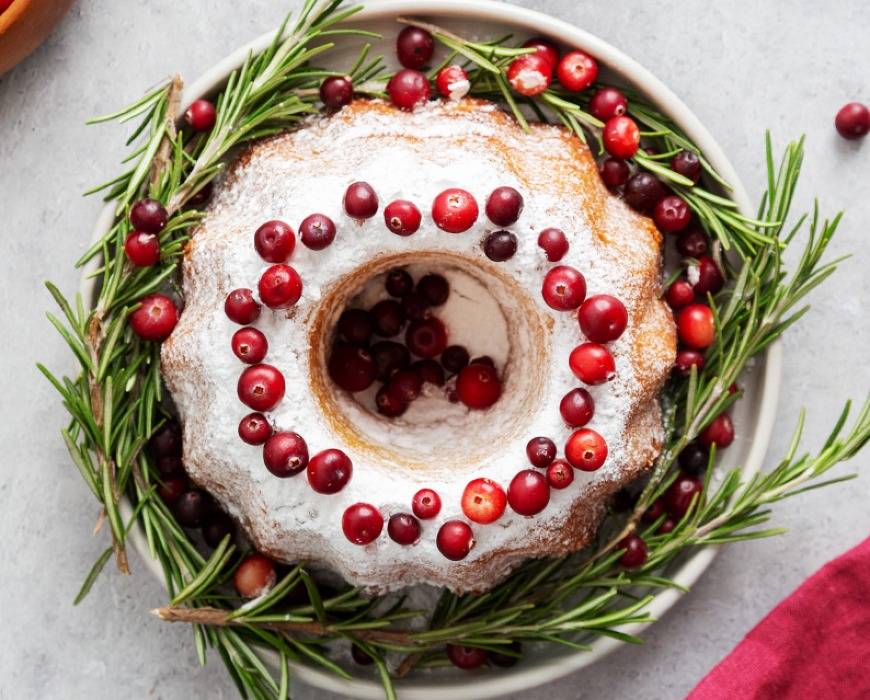 Rosemary: Our Favorite Holiday Herb
Native to the Mediterranean area, rosemary is an evergreen bush with needle-like leaves, which is a member of the mint family.
A Rosemary by Any Other Name
Derived from the Latin words "ros" (dew) and "marinus" (sea), some say the name refers to the plant's ability to thrive near the sea with very little water. We prefer a more colorful story: Legend has it that the Virgin Mary draped her blue coat over a rosemary bush, changing the blossoms from white to blue and coining the name "rose of Mary."
In Greek myths, the goddess Aphrodite was draped with rosemary when she rose from the sea. Perhaps this is why the plant was considered a love charm—tap someone with a spring of rosemary with an open bloom and they would instantly fall for you. Swoon!
Throughout the centuries, rosemary has been used to improve everything from memory and circulation to digestion and respiratory issues. Among its former claims to fame: treating the Plague, curing baldness, and even preventing nightmares. Today, it's mostly used to soothe sore throats or as a breath freshener.
Culinary uses for rosemary are as varied as its medicinal functions. Fresh rosemary pairs well with potatoes, grains, mushrooms, and bread. Dried rosemary makes a great rub for poultry, pork, or lamb. A sprig simmered in soups or stews adds amazing depth of flavor. And chopped fresh rosemary seasons everything from salads and fish dishes to salts and compound butters.
Easily keep a fresh supply on hand—plant a low-maintenance rosemary bush outdoors or add a small potted plant to a sunny windowsill. There's something incredibly satisfying about cooking with plants you've grown yourself.
Care & Use
Whether store bought or homegrown, you'll want to rinse sprigs under running water and pat dry. Some recipes call for removing leaves from woody stems, while others cook with the whole sprigs, which are discarded before serving. Keep rosemary fresh longer by wrapping sprigs in a damp towel and storing in the fridge in an airtight container.
Sweet Ideas
While most cooks use rosemary in savory dishes, try mixing things up with a few unique uses:
 

Fold into whipped cream
Sprinkle on fruit salad
Garnish desserts—pairs especially well with lemon
Infuse in simple syrup to flavor cocktails
Move over Parsley, Sage, and Thyme...
Reminiscent of a walk in a wintery forest, rosemary lends holiday flair to savory dishes, sweet treats, and even dessert decor.
Po-tay-to, Po-tah-to
No matter how you say it, holiday spuds get a flavor boost from fresh rosemary—creamy mashed Yukon golds to crispy roasted fingerlings—it's all good!
Bake it Better
Add depth of flavor to holiday bakes—from shortbread and scones to crackers and cookies. Just remember, a little goes a long way.
Get a Leg Up
Whether you're roasting leg of lamb, prime rib, pork chops, or poultry, adding rosemary sprigs to the pan brings a whole new level of holiday flavor.
Pack a Punch
Dress up your punch bowl with sprigs of fresh rosemary or flavor cocktails with rosemary-infused simple syrup.
Winter Wonderland
Decorate holiday desserts with the look of evergreens covered in snow. Dip rosemary sprigs in simple syrup, roll in sugar, and place on parchment or cooling rack to dry.