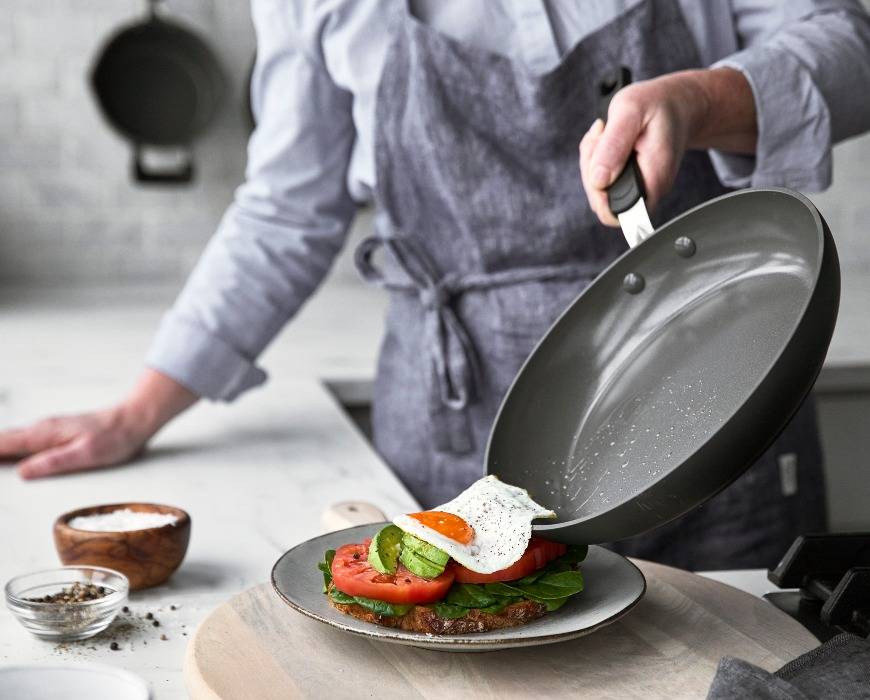 CNN Awards GreenPan Levels Stackable Ceramic Frypan as Best Eco-Friendly Nonstick Pan
We are honored to be named CNN's Best Eco-Friendly Nonstick Pan of 2023! 
After sorting through dozens of published reviews and perused user feedback, CNN was able to narrow down 12 incredible products to test firsthand. In order to find the absolute best nonstick pan, the experts at CNN crafted four different meals to assess the nonstick performance, ergonomics, cleaning ease, temperature distribution and tolerance, durability, and general aesthetics.  
After countless pancakes, eggs, and more, CNN chose our Levels Stackable Ceramic Frypan as the Best Eco-Friendly Nonstick Pan of 2023. 
They were in awe as they watched eggs, pancakes, and a sticky peanut sauce glide across the pan, comparing the performance to professional figure skater, Kristi Yamaguchi.  
As the lightest of their top three picks, CNN really enjoyed the lightweight feel and easy maneuverability of the Levels Frypan, calling it a "real ergonomic delight."  
They emphasized how the hard anodized aluminum construction allows for an incredible performance from start to finish. The even temperature distribution heeded professional-grade results with every meal they crafted. The experts commented on this pan's oven safe capabilities and the silicone-wrapped handle that kept things cool while they transferred.   
"It's also incredibly scratch-resistant." CNN reported. "Dragging a metal fork across its surface revealed the same marks as running a finger along it — which is to say, none." 
When the experts at CNN finished cooking with our Levels Frypan, they were wowed once more by the hassle-free clean up. "After cooking, close to zero residue remained on the pan, which led to a very speedy cleanup consisting of wiping, rinsing and going on with our business." CNN reported. 
Cookware with healthy ceramic coatings has become popular in the wellness world and here at GreenPan, we are proud of the things we don't put into our pans. Our incredible healthy ceramic nonstick coating is made without PFAS, PFOA, lead, or cadmium so you can cook healthier meals without a single worry. Plus, 60% less CO2 is emitted during our curing phase compared to the curing phase of traditional nonstick coatings.  
CNN explained that our mission to provide high quality nonstick cookware that's better for everyone was actually only a bonus. "It's simply a really great pan." CNN reported. 
Check out our Levels Stackable Ceramic Frypan and start cooking with the Best Eco-Friendly Nonstick Pan of 2023. 

Click here to check out CNN's article!

Find GreenPan on Facebook, Instagram, and YouTube for culinary inspiration and product information and follow us on Twitter to stay up-to-date on the latest product releases and news.