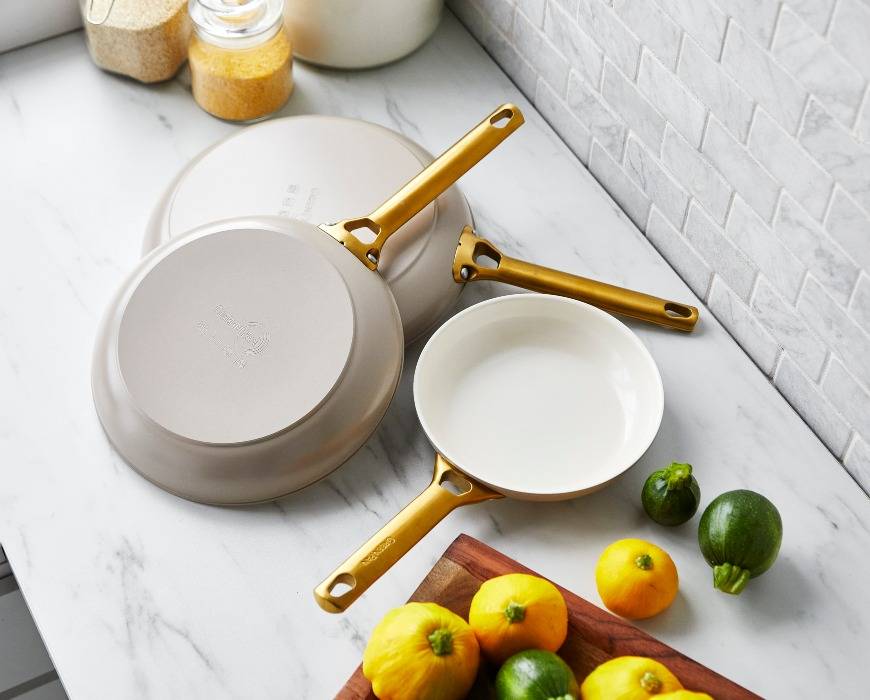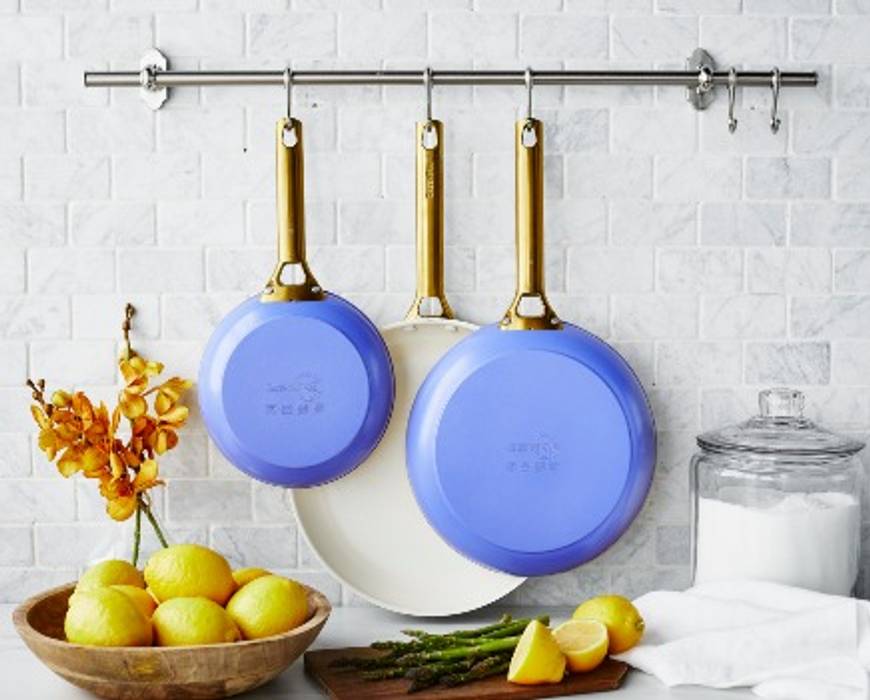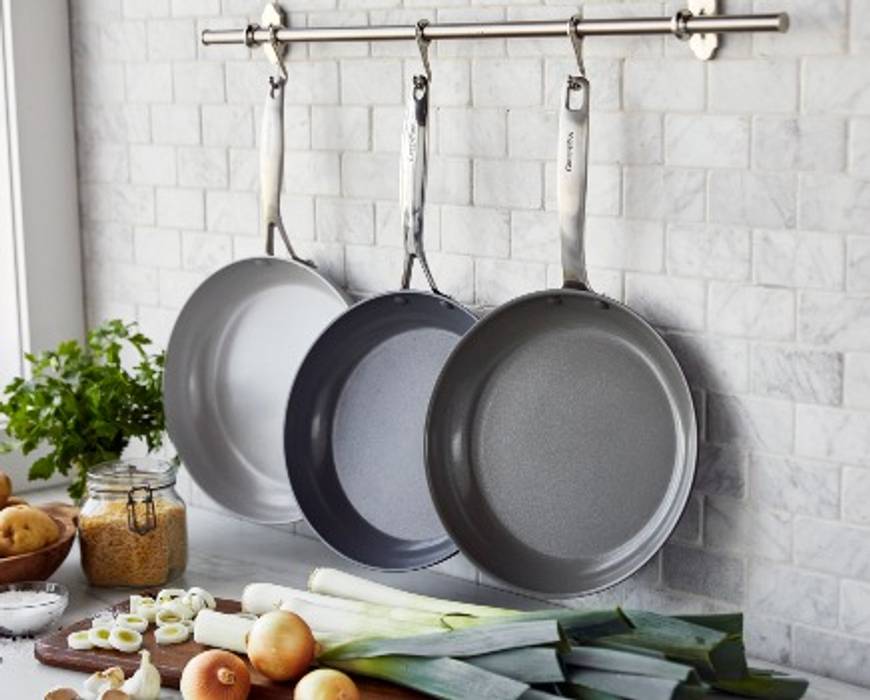 Choosing Your Frypans: Easy as 1, 2, 3
Open up your kitchen cabinets, what do you see? Are you a one pan does it all type of cook? Or is your cupboard overloaded with pans that crash every time you open it? Well, when it comes to frypans, we believe that three is the magic number to fulfill all your culinary dreams. Stock your kitchen with 8", 10" and 12" frypans and expand your world of cooking. Check out what each size is best known for, then read on to find out which set you should be adding into to your life.   
8" Frypans   
An 8" frypan is one of the most versatile, go-to tools to have in your kitchen. From simple eggs and omelets to those delicious crepes you've been craving, these pans will become your breakfast buddies in no time. Looking for that perfect pancake shape? With 8" frypans, you can whip up restaurant-grade pancakes fast and easy. However, these convenient pans aren't just for morning meals, they come in handy for countless tasks. Toast nuts and spices, craft crispy grilled cheese sandwiches, or create smaller versions of your favorite desserts like fruit crisps or the ultimate brownie. Plus, they're the ideal size for 6" tortillas for quick quesadillas.  
If you're a one-chef band, 8" frypans are great for reheating leftovers, or searing a fillet of fish, steak, or chicken. These pans are also amazing because they take up less space and comfortably fit in any size dishwasher. 8" frypans are extremely lightweight and easy to maneuver, almost like using a plate to fry all your favorite small dishes.   
10" Frypans  
Open your kitchen to even more options with 10" frypans. These essential pans give you more room to cook larger dishes without crowing your stovetop. From sauteing vegetables and steaming broccoli to fluffy scrambled eggs, your 10" frypan is bound to become your side-dish superstar! But don't worry, their versatile size also makes them perfect for mastering main courses like juicy burgers, tasty omelets, or perfectly seared steaks.  
Cooking for you and a significant other? Grab your 10" frypan and whip up an incredible dish with no worry. They can fit either a large steak, a few chicken breasts, a deep-dish pizza, two servings of stir-fry—the list truly goes on and on.   
12" Frypans   
No matter what you're cooking, or how many you're cooking for, 12" frypans have the space to get everything done—all in the same pan. Pan-frying, stir-frying, sauteing, oh my! These pans are built to do it all, making them a vital part in any routine. Think flavorful stir-fries, picture-perfect pastas, mouthwatering enchiladas, and so much more. If you've ever heard the term "don't crowd the pan," 12" frypans give you enough room for your ingredients to stay separate while they cook. Plus, since you can cook everything all in one place, cleaning up becomes quicker and stress-free.   
Of course, 12" frypans are excellent for feeding families, but even if you're cooking for one or two, these pans are great when it comes time to meal prep for the week or if you're looking to dive into leftovers later.    
Frypan Sets   
Now that you know what each size frypan can bring to the table (literally), you can see important it is to have an 8", 10", and 12" in your kitchen. To bring your kitchen to its full culinary potential you're going to want the best fit. What type of stovetop are working with? Do you have a specific style to your space? And what can you afford? We've served up some of our most versatile and durable 3-piece frypan sets to help you choose what best suits your routine.    
Stay Stylish and Strong   
Reserve Ceramic Nonstick 8", 10", and 12" Frypan Set  
This Reserve 3-Piece set will give you a pan for everything while looking gorgeous —both on and off the stove. Featuring a deep, captivating finish, this frypan trio performs just as amazing as the they look. The duoforged hard anodized construction makes each pan extra tough and scratch resistant. For the chef looking to add color to their kitchen, this set is the perfect way to combine stovetop strength and sophisticated style.   
The Tri-ply Trifecta  
Venice Pro Noir Ceramic Nonstick 8", 10", and 12" Frypan Set  
Experience top tier toughness with this set of multitasking pans from Venice Pro Noir. Featuring our Diamond Advanced coating, each piece delivers remarkable resilience and heat conductivity. These pans are suitable for all stovetops, including induction and the 3-ply stainless steel bodies are finished with Evershine™ to keep them gleaming for years to come.  
 Clutter Clearing Sets   
Levels Ceramic Nonstick 8", 10", and 12" Frypan Set  
If you're looking to stay organized and clear space, this efficient frypan set is a no brainer. Each pan conveniently stacks together so you can neatly store them without having to brace yourself when you open that cupboard. Not only are these pans easy to store, but the hard anodized construction delivers incredible stovetop strength – making this set the all-around perfect fit.  
Budget Friendly Sets   
Rio Ceramic Nonstick 8", 10", 12" Frypan Set   
Lima Ceramic Nonstick 8", 10", and 12" Frypan Set 
For an affordable set of frypans with no compromise in performance, our Rio and Lima 8", 10", and 12" Frypan Sets are the way to go. Both of these sets feature our PFAS-free healthy ceramic nonstick coating and have been reinforced with diamonds for extra durability and scratch resistance. These sets serve as a one-purchase solution for the budget-friendly chef.  


Always Stay Covered  
Searching for the correct lid to fit your pan can sometimes be a pain. Luckily, all of our tough, tempered glass lids are a universal fit for the corresponding size pan. The clear glass lets you keep a close eye on your creation without releasing heat or moisture. Fry foods faster and keep flavor locked in when you use any of our tight fitting lids. Top off your frypan set with our 8", 10", or 12" lids and take your meals to the next level.