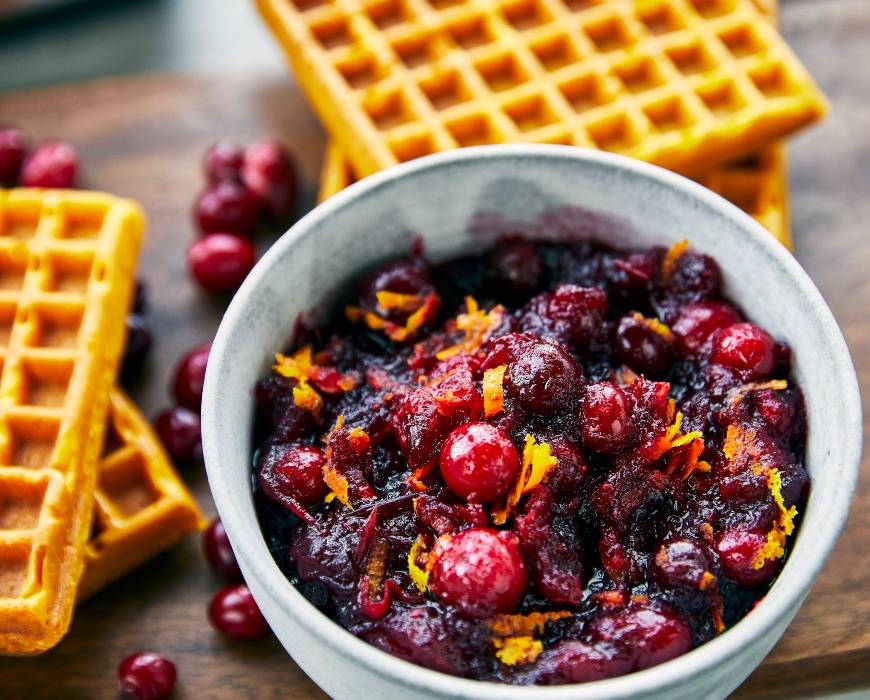 Cranberries: Make Everything More Festive
Cranberries were first canned in 1912 by Marcus L. Urann, who founded Ocean Spray. Much-loved or intensely hated, canned logs of cranberry sauce hit Thanksgiving tables in 1940.
Do cranberries grow in water?
No, the fruit grows on vines in beds known as "bogs" (some in Massachusetts are more than 150 years old!). Fresh, whole berries are dry-picked off vines. To facilitate picking for fruit used in juice, jelly, and sauce, bogs are flooded, then berries are harvested with the help of machines.
Only 3% of cranberry crops are sold fresh—look for them from September to December. Choose shiny, plump berries with a deep red color. The freshest berries are firm to the touch and will bounce when dropped—don't try this in stores!
Our favorite ways to use fresh cranberries:
Homemade cranberry sauce
Cranberry cake or muffins
Roasted with meat or root veggies
Chill drinks with frozen berries
Coat with sugar to garnish desserts
Dried cranberries are perfect for:
Sprinkling on salads
Stirring into oatmeal
Adding color to cous cous or pilaf
Mixing into cookies or scones
Dressing up holiday stuffing or cheese balls
Tame the tartness of cranberry juice by mixing it into:
Orange juice
Smoothies
Cocktails
Seltzer water
Lemonade
Ginger Ale
Cranberries: Not Just for Sauce Anymore...
Sure, it wouldn't be the holidays without everybody's favorite fruity sauce, but we love brightening up all kinds of seasonal dishes with fresh or dried cranberries.
Berry Delicious Baking
Put a holiday spin on pies, cakes, and muffins by mixing in fresh cranberries. Or add a chewy (and cheerful!) element to cookies and scones with dried cranberries.
Chill Out
Add frozen cranberries to everything from cocktails to sparkling seltzer—drinks stay cool without getting watered down.
Play Dress Up
Add holiday sparkle to your favorite desserts with candied cranberries. Simply coat fresh cranberries in simple syrup, dry on a wire rack for an hour, then roll in sugar till completely covered.
DIY Gifts
Get creative in the kitchen. Who wouldn't love a jar of homemade cranberry chutney or jam? Or please their sweet tooth with cranberry bark or biscotti.