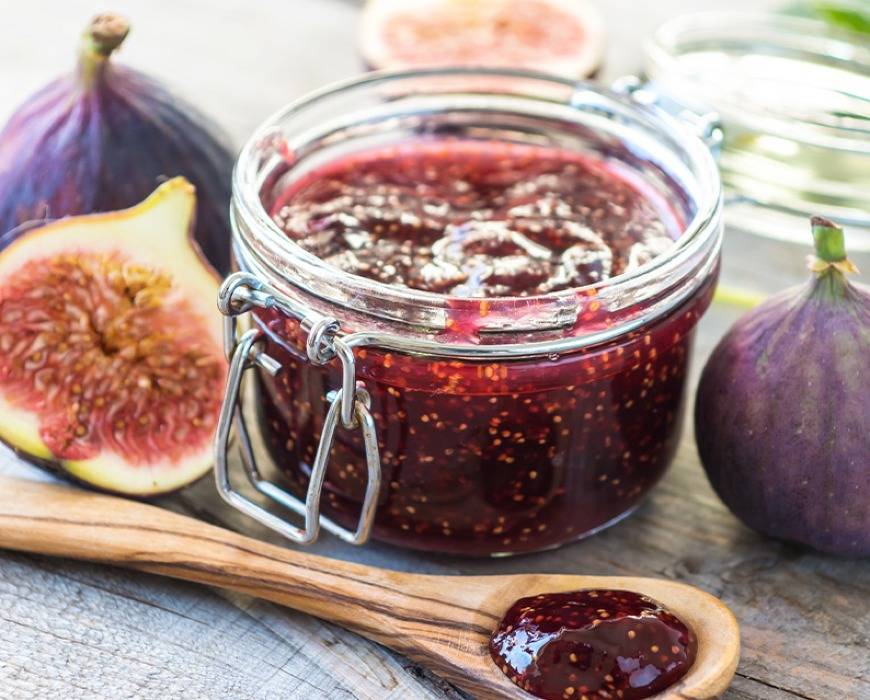 Fig trees usually produce two crops each year: a smaller one in May or June and a more substantial, better-tasting crop that ripens between late summer and fall. While we'll pounce on a fresh fig at any opportunity, they're at peak deliciousness right this very minute. Go get some—like right now. We'll wait. Once you're back, read on for fun facts, useful tips, and fresh ways to use figs.
Fun Facts about Figs
Fig trees first grew about a hundred million years ago—hello, dinosaur food.
Apples are scarce in the Garden of Eden region, so figs may have been the forbidden fruit.
Cultivated in West Asia around 11,000 years ago, figs were one of the first farmed foods.
Priests at Mission San Diego planted the first figs in California, hence the name Mission Figs.
California produces 100% of dried figs in the U.S. and 98% of fresh figs.
Figs made their commercial debut in 1892–yep, Fig Newtons® cookies.
Deliciously Healthy
Figs taste like a decadently sweet treat, but you shouldn't forbid yourself the pleasure. They're packed with minerals, including calcium, magnesium, and iron. They have more fiber than prunes and more potassium than bananas—plus you don't even have to peel them!
Our 3 Favorite Figs
Black Mission—With a jam-like sweetness, they're ideal for eating out of hand.
Brown Turkey— Their mild, less sweet flavor intensifies with heat—great for baking.
Calimyrna—Their nutty flavor pairs perfectly with cheese or charcuterie.
How to Pick 'Em
Look for plump figs that are soft to the touch, but not mushy. A few wrinkles are fine, but avoid any that have begun to dry out and lose their shape. Figs don't ripen after picking so step away from any very firm, underripe ones—they're not getting any better.
Storage Tips
First of all, don't. Peak-of freshness figs are meant for enjoying, not storing. If you can't eat them right away (why not?), arrange them in a single layer on a plate, cover, and place in the fridge. Properly refrigerated figs should keep for about 3 days.
Freeze Frame
Fig season flys by in a flash. So if you want to freeze some, place them whole or sliced on a baking sheet lined with parchment paper. Stash in the freezer till frozen solid, then transfer to an airtight freezer container. Frozen figs lose texture and some flavor, but they're better than no figs at all!
Can? Do!
Preserved figs deliver sticky sweet flavor that you can enjoy anytime of the year. Whether you're canning them whole or smashing them into jam, preserving is easier than you might think. And you'll thank yourself later.
Want the Freshest Figs?
Pluck them from your own back yard! Fig trees are easy to grow, and they'll produce fruit in just a year or two. They like warmer climates and full sun, but if pruned properly, some fig varieties can be grown indoors.
10 Fresh Ideas for Using Figs
Top pizza or flatbread
Serve grilled, with mascarpone or ice cream
Add to baked oatmeal
Dip in chocolate
Stir into yogurt 
Bake a tart or upside-down cake
Make jam or chutney
Serve with roasted meats
Pair with goat cheese
Add to a salad