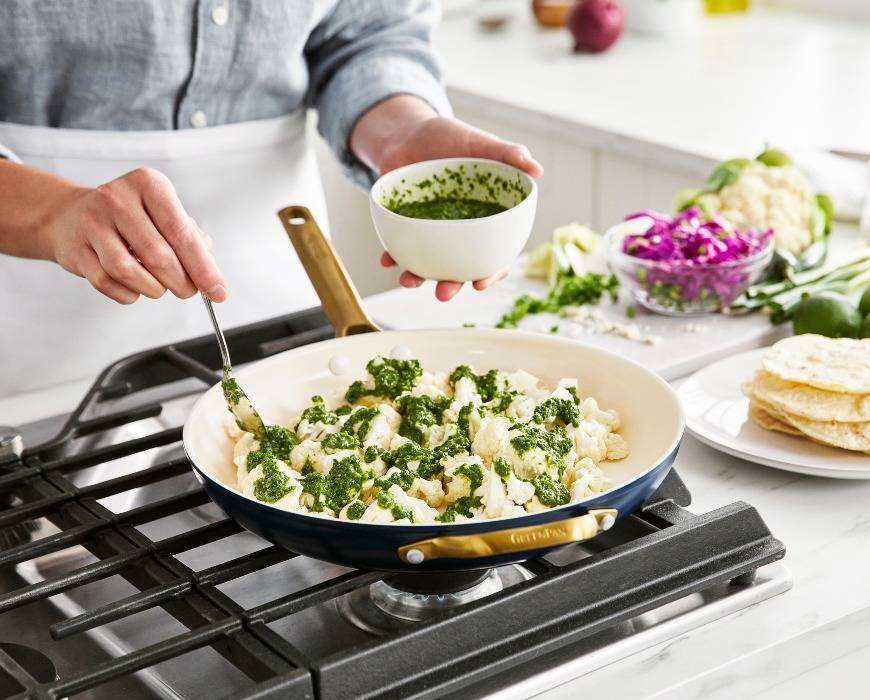 Mark Twain said, "Cauliflower is nothing but cabbage with a college education." But, then again, he lived in a world before cauliflower pizza crust. These days, cauliflower is so much more—a healthier substitute for everything from chicken and beef to potatoes and pasta. Plus, its mild taste (that turns deliciously nutty when roasted) works great in all kinds of appetizers, sides, and plant-based entrées. Read on to learn more of our favorite fun facts and fresh ideas for adding cauliflower to any meal.
Fun Facts
Cauliflower is actually a…wait for it…flower. If the head weren't hidden by thick leaves, it would get the sunshine it needs to bloom.
Part of the brassica oleracea family, cauliflower's cousins include kale, collard greens, Brussels sprouts, and broccoli (notice the family resemblance?).
The top parts of cauliflower florets are called "curds" because they resemble cheese curds—in looks, not flavor!
The name cauliflower derives from the Latin words caulis (cabbage) and flōs (flower)—this will be on your quiz.
A Cauliflower of a Different Color
Why remain in neutral? Cauliflower comes in a (modified) rainbow of hues—from yellow and orange to green and even purple. Or mix things up with Romanesco cauliflower, which has spiky green florets that might just come from outer space (or at least you can tell the kids that).
Choose the Best Cauliflower
Pick it up. Does the head feel hefty for its size? Good! Next check to make sure there are no dark brown or black spots. Are the florets firm and tightly packed together? And are the leaves bright green and firmly attached? You've got a winner!
How to Store Cauliflower
Did Big Cauliflower get together and decide to wrap each head in the most hard-to-open, shelf-life-shortening packaging available? When you get it home, remove cauliflower from the cellophane (if you can!) and stash it in a loosely sealed bag with a paper towel to absorb moisture. It should keep for about a week in the fridge.
What's the Deal with the Brown Spots?
In a word, oxidation, a chemical reaction caused by exposure to light and air. Sounds fancy, but it's the same thing that happens when you cut open an apple or pear. It's fine to eat cauliflower that has light brown freckles, or you can shave them off if they're disturbing your chi.
Cut Cauliflower Like a Pro
…or how to keep your kitchen from looking like a cinema floor after a kiddie matinee. Flip cauliflower on its head and peel off the leaves. Then cut florets away from the stem one at a time (working from the bottom up). If needed, break clusters into smaller florets by cutting along the stem line.
6 Tried and True Ways to Enjoy Cauliflower
1. Roasted cauliflower
2. Cauliflower "rice"
3. Cauliflower pizza crust
4. Cauliflower au gratin
5. Mashed cauliflower
6. Cauliflower soup
8 Fresh Ideas for Using Cauliflower
1. Buffalo cauliflower bites (AKA vegetarian hot wings)
2. Orange cauliflower (a new take on Chinese takeout)
3. Cauliflower fried "rice" (same)
4. Cheesy cauliflower and spinach dip (move over, artichokes!)
5. Cauliflower and feta fritters (because…fried)
6. Creamy cauliflower sauce (think Alfredo, only healthier)
7. Cauliflower tots (meet Tater's low-carb cousin)
8. Cauliflower "Mac" and cheese (all the comfort with way less carbs)
Easy Roasted Cauliflower
Preheat oven to 425 degrees and cut a head of cauliflower into small florets. Place them in a nonstick baking pan, drizzle a couple tablespoons of olive oil on top, and toss to coat. Add a generous sprinkling of salt and pepper. Roast until tender and caramelized, about 30 minutes, stirring every 10 minutes or so. The longer you roast cauliflower, the better it tastes. You don't want to burn it, but continue cooking until you get a good char.
Featured Product
Reserve Ceramic Nonstick 12" Frypan with Helper Handle and Lid | Twilight
Featuring a rich, dusk-inspired exterior, this frypan and lid combo looks as good as it cooks. The duoforged hard anodized body makes it extra tough, which is great because you'll want to use it for everything.