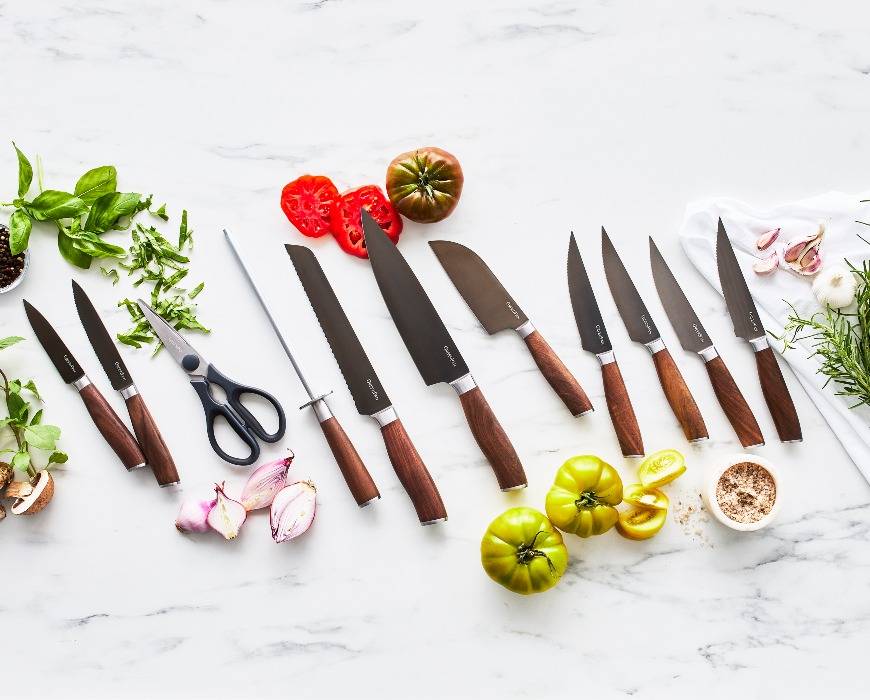 Cutlery 101: The Right Knife for the Job
If you think a knife is just a knife, well then, you're seriously mistaken. Each knife is created with a specific purpose in mind, like using a paring knife to deseed fruit or using a chef's knife to slice meat. However, all knives, no matter the size or type, should stay sharp, last long, and require minimal effort. With GreenPan's Premiere Titanium Cutlery, you are guaranteed to get all three. Plus, we're limiting our environmental impact by using recycled stainless steel and an eco-friendly interior core made from wheat straw to build a knife that can last a lifetime. Durability and sustainability? Yes, please! Let's dive into what each type of knife is most famous for and then you can decide what your kitchen is missing. 

Chef's Knife 
Don't worry, chef's knives aren't just for professionals. In fact, your chef's knife is going to be the most versatile and most used knife in your collection, especially for a new cook. There are countless uses for this knife, from quick tasks like chopping fruits and veggies, to large jobs like scaling fish and tackling a butternut squash. Chef's knives are amazing for prepping bigger vegetables that require a bigger blade and more power. Slice right through large foods like watermelon, squash, or heads of lettuce quickly without stress. Plus, you can flip it on its side and smash some garlic while you're at it. But the most common use for a chef's knife is for meat. If preparing raw meat makes you uncomfortable, because let's face it, it's not a glamorous task, chef's knives are here to make it painless. With its long, wide blade and plenty of weight to back it up, you can slice through meat without needing too much force, getting you to the good part, (eating) faster.  
Paring Knife 
Some might say a paring knife is a chef's knife little brother, with its slightly curved blade and pointed tip. However, paring knifes are a lot smaller and more maneuverable than a chef's knife making them perfect for tiny, precise cuts. There is an infinite amount of uses for a paring knife, from thinly slicing garlic, deveining shrimp, or peeling fruits, vegetables, and potatoes. Going on a picnic or camping out? Your paring knife will be easy to transport and help you hull your strawberries, slice a watermelon, or score your baked goods. 
Santoku Knife 
Did you know? The word Santoku means "three virtues," referring to how this type of knife can cut, slice, and chop. But what's so special about a Santoku knife? With very similar characteristics to a chef's knife, Santokus are extremely versatile and can cover every station in the kitchen, from meat and poultry to seafood and vegetables. However, the Santoku knife's claim to fame is the ability to create very thin slices of foods, and the lightweight handle lets you have total control, which improves the overall aesthetic of every dish. So if your recipe calls for finely sliced meat and veggies, you know what to grab. Plus, the small divots on the blade prevent food from sticking to it for a hassle-free meal prep. 
Bread Knife 
If you're looking for a way to impress your guests at a dinner party, who doesn't love warm, soft slices of crusty artisanal bread? Well, the only way to get perfect pieces of breads, baguettes, or biscuits is with an actual bread knife, not that random, dull one you quickly pulled out of the drawer. The key is the serrated edge, which acts like a saw to slice right through crusty loaves without crushing the soft center. However, bread knives are not just used for bread, and as a knife community, they would like to slice through that stereotype. Use them to shape and level cakes for decorating, along with cutting delicate pieces to serve. Never eat a piece of pie with a crushed crust again. Also, tough foods like melons and squash, are easily cut with a long bread knife. Prepping other fruits and vegetables, like tomatoes or pineapple are also good occasions to break out this specialty knife.  
Serrated Utility Knife 
In the past couple of years, baking has become one of the world's most popular hobbies. If you've been perfecting your baking skills like the rest of the world, but you don't have room for a large bread knife to enjoy your creations, you're going to need a serrated utility knife. These saw-toothed knives can be a lifesaver in the kitchen when it comes to slicing baked goods or cutting sandwiches. Smaller than a bread knife, utility knives are easy to store and are used for foods with a crisp exterior and a soft interior. They are also a go-to knife for slicing salami and medium-sized fruits like oranges and grapefruit. 
Basic Utility Knives  
Whether you're preparing a few small snacks for a party or putting together an extravagant charcuterie board, you're going to want a knife that fits the job. Basic utility knives allow you to quickly cut through hard cheeses and meats, so you don't have to rush when your guests tell you they're on their way. Utility knives are also great for everyday fruit and vegetable prep when putting together lunches or healthy snacks. When a chef's knife is too big and a paring knife is too small, utility knives are the perfect size to get the job done.  
We hope this guide has given you a little more insight on what you might be missing from your knife collection or where you think you should start. No one wants to have a stressful, messy time in the kitchen, so having the right knife to match what you're preparing makes the process seamless. One way to ensure you have everything you need is by checking out GreenPan's knife sets. Get all your bases covered and store them easily in an attractive knife block. Don't forget to take good care of your most important kitchen utensils by handwashing and drying each blade to make them last longer and stay sharper. You truly can't go wrong with any of GreenPan's ultra-durable Premiere Titanium Cutlery, made for every type of cook.  
Featured Product
Premiere Titanium Cutlery 12-Piece Knife Block Set with Walnut Handles
Crafted from recycled steel and eco-friendly walnut handles to minimize its environmental impact, each blade of this set is cryogenically treated to remove residual stresses, hand sharpened and coated with titanium for long-lasting performance.