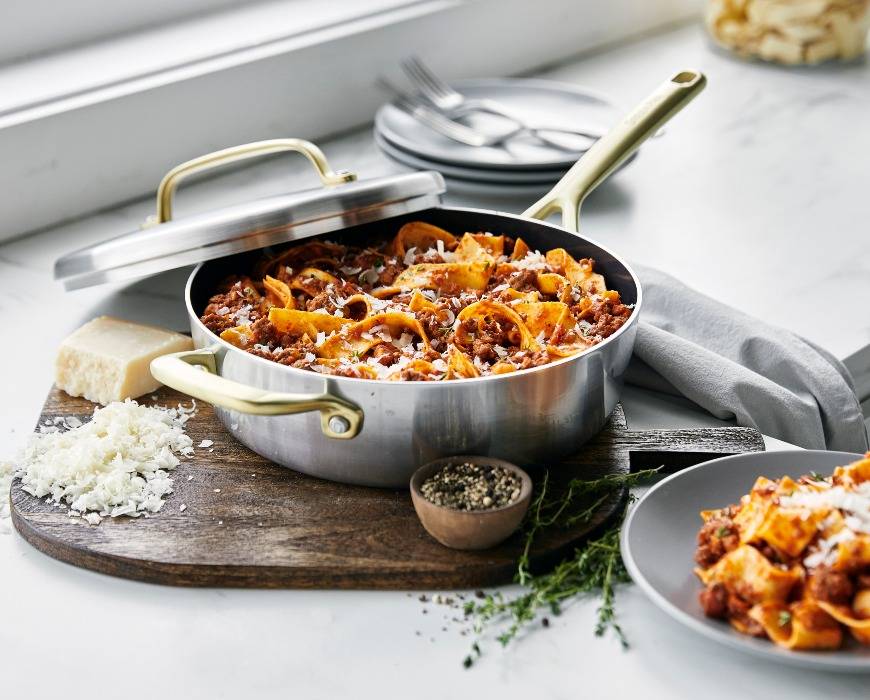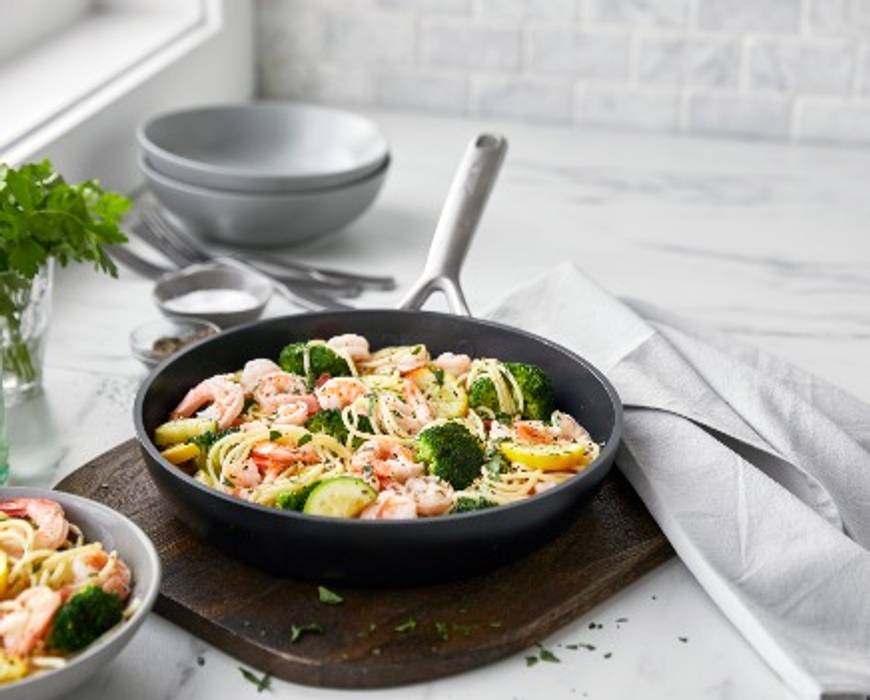 11 Pasta Recipes Your Whole Family Will Love
When we need dinner on the table quick, we're big fans of jarred pasta sauce. But when we have a little extra time, nothing beats Bolognese from scratch. Even better with homemade pappardelle—when you have plenty of extra time.
2. Lemon Tortellini with Spinach and Dill
Try a lighter take on pasta for spring with our palate-pleasing soup starring cheese tortellini, baby spinach, fresh dill, and a splash of lemon juice. Perfect for busy weeknights, it all comes together in our Essential Smart Skillet in about 45 minutes.
3. Scrimp Scampi with Broccoli, Squash and Vermicelli 
We've combined two of our favorites—shrimp scampi and pasta—into one quick, delicious dish. Broccoli, zucchini, and yellow squash add a boost of nutrition to round out the meal.
4. Creamy Crab & Bacon Linguine
Treat friends and family to an elevated take on classic comfort food—linguine in our creamy white-wine sauce paired with crispy bacon and an abundance of succulent crab.
Just like your Italian grandmother would make—if she were as busy and stressed as you! Our simple, one-pot puttanesca comes together in just half an hour. Enjoy a glass of Prosecco while you cook.
6. Spinach and Ricotta Stuffed Shells
Try a new spin on pasta featuring jumbo shells stuffed with spinach and a blend of three cheeses. Add homemade or your favorite store-bought marinara and bake to creamy perfection.
7. Pasta Primavera with Lemon Pesto
Spring in a bowl—our pasta primavera features a medley of fresh farmers market finds paired with a zesty lemon basil pesto and topped with plenty of nutty Parmesan.
An Italian classic. Perfect balance of lemon, garlic and cream. 
9. Sweet Potato Gnocchi with Pumpkin Sauce, Pancetta and Fried Sage
Our new favorite comfort food pairs sweet potato gnocchi with crispy pancetta swimming in a pumpkin cream sauce. What could top that? Hello, fried sage.
10. Shrimp and Linguine Fra Diavolo
Who can resist shrimp and pasta swimming in a spicy tomato sauce topped with seasoned breadcrumbs? Plus, you'll love how it goes from prep to table in just half an hour!
Transport your taste buds to Rome with our oh-so-simple pasta dish. It just takes 5 ingredients and 20 minutes to create delicious al dente spaghetti coated in a creamy, cheesy black pepper sauce. Buon appetito!
Featured Product
GP5 Stainless Steel 4-Quart Sauté Pan with Lid | Champagne Handles
Spacious, versatile, and great for everything—this is the one pan your kitchen needs for next-level cooking. The 5-ply stainless steel body is finished with our groundbreaking Infinite8 coating for years of effortless performance.