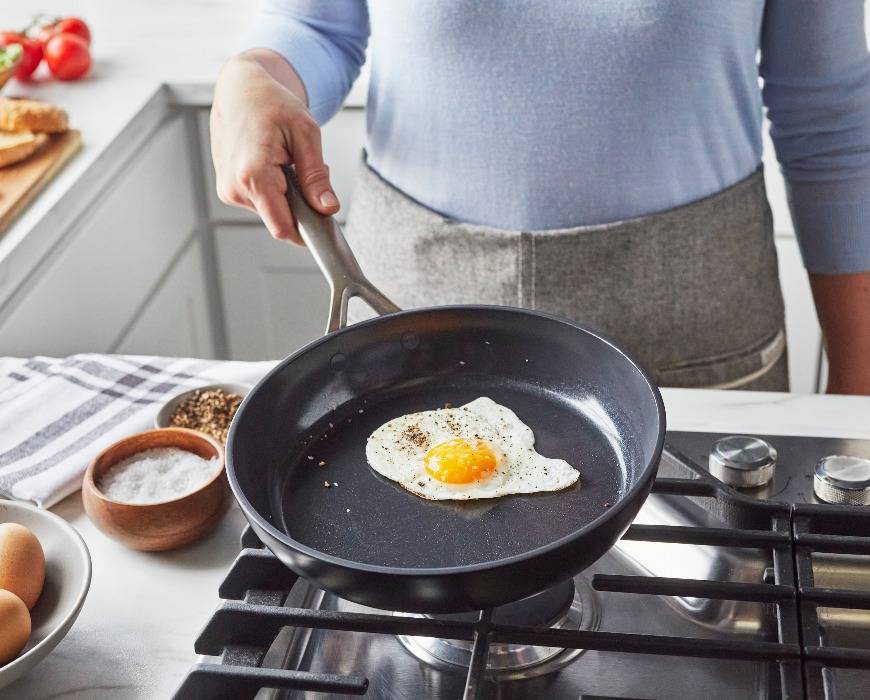 Fresh Idea
A cracked yolk turns sunny-side-up into a sad situation. When frying eggs, use the freshest you can find. They'll have firmer yolks that aren't likely to break and whites that won't spread as much. Pro tip: Save more elderly eggs for hard boiling—they'll be way easier to peel. 

Avoid a Sticky Situation

Egg whites have been used as glue for centuries—from gilding mirrors and picture frames to building canoes. So you're really going to need a nonstick pan for easy release. We like an 8-inch skillet for cooking 1 to 2 eggs. But go ahead and size up if you're sharing the eggy love with family and friends.

The Skinny on Cooking Fats

Some like eggs swimming in olive oil, but we think a pat (or two) of butter delivers better flavor, because BUTTER. Now, if you've fried up some bacon or sausage in a skillet, by all means fry your eggs in that delicious fat. Bonus points for not washing an extra pan—plus, you're recycling, sort of.

Bring the Heat, but Not Too Much

Make sure your skillet is hot before adding eggs. Splash a drop of water into the skillet—if it dances and sizzles, you're good to go. Then adjust heat to medium low to keep the bottom from cooking too quickly. You can add a lid to help eggs cook more evenly, but if your skillet doesn't come with one, don't sweat it.

Get Cracking

Plenty of cooks crack eggs right into the pan, but after much trial and error (fishing egg shells out of a hot skillet isn't for the faint of heart!), we've decided cracking eggs into a ramekin makes the prettiest presentation because it helps keep the yolk intact. And if a yolk does break, you can always set it aside and scramble it.

Double (Triple, or Quadruple) Your Pleasure

When frying multiple eggs, crack one at a time into a ramekin and gently pour each egg onto the skillet, spacing them apart so the whites don't stick together. They'll have a tendency to do so anyway, so use a spatula like a school-dance chaperone to keep them separated.

Flip Out—or Not

We love the cheerful look of a sunny-side-up egg and how the lava-like yolk makes everything it touches turn to gold. But if you're a little squeamish about runny yolks, no judgement here. Just flip them and cook a little longer—30 seconds for over-easy, a minute for over-medium, and about 2 minutes for over-hard.

Don't Overdo It

Eggs continue cooking even off the heat, so remove them from the pan as soon as the whites are set. Excess time on the stove will evaporate moisture and cause proteins to contract, leading to a rubbery, chewy, totally unappetizing waste of the chicken's time. Respect the chicken, please!


INGREDIENTS:
Butter for skillet, about 1 teaspoon—more or less to taste
1 large egg
Flaky sea salt and freshly ground black pepper to taste
PREPARATION INSTRUCTIONS:

Prep the skillet—Place an 8-inch nonstick skillet over medium heat. Add butter and swirl to coat skillet evenly. Heat until butter starts bubbling.
Prep the egg—Crack egg into a ramekin.
Fry the egg—Gently pour egg into hot skillet. Cook until whites are completely set, about 3 minutes.
Finish and serve—Slide egg from skillet to plate and season with salt and freshly ground black pepper to taste. Enjoy!
Spice it Up

Flaky sea salt (or whatever you have on hand) and freshly ground black pepper are our personal favorite seasonings, but if you want to fancy up your fried eggs, great options abound, including:
Red pepper flakes (a little goes a long way)
Hot sauce
Worcestershire sauce
Paprika
Chili powder or cayenne
Chopped fresh herbs
Sliced scallions
Everything-bagel seasoning
Grated Parmesan cheese
Bacon bits 

Fried Eggs Go Great On
Toast, avocado or regular
Breakfast tacos
Cheesy grits
Dutch baby pancakes
Potato hash
Ratatouille
Fried rice
Rice bowls
Burgers
BLTs
Salads
Sautéed asparagus
Pork chops
Steak
Featured Product
GP5 Infinite8 Ceramic Nonstick 10" Frypan
Our Most Advanced Collection This 10" frypan is the first pan you'll reach for when cooking any meal of the day. That's because no matter what you're making, you can use less oil and get more contact with this pan's...