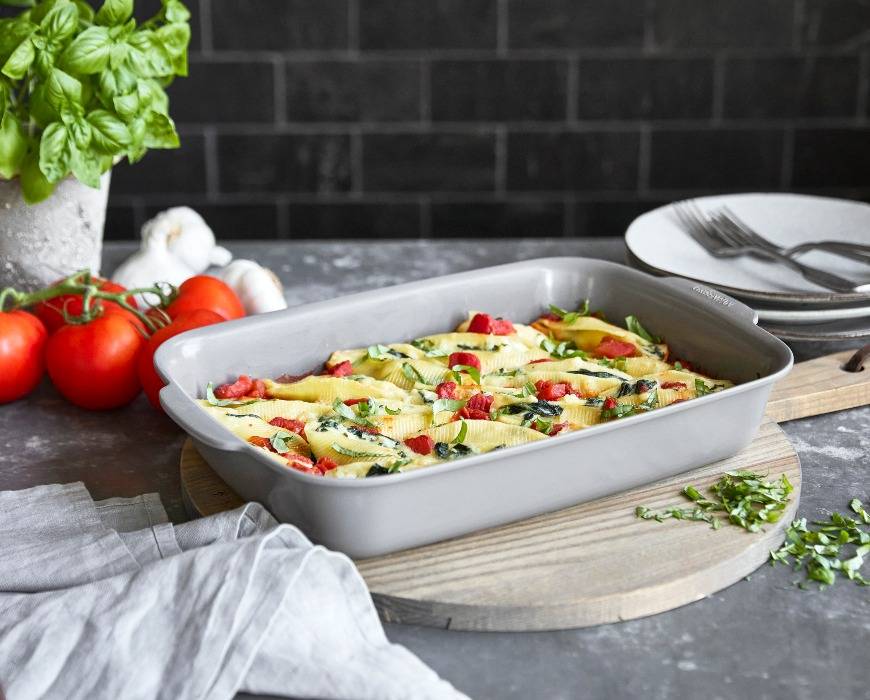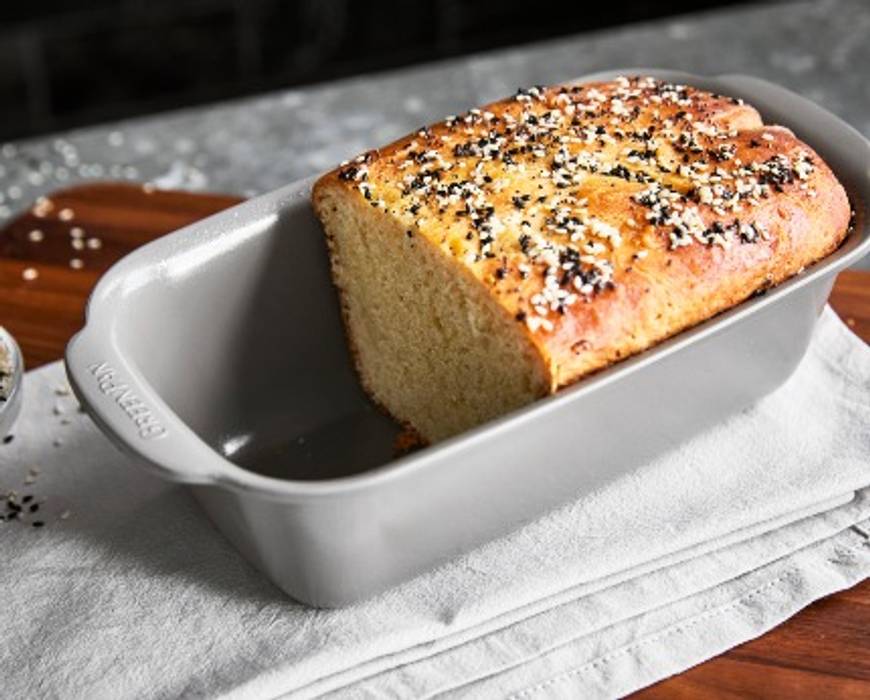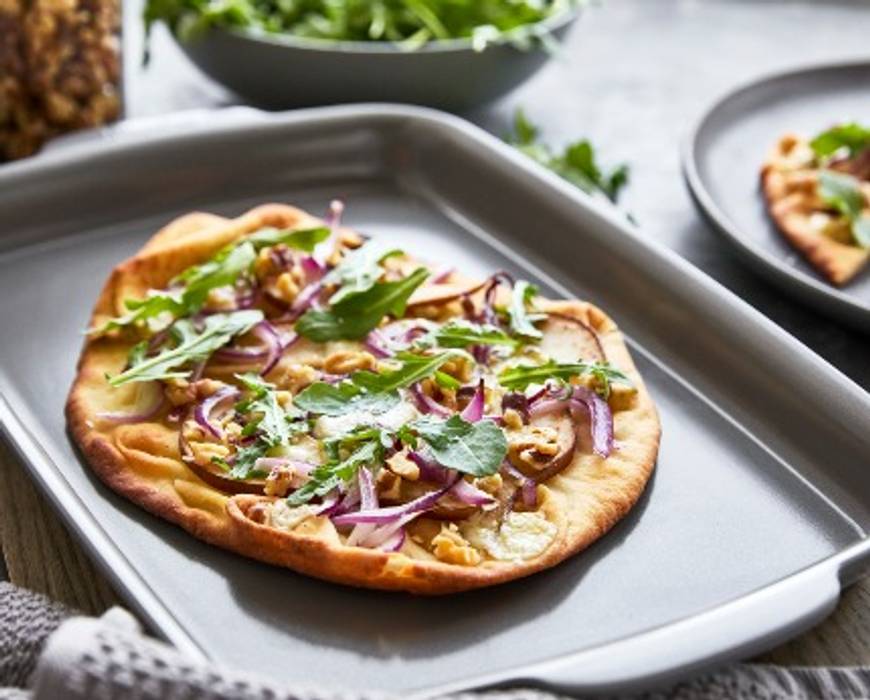 GreenPan Ovenware: Maximize Your Meals
What if we told you we could enhance your oven cooking experience so you can get perfect results every time? We've set out to create the world's best ovenware — and make oven cooking easier for everyone! From perfectly caramelized vegetables, beautifully baked bread, and simple sheet pan dinners, our ovenware is specially designed to tackle every recipe and make all your culinary dreams comes true. We wanted to create signature pieces that deliver high versatility and maximum durability, so you can start doing more with your oven. It's time to say bye-bye to basic bakeware and hello to Premiere.
Premiere Ovenware is our new line of ceramic nonstick sheet pans, loaf pans, and bakers. Each pan is made from durable cast aluminum that delivers unbelievable heat transfer for evenly cooked dishes every time. The thick construction prevents each pan from wobbling, warping, or degrading so your pans stay stronger, longer. Premiere Ovenware is built for incredible performance and the unique design won't rust like steel bakeware. The one piece design features built-in handles without folds, so there's no awkward space for food or water to hide during cleaning. Did you know, a lot of other nonstick ovenware aren't safe for high temperatures, made from plastics, and have PFAS chemicals in them? But not us! Our Premiere Ovenware is oven safe up to 600˚F, PFAS-free, and dishwasher safe for your convenience. 
 Rectangular Baker 
There's nothing more beautiful than opening the oven and taking out a warm, perfectly cooked casserole with a little crisp on top. Our Premiere Rectangular Baker is your ticket to cooking gorgeous dishes that taste even better than they look. But the beauty doesn't stop at your family's favorite casseroles. Think stuffed pasta shells, delicious banana breads, Hasselback potatoes, and so much more. The deep sides give you more room to conquer large dishes while the smooth interior makes releasing effortless and cleanup a breeze. Thanks to the durable cast aluminum construction, our rectangular bakers won't chip, warp, or discolor so you can use it for the first time – every time. With the look of ceramic, but the performance of metal, these powerful pans travel easily from oven to table. Plus, the built-in handles won't break off like ceramic ones, so transferring is easier than ever. For extra versatility, we've added a covered version that features a durable lid so you can transport your creation or save it for later. The lid also performs as a mini sheet pan for small tasks like toasting croutons or crisping vegetables. Add our Premiere Rectangular Baker to your kitchen routine and start opening the oven with a smile. 
Let us inspire you! Whether it's sweet or savory, here are some of our favorite dishes to cook in our Rectangular Baker: 
Sticky Banana Bread Pudding
Spinach and Ricotta Stuffed Shells
Chicken and Broccoli Casserole
Four-Cheese Baked Mac and Cheese
Square Baker 
You don't have to be brownie obsessed to use your square cake pan, although there's nothing wrong with that. In fact, square cake pans can be one of the most versatile and useful pans in your kitchen. With that being said, you're going to want one that can hold up for use after use without getting stained, sticky, or warped. That's where our Premiere Square Baker comes in handy. Incredible for sides and serving, this baker goes from oven to table with convenient built-in handles. The one-piece design ensures years of performance, and compact size is great for countertop ovens and smaller kitchens. When you're in a pinch and need a small sheet pan, our square baker is perfect for reheating leftovers or making delicious dishes for one. Then pop a lid on it when you're through for simple storing. Start making the most out of your oven with our square baker! 
 Looking for ideas? We love our Square Bakers for:
Provence-Style Stuffed Tomatoes
Eggplant Parmesan
Sheet Pan 
As the single most important piece of cookware outside the frypan, having a dependable sheet pan is a must. Our incredibly versatile sheet pans are built to tackle every task from roasting fish and vegetables to cooking full sheet pan dinners – and of course your favorite seasonal cookies! Crafted from ultra-tough cast aluminum, our Premiere Sheet Pan makes big batch cooking simple, and cleanup even easier. Classic sheet pans rust and stain, but our Premiere Sheet Pans stand out from the rest and hold up for use after use. The rolled edges make each extra sturdy and warp-resistant to prevent food from cooking unevenly. Available in two different sizes, these pans fit into any cooking routine, from serving large crowds to smaller sides. Don't settle for just one, stock your kitchen with multiple sheet pans and start making the most out of your oven. Recently, sheet-pan meals have become wildly popular because they make large dinners a lot easier and faster. Our kitchen team is always trying to find inventive sheet pan recipes the whole family can enjoy. 
Grab your sheet pan and get creative in the oven with some of these delicious sheet pan meals: 
Chicken Fajitas
Crispy Sicilian Pizza
Loaded Sheet Pan Nachos
Sheet Pan Baked Fish and Chips
Loaf Pan 
You may think Loaf Pans are just a one-trick pony, but these heavy-duty bread pans are extremely versatile. Think meatloaf, smaller zitis, chicken pot pies, and so much more. The strong cast aluminum body allows the pan to heat quickly and evenly without warping – perfect for creating daily delicacies. The unique heavyweight gauge, and one-piece design create the single best way to cook in the oven. There's nothing more frustrating than making a beautiful brioche and having it stick to your pan, but with our Premiere Loaf Pans, food slides right out every single time. Our remarkable ceramic nonstick coating makes transferring easy leaving your all your creations intact. Thanks to the metal construction you can even store these pans in the freezer and enjoy homemade ice cream! With their durable bodies, superior heat transfers, and a nonstick release like no other, these pans are raising the bar for oven cooking.
All this meal talk got your mouth watering? Check out some of our favorite recipes to make using our Premiere Ovenware.  
Spinach and Ricotta Stuffed Shells 
Fill jumbo shells with three kinds of cheese (and other goodness), and line them up in one of our bakers. The pan will heat up quickly and evenly, so you can be sure your pasta is getting cooked all the way through. You'll want to serve this dish up while it's piping hot. Luckily, our bakers are cute enough to go from oven to tabletop. 
If you're going to go through the trouble of making your own brioche (and you should!), you certainly don't want it to stick to your pan. Pair this recipe with our nonstick loaf pan, and you'll get perfect results. Pro tip: go heavy on the everything seasoning!  
Our Premiere Ovenware Ceramic Nonstick Sheet Pan churns out pizza crust that's perfectly crispy yet also impossibly chewy. See for yourself with this flatbread recipe. It calls for red onions, pears, walnuts, blue cheese, and a drizzle of balsamic glaze. If you have extra glaze, use it on steak, salad, pasta, fresh fruit, or even ice cream. 
Featured Product
Premiere Ovenware Ceramic Nonstick 4-Piece Set
Rediscover oven cooking with this endlessly versatile 4-piece set. The solid, one-piece designs eliminate food traps to make everything easy and these pans are perfect for classic casseroles, family-sized lasagna, slow roasted meats, and so much more.