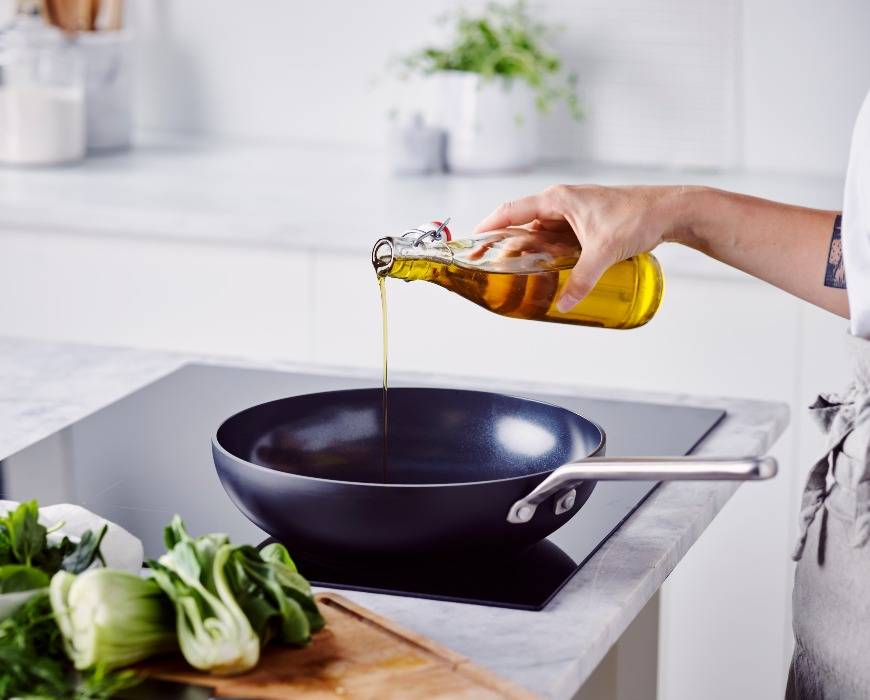 The Best Kinds of Oils to Use With Ceramic Nonstick Cookware
Oil not only helps your food taste better, it also helps distribute heat more efficiently while you're cooking, which means a better sear and more even results. What you should be aware of, though, is that the type of oil you use does matter. We recommend using butter or an oil that has a high smoke point. If you're not familiar, a smoke point is the temperature at which oil stops shimmering and starts, well, smoking. Some fats burn at lower temperatures and burnt-on oils can make for a sticky pan or start to degrade the nonstick coating. It's why we don't recommend using olive oil with your ceramic nonstick cookware. Similarly, you should never use spray oils — including aerosols, mist, and pump sprays. Because small spray droplets will heat up quickly and carbonize easily on the nonstick surface. 
Note: If you do end up with sticky spots, you can get rid of them with a melamine sponge and a bit of warm water.
What do we recommend then? Whenever possible, we suggest reaching for refined oils, which have a higher smoke point than unrefined oils. Organic, too, if you can! To help you get cooking, we've rounded up four of our favorite types of oil. Let's take a look.
Peanut Oil
Coming in with the next highest smoke point on this list, we bring you peanut oil, which tops out at 450°F. Use it to stir-fry veggies, or whenever you want to deep- or shallow-fry something. While other oils can develop some funky flavors during frying sessions, peanut oil stays light and neutral. We love it for French fries, crispy chicken, tempura, and all other fried foods. Be sure to look for refined peanut oil, as the unrefined kind can be dangerous for people with peanut allergies and, once again, has a lower smoke point. You may also see roasted peanut oil and that's going to have a super-strong nutty flavor and is best as a finishing touch versus being used for cooking. 
Canola Oil
With a smoke point of 400°F, canola oil is one of the most neutral and versatile cooking oils. It's also very good for heart health because it has less saturated fat than any other oil that's commonly used, it's also high in healthy unsaturated fats and omega-3 fatty acids. And it's relatively inexpensive. Use it for everyday cooking and whenever you need to coat your nonstick pans.
Coconut Oil
Popular among vegans as a nondairy butter alternative, coconut oil is actually solid at room temperature but melts when heated. Believe it or not, the refined version doesn't taste like coconut at all and it's basically tasteless and odorless. It has a smoke point of 450°F, so it's especially good for sautéing and baking.
Grapeseed Oil
Made from grape seeds leftover from the production of wine, jam, and juice, grapeseed oil is a relative newcomer compared to other oils. That's because it took some technological advances to become possible. See, grape seeds contain very little oil so a method called hexane extraction is often used. (Hexane is a chemical solvent and many people try to avoid it.) Alternatively, grapeseed oil can be cold-pressed or expeller-pressed, resulting in a slightly nutty or fruity flavor and a brighter green color. You can find this type in the grocery store, but know that it's usually a bit more expensive, so you may want to use it sparingly. That said, it's great for sautéing, with a smoke point at 390°F. It's also a dream in dressings, marinades, mayo, and more.