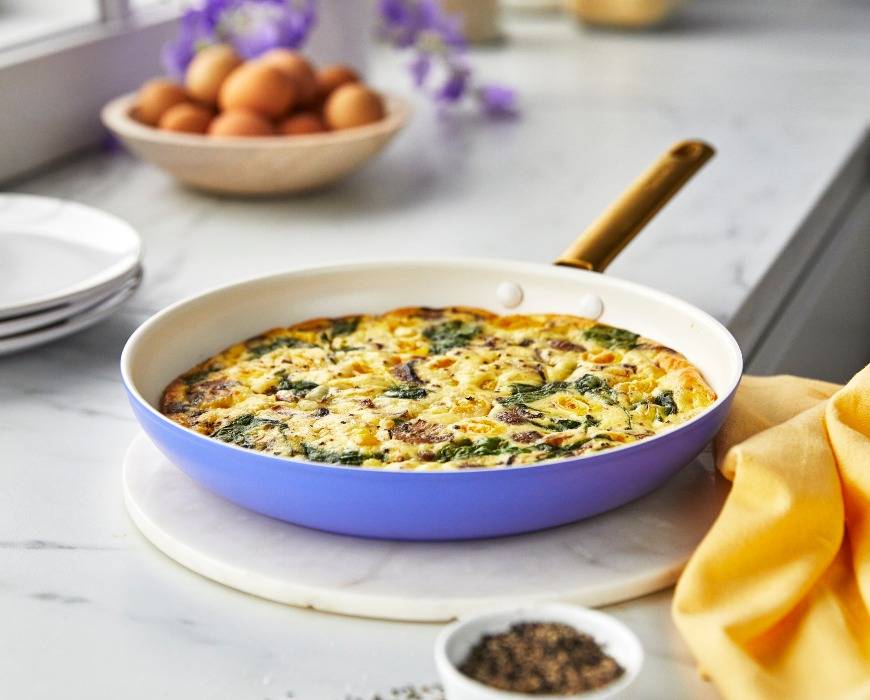 It's 6:00 p.m. and you have no idea what's for dinner? Frittata to the rescue! Quiche's rustic, crust-less Italian cousin offers a quick and easy way to pair last night's meat with whatever you've got in the crisper to create an eggalicious dish that's great morning, noon, or night. We've been practicing in the GreenPan kitchen to create our ideal frittata (yes, there is bacon!). Read on for our best tips and techniques for turning out perfect frittatas every time. Once you learn the basics, you won't even need a recipe!
Pick the Right Pan
No surprise, we like a nonstick, oven-safe skillet for cooking frittata because…egg. (There's a reason it was used as glue in olden times!) A 10" skillet holds enough for 4 frittata-craving folks. You could halve our recipe for an 8" pan, but then you'd miss out on all the yummy leftovers. Pop a few slices in the freezer and your future self will thank you.
Don't Skim the Fat
Dairy makes the difference between a giant omelet and a lusciously creamy frittata. You can use whatever you have on hand—from cream, half and half, or whole milk to sour cream, plain yogurt, or crème fraîche. Just be sure to use full-fat dairy so your frittata can reach its fullest, most delectable potential.
Whip it Good
Beat eggs just until the whites and yolks come together as one. Vigorous whisking invites too much air into the mix. Sure, your frittata will impressively rise like a soufflé, but it will just as quickly fall flat and get dense and/or spongy.
Cook Your Mix-Ins
If you're not using leftovers as filling (which we can't recommend highly enough), be sure to cook ingredients first. Sure, it's an extra step, but it'll keep everything from mushrooms to zucchini from adding excess moisture. And since frittatas don't require a ton of oven time, it ensures that all ingredients will be done. Nobody loves rubbery bacon or raw potatoes.
Don't Overdo It
When it comes to frittatas, less cooking is more. If you're waiting for golden brown, you've gone too far. Eggs continue to cook after they're off the heat, so err on the side of just set. A little jiggle in the middle means it's good to go.
To Everything There is a Season
Be sure to season eggs before they hit the pan so the flavor runs through your frittata. Season your add-ins separately, but if you're adding salty ingredients (hello, pancetta), adjust accordingly.
Not All Cheese is Created Equal
To create the quintessential ooey-gooey frittata, you'll want a superior melting cheese like cheddar, Swiss, mozzarella, Colby, or Gouda. You could opt to create little pockets of deliciousness with soft cheeses like ricotta or chèvre. But if you're partial to hard cheeses like nutty Parmesan or pecorino Romano, save them for sprinkling on top.
Grate Idea
Pre-shredded cheese contains fillers that inhibit melting, so make the box grater your BFF. Taking just a few minutes to shred a pile of cheese will elevate your frittatas (and pizza, mac & cheese, lasagna, etc.) from so-so to sublime.
Love Your Leftovers
Create an amazing frittata with any combo of these pre-cooked ingredients:
Proteins: rotisserie chicken, sausage, steak, bacon (pancetta or prosciutto, if you're feeling fancy), pork tenderloin, smoked salmon, deli meats, tofu, etc.
Produce: hearty greens, asparagus, Brussels sprouts, zucchini or other squash, broccoli, spring peas, tomatoes, peppers, onions, mushrooms, potatoes, root vegetables, etc.
Master Frittata Math
Once you know the steps in our recipe below, you can impress friends and family by whipping up a flavor-packed frittata with whatever's in your fridge. Go ahead and pretend you're in a cooking competition, if you like. No shame, we've done it, too! Just memorize the ingredients ratios: for every 8 eggs, use 1/2 cup dairy, 2 to 3 cups veggie/ meat combo, and 1 cup cheese.
Perfect Skillet Frittata
Makes 4 servings
Time: 10 minutes prep, 30 minutes cooking, 40 minutes total
INGREDIENTS:
6 to 8 slices bacon
2 shallots, diced
2 cloves garlic, minced
2 cups broccoli florets
1/4 cup water
8 large eggs
1/2 cup half and half or whole milk
Salt and freshly ground black pepper to taste
1 cup freshly grated cheddar cheese
PREPARATION INSTRUCTIONS:
Prepare to bake—Preheat oven to 425 degrees F.
Fry the bacon—Add bacon strips to a 10" oven-safe, nonstick skillet over medium-low heat. Cook, turning occasionally, until bacon is beautifully browned and crispy all over. Drain on paper towels and set aside. Resist the urge to munch on yummy bacon (or if you can't, make extra). Keep about 2 tablespoons of bacon fat in pan. When bacon has cooled, crumble into small pieces.
Sauté the aromatics—Add shallots to skillet over medium heat. Sauté, stirring occasionally, till translucent—a few minutes. Add garlic and sauté, stirring constantly, for 1 minute.
Steam the broccoli—Add broccoli and water to skillet. Cover and steam for about 3 minutes or until it's easily pierced with a fork.
Meanwhile, prep the eggs—In a medium bowl, add eggs, half and half, and about 1/2 teaspoon salt, more or less to taste. Whisk just until eggs are fully incorporated in half and half.
Assemble the frittata—Pour egg mixture into skillet, add bacon, and give it a stir to distribute ingredients evenly. Sprinkle cheddar cheese over frittata and add freshly ground black pepper to taste. Let mixture cook, without stirring, till eggs just start to set—about 5 minutes.
Cook the frittata—Transfer skillet to preheated oven. Bake for about 12 minutes. Grab skillet by the handle (with gloves or mitts—it's hot!) and give it a shake. If center is still liquid, let it go a few minutes more. You're aiming for a slight jiggle in the middle. Let it rest about 5 minutes before slicing and serving
Featured Product
Reserve Ceramic Nonstick 8", 10" and 12" Frypan Set | Wisteria with Gold-Tone Handles
Featuring a deep, captivating finish, this frypan trio is more than good looks: the duoforged hard anodized construction makes it extra tough and scratch-resistant. The meal possibilities are endless—flavorful frittatas, seared salmon, and so much more.