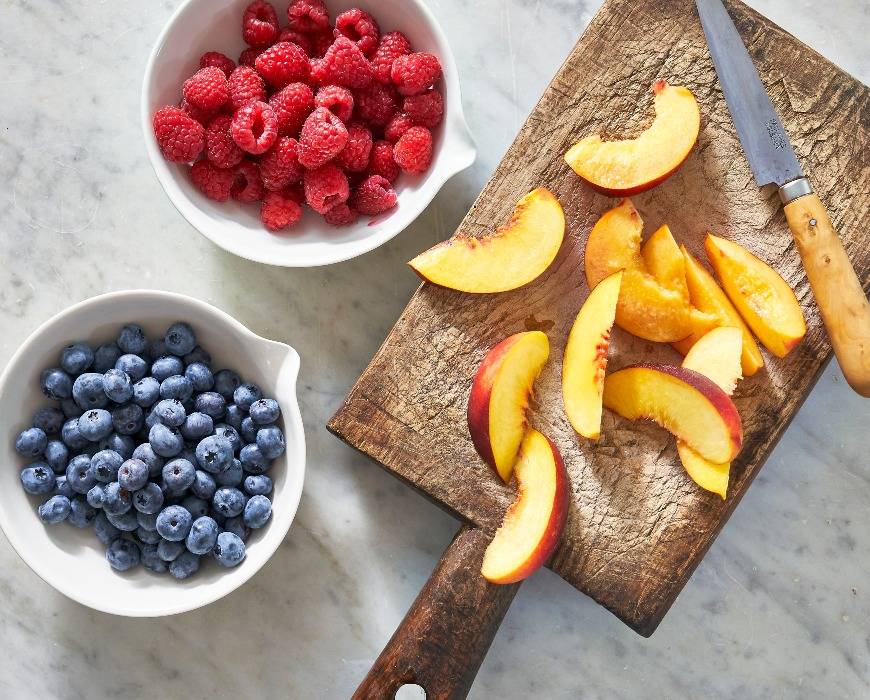 15 Money-Saving Cooking Tips
Tired of the grocery store sticker shock? "40 bucks for one bag of food?!" Well, we can't solve supply chain issues or stop inflation, but we do have 15 ways to save on those outrageous (highway robbery!) grocery bills.
Plan Your Meals—Know what you're shopping for so your cart doesn't look like a basket from Chopped. Choosing ingredients that work together equals less wasted food and money.


Shop Your Pantry First—Ever buy a tub of yogurt only to find two in the back of the fridge? Yep, us too. Doing a quick check to see which ingredients you have on hand can cut down your grocery bill.


Taste Before Tossing—Obviously, don't sample anything that looks or smells spoiled (hello green cheese), but many products past their best-by date are still perfectly good and don't need replacements.


Buy Produce in Season—Peak-of-freshness fruits and vegetables taste way better and cost so much less. Plus, not buying produce shipped from across the world reduces your carbon footprint. It's a win-win-win!


Chop Your Own Produce—Sure, those pre-prepped packages of fruits and veggies let you pretend that you have a sous chef. Reality check: you don't! Convenience produce costs more and sacrifices freshness. It's a lose-lose!


Buy Meat in Bulk—Opt for the cheaper-per-pound jumbo pack of ground beef, chicken breasts, or pork chops, then freeze what you don't need right away.


Give Store Brands a Chance—Spoiler alert: That extra buck or three you spend for brand name products goes toward advertising, not necessarily quality—especially when it comes to commodity items like rice, sugar, beans, salt, oatmeal, etc.


Discover Bulk Bins—Need just a few nuts for a dish or 2 teaspoons of an unfamiliar spice? Bulk bins let you get exactly the amount you need, so you can save money AND prevent food waste.


Grow Your Own Herbs—Hard to count the number of times you've failed to get through an entire bunch of cilantro? We hear you! Fresh herbs are pricy and often get wasted. Plant a few of your favorites and enjoy fresh herbs whenever you like—for just pennies on the dollar.


Make Ice Cube Trays Your BFFs—How do we love ice cube trays? Let us count the ways: Saving small portions of lemon juice, tomato paste, stock, fresh herbs (in oil), egg whites, pureed fruits, and other foods that might get wasted.


Get Scrappy—Freeze bones or veggie scraps for making stock, save Parmesan rinds for flavoring soups, use past-prime fruit to make smoothies or jam. The less you throw away, the more money you'll save.


Make Substitutions—Don't rush out to buy something you wouldn't otherwise use (or don't have on hand) just because a recipe calls for it. You'll often find a good alternative in your fridge or pantry. We love this handy substitution guide by Food52. (Link: https://food52.com/blog/25199-common-ingredient-substitutions)


DIY Salad Dressing—Once you make your own amazingly tasty (and simple!) vinaigrette, you'll wonder why you ever wasted money on store bought stuff. In a jar, combine 1 part vinegar to 3 parts oil, add any flavorings you like, and give it a vigorous shake.


Love Your Leftovers—Transform last night's meatloaf into sandwiches, use roasted chicken in a risotto, add leftover steak or shrimp to tacos, or save portions of casserole in the freezer to enjoy later.


Skip the Shopping—Tired of playing refrigerator Jenga or reorganizing the pantry (yet again)? Challenge yourself to create meals using only what you have on hand. Set a goal (a week, maybe?) and surprise yourself with inventive dishes and extra cash on hand.