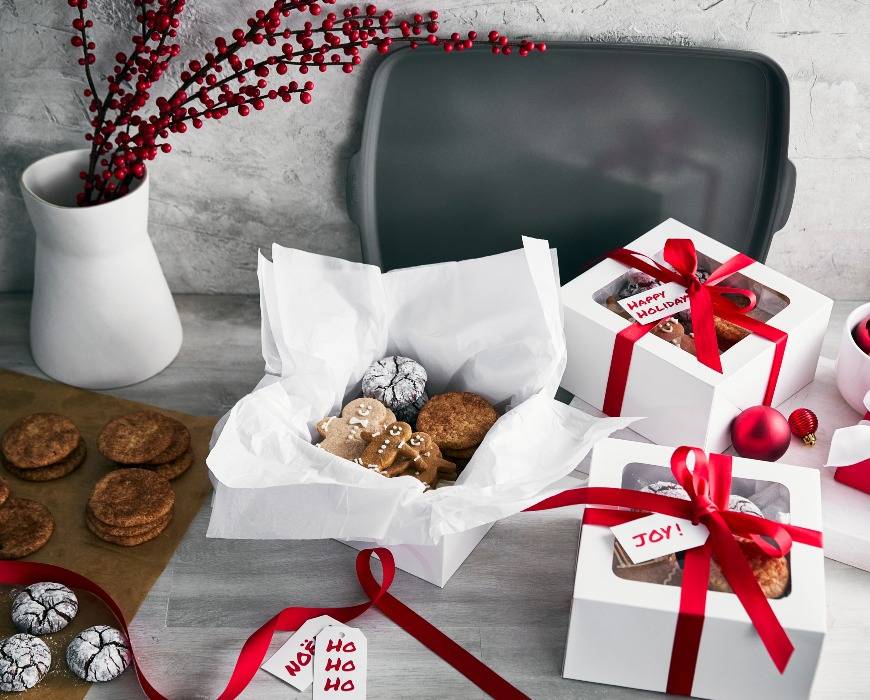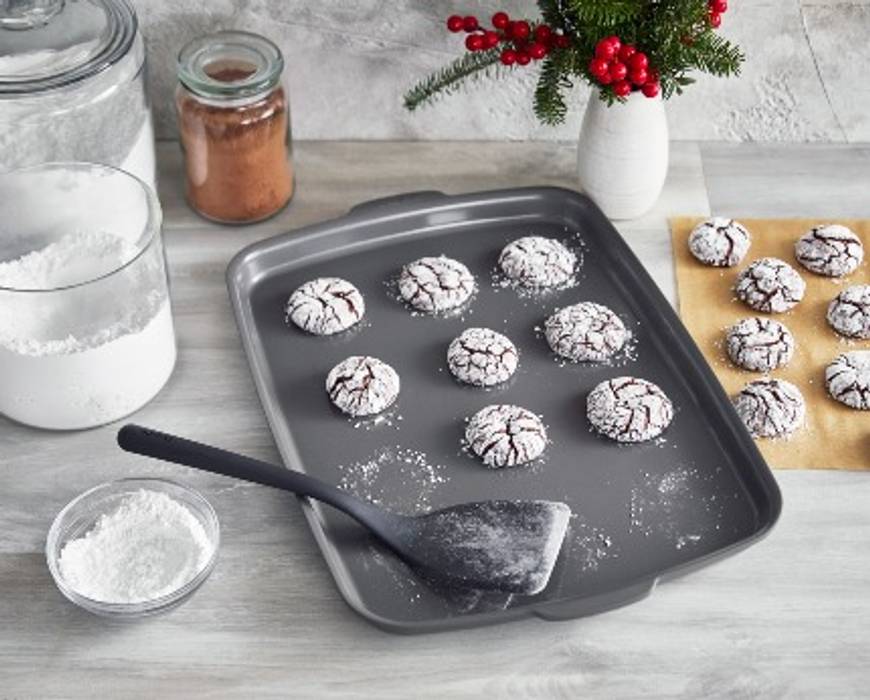 Homemade gifts always hold a special place during the holiday season, and we can't think of a better homemade gift than an edible one – the classic Christmas cookie tin.  And like any homemade gift, the thought behind it is the most important thing.  Planning out a selection of cookies that bring a balance of flavors, textures, and appearance is key.  Along with packing them with an eye for festive looks and a plan to keep them from crumbling before arrival.   
Let's start with a few of our must have cookies to choose from:    
Chocolate Crinkle
We can't start anywhere other than a rich, fudgy chocolate cookie that looks like it's covered in a fresh dusting of Christmas morning snow.  In our mind, it's an absolute must have in this assortment.  If there's one cookie everyone should choose for a festive Christmas tin, it's this one. 

Linzer 
Butter, full of jam, fun to make, and gorgeous to look at, the classic Linzer is a must have cookie in any tin.  The fruity flavor and lovely texture of the jam is a nice way to balance out the rest of the flavors in the tin, and the design and decoration on them make them a true showstopper when that lid is lifted. 

Snickerdoodles
Sugar and spice and everything – delicious.  Beautifully soft with a slight chew, and covered in sweet sugar and fragrant cinnamon, the snickerdoodle is a comforting classic with balanced flavors that is perfect for the season.  A must have. 

Gingerbread
Is it a Christmas tin if it DOESN'T have gingerbread cookies?  This is a debate we don't need to have during a time of year that is supposed to be full of cheers, so the gingerbread is in!  Fancily decorated or simply left plain, your friends, family and coworkers will be happy to enjoy this spiced holiday classic.

Shortbreads
The buttery and rich flavor of shortbread makes any occasion feel special – which makes it perfect to include in any cookie tin.  It's incredibly delicious plain, but versatile for adding almost any flavor.  Chocolate, citrus, tea, fruits, nuts – the options are almost endless.  And that's without even mentioning using food coloring to create festive and unique shortbreads.  Without a doubt, the shortbread is the swiss army knife of any cookie tin, allowing you to introduce any flavors or colors you feel like you're missing for a balanced assortment. 

Chocolate Bark
Is it a cookie?  No.  Is it the perfect holiday treat to gift in any tin of sweets?  Yes.  So, we're including it.  Whether you are a fan of white chocolate and peppermint, rich dark chocolate with caramel and hazelnuts, or something in between – it's an incredibly easy, beautiful, and delicious way to incorporate your favorite chocolate with any other flavors you choose into your assortment of treats. 

Biscotti
The ultimate in cookie versatility.  Great for breakfast, brunch or after dinner with coffee or tea, you can't go wrong giving the gift of biscotti.  We think it's the perfect opportunity to add some light, bright and fresh flavors to any holiday cookie tin, such as beautiful lemon-thyme or cranberry-orange biscotti with a crunch of nuts – we love almonds or pistachios!

How to assemble the perfect tin:
As in life, it's all about balance. Rich flavors with bright ones, soft cookies and crisp ones, simple and elegant looking cookies beside fun and festive ones.  A great Christmas cookie tin is full of something for everyone, and a cookie for everyone occasion. 


Transportation and presentation. Using individual muffin papers in festive colors along with crumpled tissue paper and decorative twine or ribbon will help you assemble the tin in a way that both keeps the cookies safe until arrival and is impressive and beautiful to look at.  Put more delicate cookies in the papers, and tie firmer cookies or barks with the twine or ribbon. 


It's the thought that counts. Along with choosing your assortment of cookies with care, putting a personalized touch with your cookie tin is a wonderful way to warm anyone's heart during the holiday.  A handwritten copy of your favorite cookie recipe, and maybe a couple of packets of delicious hot cocoa or tea tucked in the tin, are two of our favorite ways to make it extra special. 


'Tis the season for holiday cheer. For the gift giver AND the receiver, so have fun with it!  Whether it's while you're picking out a festive tin, enjoying yourself while baking the cookies, or spending time with someone important when giving the gift (or hopefully all three), make sure to enjoy yourself this holiday season!
Featured Product
Premiere Ovenware Ceramic Nonstick 13" x 9" Quarter Sheet Pan
Crafted from ultra-tough cast aluminum, this pan is our go-to for sides, veggies, and hundreds of other smaller things. The rolled edges make it extra sturdy and warp-resistant to prevent food from cooking unevenly.