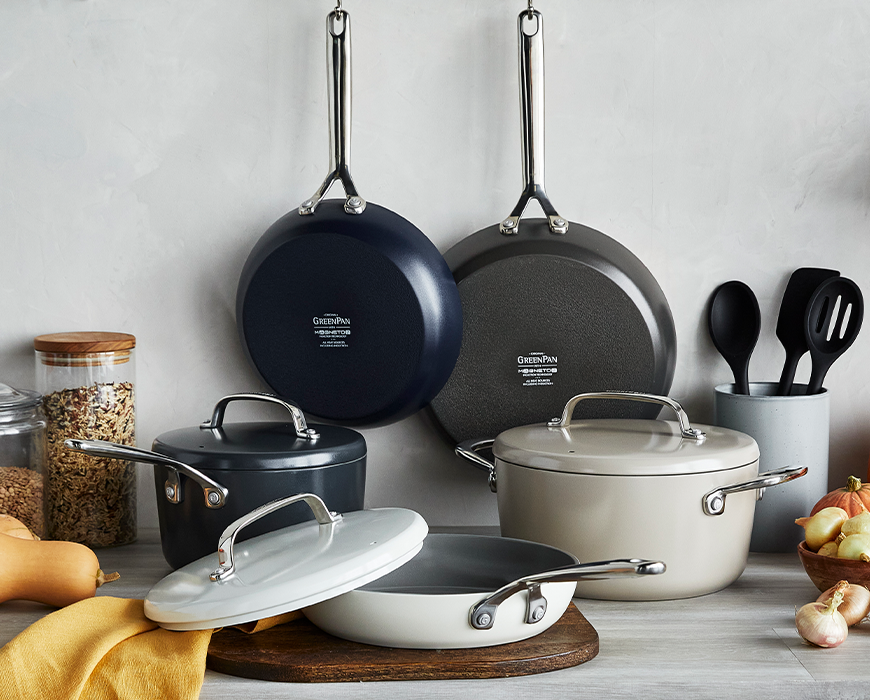 GreenPan's GP5 Colors Wins the 2023 Good Housekeeping "Stylish and Functional" Kitchen Gear Award
For Good Housekeeping's third annual Kitchen Gear, Coffee & Tea Awards, their product analysts, Test Kitchen Pros, and consumer testers evaluated hundreds of new products and collected more than 1,200 feedback surveys from their readers.
Everyone here at the GreenPan Kitchen is proud to announce that our GreenPan GP5 Colors Hard Anodized Ceramic Nonstick 11-Piece Cookware Set has received Good Housekeeping's "Stylish and Functional Cookware" Kitchen Gear Award!
Featured in Good Housekeeping's "Next-Level Cooking Essentials" award category, this colorful and captivating cookware set stood out among the rest. Right from the beginning, Good Housekeeping couldn't take their eyes off these pans.
"They're design-forward, too — the cream color caught our eye and held up during tests." Good Housekeeping reported.
To spice up any kitchen, our GreenPan GP5 Colors Collection comes in Taupe, Cloud Cream, Oxford Blue, Slate, and Cocoa. Shop all GP5 Colors here!
The experts at Good Housekeeping also emphasized how balanced these pans are. "These ceramic-coated, hard anodized pans from GreenPan have some heft to them but won't weigh you down." Good Housekeeping wrote.
When Good Housekeeping started cooking with this set, their results were nothing but positive. "The skillet heated evenly in our tests and made a nicely browned steak." they wrote.
When it came time to clean things up, Good Housekeeping was impressed by how easy it was. "The pans cleaned up nicely, and we were able to remove any cooking stains on the outside."
GreenPan is honored to be recognized by such an established publication like Good Housekeeping. We are ecstatic that their kitchen pros enjoy our products just as much as we do. We'll continue our mission to provide high-quality, award-winning kitchen tools that make cooking faster, easier, and healthier. 

Check out the Good Housekeeping article featuring GreenPan's GP5 Colors Hard Anodized Ceramic Nonstick 11-Piece Cookware Set.
The Award-Winning Collection
GP5
Whichever style suits your kitchen best, there's one thing you can always count on: our GP5 collection is in a class all its own. These powerful pans are hard anodized and simply the toughest, most durable bodies we've ever created. This collection is 5mm thick, which delivers remarkable strength and unmatched performance. The extra-thick design delivers incredible control, ultra-fast heating, and balanced performance.

Is the GP5 Collection the right GreenPan collection for you?
Take a look at this chorizo potato hash with fried egg recipe, prepared in a GreenPan GP5 frypan.  
Featured Product
GP5 Colors Ceramic Nonstick 11-Piece Cookware Set | Cloud Cream
Our Most Advanced Collection This do-it-all set brings a sleek style to any kitchen with no compromise in performance. Each piece is constructed from heavy-gauge aluminum and coated in our Infinite8 ceramic nonstick. Plus, the induction ready design delivers quick and even...