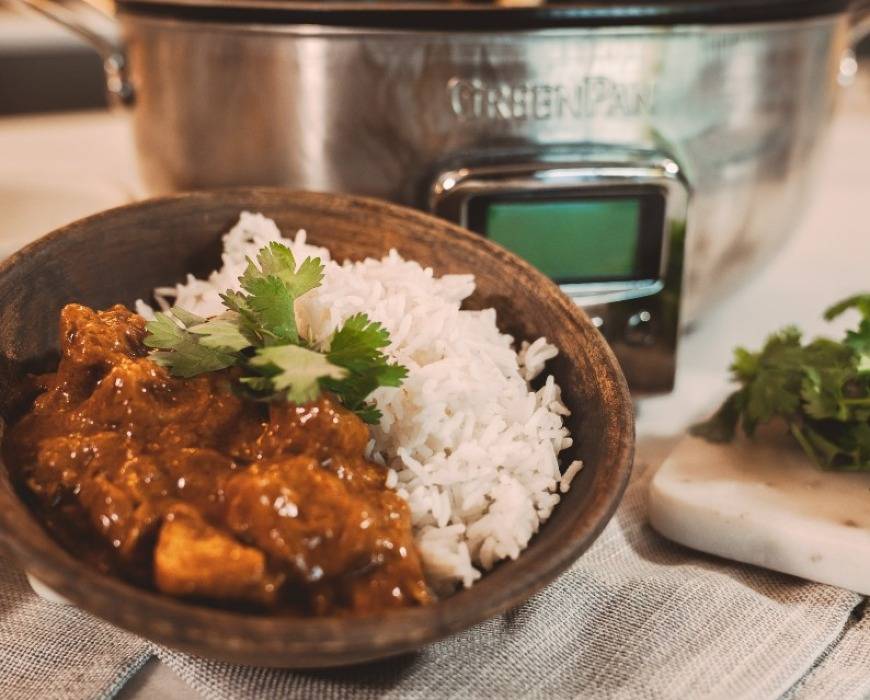 Yields: 6 servings
Time: 20 minutes prep, 60 minutes cooking, 1hr 20 minutes total
INGREDIENTS:
For the marinade:
3/4 cups Greek yogurt
2 tablespoons lemon juice
1 1/2 tablespoons ground turmeric
2 tablespoons garam masala
2 teaspoons cumin
1 teaspoon kosher salt
3 large chicken breasts, cubed

For the sauce:
3 tablespoons butter, unsalted
2 onions, small diced
1 1/2 teaspoons tomato paste
4 cloves garlic, minced
1 inch piece of fresh ginger, peeled and minced
1 teaspoon chili powder
1/2 teaspoon cayenne (optional)
1 (14.5 ounce) can crushed tomatoes
1/2 cup low-sodium chicken stock
1 cinnamon stick
1 cup unsweetened almond milk
salt and pepper, to taste

To Serve:
1/2 bunch cilantro leaves, stems removed
4 cups of cooked rice (such as the Scallion and Bay Leaf white rice from page 20)
PREPARATION INSTRUCTIONS:
Select the Sauce mode on the Essential Smart Skillet, set the temperature to 350°F and the timer for 1 hour.
In a large mixing bowl, combine the yogurt, lemon juice, turmeric, garam masala, cumin and salt in a large bowl. Add the chicken to the yogurt mixture and toss to coat. (Can be done up to a day before.)
Melt the butter in the pan and add the chicken breast. Sear until the pieces have gotten a light golden-brown color on a few sides.
Turn the temperature on the Essential Smart Skillet to 250°F.
Add in the onions and cook until softened, about 2 to 3 minutes. Then stir in the tomato paste, garlic, ginger, chili powder and cayenne (if using). Mix until the spices are evenly distributed, cooking for another 2 to 3 minutes until the spices are very aromatic.
Pour in the crushed tomatoes and chicken stock, stir to combine, and drop in the cinnamon stick. Cover and cook for about 30 minutes, or until the sauce has thickened and the chicken has cooked through. Add in the almost milk, stirring to combine. Add salt and pepper as needed, to taste.
Top with the cilantro and serve with the Scallion and Bay Leaf white rice.
TIPS:
Fresh Idea
Place ginger root in an air-tight container and stash in the freezer for up to 6 months. Bonus: Frozen ginger is easier to peel and grate.
Check Your Spices
Nothing ruins a dish faster than stale spices. Open the cap and sniff—if a spice isn't fragrant, it won't add much flavor to food.
Featured Product
Elite 6-Quart Essential Smart Skillet | Premiere Stainless Steel
Whether you're searing a steak, perfecting a complex stew, or simply making rice, this family-sized 6-quart skillet gives you room for any meal. The high sides eliminate splatter and make it easy to toss your ingredients without worry.