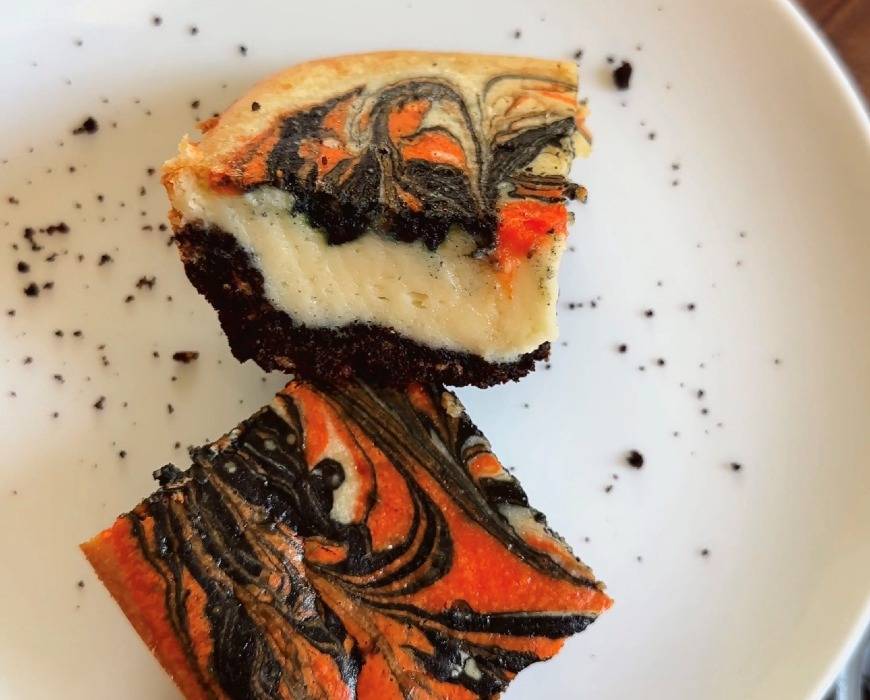 Halloween Cheesecake Bars
Yields: 9 servings
Time: 30 minutes prep, 50 minutes cooking, 3 hours cooling  
INGREDIENTS:
For the crust:  
1 1/4 cups graham cracker crumbs (about 9 whole crackers, finely crushed)

 

1/4 cup unsweetened dark cocoa 

 

4 tablespoons confectioners' sugar

 

1/4 teaspoon kosher salt

 

1/8 teaspoon cinnamon

 

6 tablespoons butter, melted

 
For the filling:  
Two (8-ounce packages) cream cheese, at room temperature

 

1 cup granulated sugar

 

1/4 cup Greek yogurt 

 

3 large eggs

 

2 teaspoons vanilla bean paste or extract 

 

1/4 teaspoon kosher salt 

 
Black food coloring, gel preferred 

 

Orange food coloring, gel preferred 

 
PREPARATION INSTRUCTIONS:
Preheat the oven to 375 F. In a large mixing bowl prepare the crust by stirring together the graham cracker crumbs, cocoa, sugar, salt and cinnamon until evenly combined.  In a separate small bowl use a fork or small whisk to mix a few drops of black food coloring into the butter, adding more until it's a dark grey color.  Pour the butter into the graham cracker mix and stir until very well combined.  Transfer the mixture to a GreenPan Premiere Ovenware 8"x8" square baking dish and press down firmly to make an even, solid crust that covers the bottom and comes about ½" up the sides.  

 
Transfer to the oven and bake until well set, about 10 minutes.  (It will still be slightly soft when it comes out but will firm as it cools.). Place the baking dish on a wire rack and allow it to cool while preparing the filling.  Lower the oven temperature to 325 F.  
In a large mixing bowl, stir together the cream cheese and sugar until very smooth using a wooden spoon or silicon spatula.  Stir in the yogurt, eggs, vanilla and salt until well combined.  Switch to a whisk if needed to ensure there are no lumps or streaks in the filling.  
Place 1/4 cup of filling in each of two small separate bowls.  Starting with a few drops at a time, mix black food coloring into one small bowl of filling and orange in the other until you achieve very dark, intense colors – adding more food coloring if needed.  
Pour the uncolored filling from the large bowl into the cooled crust and use a spatula to ensure it is level and pushed all the way to the edges and corners. Using a spoon, pour alternating lines of orange and black filling from edge to edge on the top of the uncolored filling, going from one side of the pan to the other. Create a marbled or swirled design on the top of the filling using a butter knife or toothpick until you are happy with how incorporated the black and orange are – take care not to go too far though, as you'll start to lose distinction of the colors.  
Once marbled, carefully transfer the baking dish to the oven and bake the bars for 30 to 40 minutes, until the filling is set but still slightly soft in the middle - it should barely wobble in the center if you shake the pan lightly. 
Transfer the baked bars to a wire cooling rack and allow them to cool for 20 to 30 minutes, then transfer to the refrigerator to finish cooling until ready to serve.  (We like cutting them into 9 larger squares, but they are great served as smaller ones as well.)
TIPS:
For a more perfectly shaped crust, use a small class covered in plastic wrap to help press it down firmly into the pan.  Additionally placing the crust in the freezer for 10 minutes before baking will help it keep its shape in the oven!  
This recipe works great for any holiday or special occasion!  Simply swap out the orange and black for any colors of your choosing. 
Featured Product
Premiere Ovenware Ceramic Nonstick 8" x 8" Square Baker
Incredible for sides and serving, this baker goes from oven to table with dependable built-in handles. The one-piece design ensures years of performance, so you can do more in the oven.