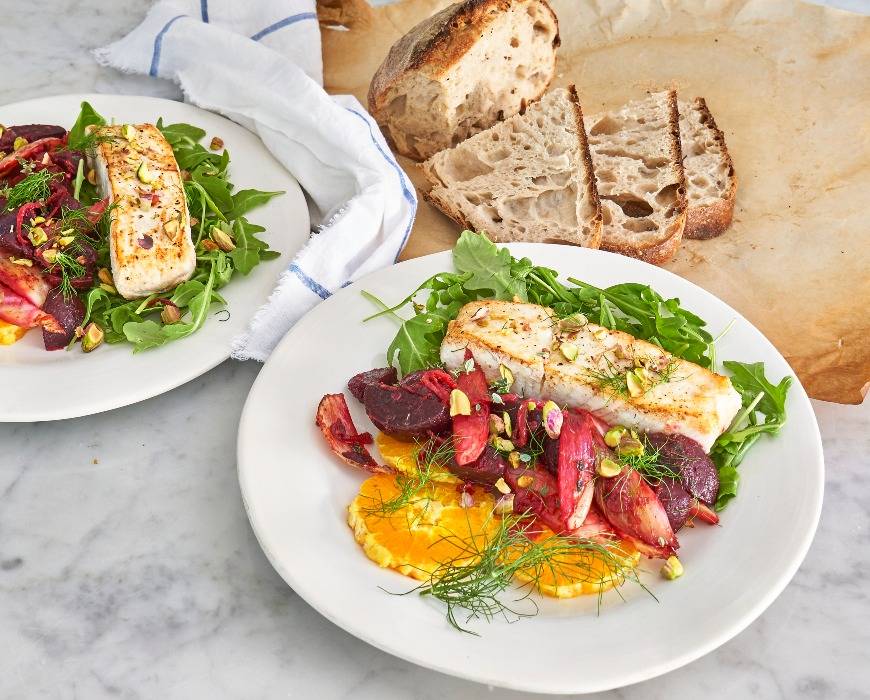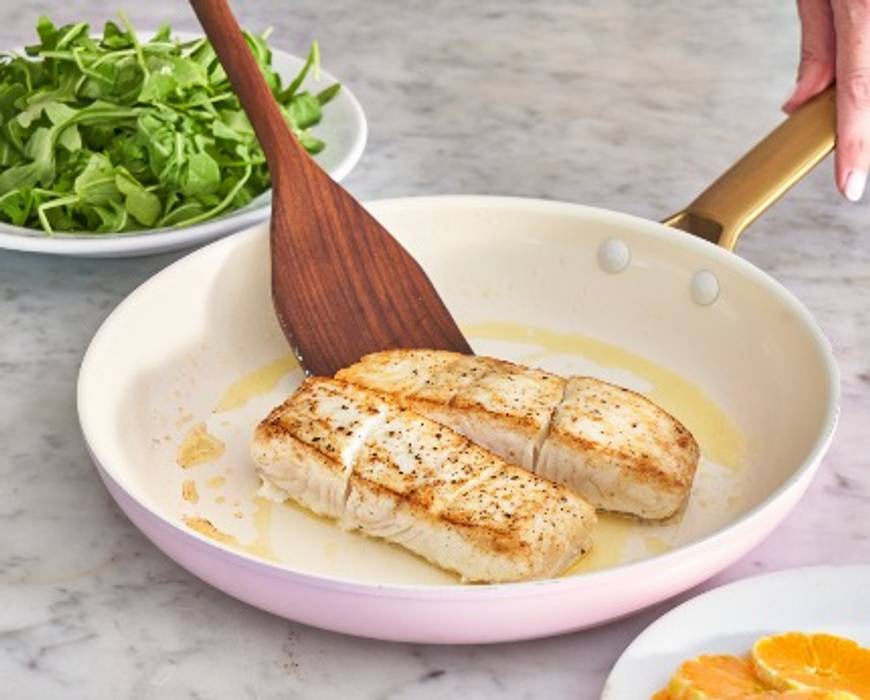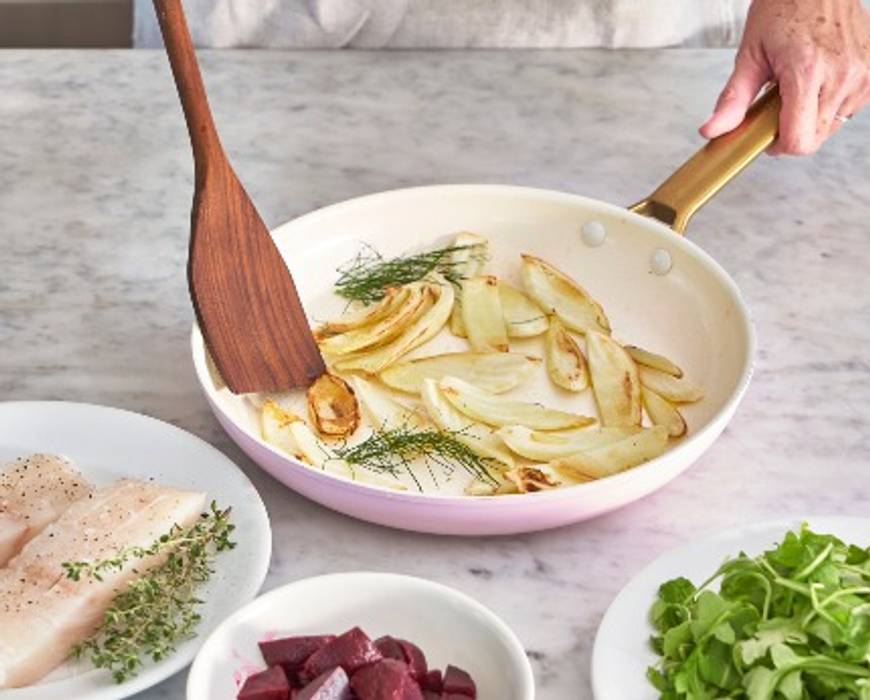 Pan Seared Halibut with Beet, Fennel and Orange Salad
Yields: 2
Time: 10 minutes prep, 25-30 minutes cooking, 35-40 minutes total

INGREDIENTS:
For the Beet, Fennel and Orange salad:
2 tablespoons extra-virgin olive oil

1 small fennel bulb, cut into 1/4-inch wedges, fronds reserved for garnish
1/3 cup low-sodium chicken stock
2 sprigs fresh thyme, destemmed and roughly chopped
1 small shallot, peeled and thinly sliced in rounds
1/2 teaspoon Calabrian chili, drained of oil and finely chopped
1 6.5oz package Love Beets White Balsamic Marinated Baby Beets, quartered into wedges
Kosher salt, to taste
Freshly ground black pepper to taste
1 small orange, zested, then peeled and sliced into rounds
1 cup baby arugula, washed and dried
2 tablespoons pistachios, roasted and roughly chopped


For the Halibut:
2 six-ounce halibut filets
2 tablespoons olive oil
1 tablespoon unsalted butter
Kosher salt, to taste
Freshly ground black pepper, to taste
PREPARATION INSTRUCTIONS: 
Take the halibut out of the refrigerator and let it sit, uncovered, at room temperature for 10-15 minutes while preparing the rest of the ingredients.



 

Place a medium GreenPan skillet on the stovetop over medium-high heat.   Pour in the olive oil and allow it to come to temperature.  When the oil is shimmering slightly, place the fennel in the pan, with all the wedges having one cut side down.  Cook for 3 to 4 minutes until deep brown and caramelized on one side, then flip each wedge and repeat on the other side.



 

Add the chicken stock, thyme, shallot and Calabrian chili to the pan and swirl to evenly combine.  Season with a pinch of salt and a bit of black pepper and cover.  Cook until the fennel is just tender, about 5 minutes more.  Uncover, add the Love Beets and simmer until the stock has reduced by half and the beets are just warmed through.  Taste and adjust with salt and pepper as desired.  Transfer everything to a small mixing bowl, add the orange zest, and cover with foil to keep warm.



 

Wipe clean the same GreenPan skillet and place it back on the stovetop over medium-high heat.  Pour in the olive oil and allow it to come to temperature until it starts to shimmer.  Season the top side of each halibut filet with salt and pepper.



 

Place the halibut in the skillet, seasoned sides down, and cook for 3 to 4 minutes until nicely seared and golden brown.  Flip, add the butter, and cook on the other side another 2 to 3 minutes more.  Occasionally use a spoon to baste the halibut with the olive oil and butter in the pan to help it cook and add color.



 

As the fish finishes cooking, place 2-3 rounds of the sliced orange on the bottom of two plates.  Divide the warm beet and fennel mixture onto each, and top each with half of the arugula.  Once the halibut is cooked, place it on top of the arugula and drizzle with any remaining sauce from the cooked beets and fennel.


Top each plate with the fennel fronds and pistachios and serve warm.  


 
TIPS: 
Ensuring your fish has come closer to room temperature and has a dry surface are the keys to evenly cooked filets with a great sear, so don't skip this step.  If needed, even pat dry the filets with paper towel before seasoning them with salt and pepper.  
Depending on what area of the fish your filets came from, they can vary quite a bit in thickness.  Try to pick two that are as even as possible to cook.  If that can't be done, make sure to keep an eye on any thinner pieces as they'll cook much more quickly – by as much as 2 to 3 minutes!